After Accident, This Young Dancer Finds New Purpose in Bringing Comfort to Others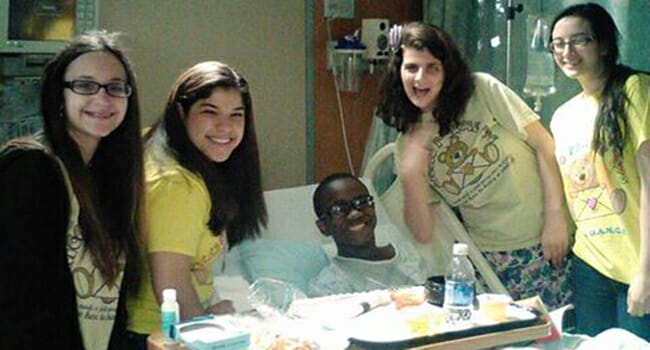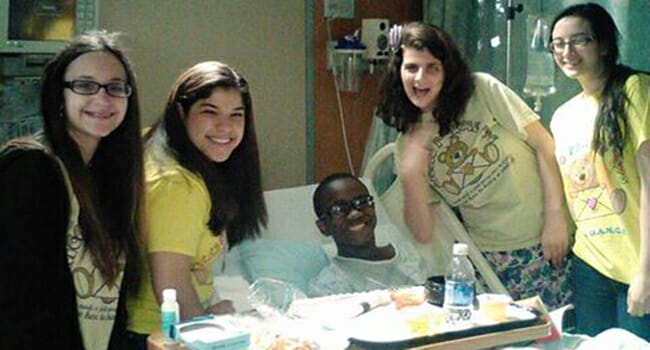 Courtesy: Amara Riccio
Amara Riccio created "Riccio Pick-Me-Ups" to share joy with others. Here she and fellow volunteers visit a patient in a children's hospital.
As a child, Amara Riccio was a self-proclaimed diva. A dedicated student and performer of dance, drama, music, acrobatics and gymnastics, Amara was always on the move. She used the arts and movement to release energy, cope with stress and express herself creatively.
On June 1, 2008, Amara was crossing the street on her way to perform in her second dance recital of the day when she was struck by a car. She remained in a coma for nine days and sustained a traumatic brain injury. When she woke up, the active 13-year-old had to relearn how to walk, talk and even eat. She worked diligently during her rehabilitation and upon leaving the hospital, she was deemed a "miracle."
"But I wasn't the same," Amara said. "I still had a lot of issues, but it was kind of the invisible type of injury."
She no longer had the ability to process emotion the same way she had before her injuries. Amara felt herself sinking into depression.
While undergoing counseling, as well as physical, occupational and speech therapies, Amara wondered what she would do with her life.
"If I'm not doing dance and acrobatics and drama and chorus and all this stuff I used to do, what am I going to do?" she said.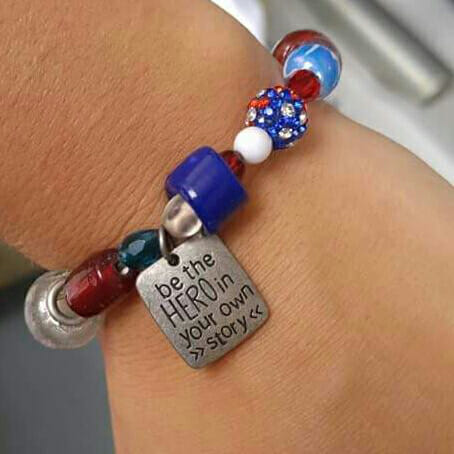 Courtesy: Amara Riccio
This inspirational hero bracelet is one of Amara's handmade "pick-me-ups."
Amara decided that she would express herself creatively. With the help of her mother, Lori, she began writing cards and making jewelry and crafts, which she then shared with other patients as a "pick-me-up." She found that by sharing these gifts with others, she brought joy not only to their lives, but also to her own.
Amara said she realized how lucky she was to be alive. She loved connecting with people and she knew there were so many other people that also needed more joy in their lives.
Amara's organization, Riccio Pick-Me-Ups, began with homemade cards, or "happy mail," as she calls it. But it quickly expanded due to Amara's desire to impact more people and share how the arts have helped her.
"It's just like putting your heart out there," Amara said. "Someone who had such a bad day, like in the hospital or at the doctor's [office] and they see like, this package from someone they don't know that much and that you care. [It] made a difference. That's when I was like, 'Wow.' This Pick-Me-Up movement can go so much bigger."
She and volunteers for RPMU now visit rehabilitation centers as part of their "Share the Gift" program, where they put on small-scale shows for patients and their families. This idea is to encourage patients to use dance, music, visual art and writing as tools to share their own gifts and experiences with the world.
"I never realized how much I love dance until I almost lost my ability to dance," Amara said.
Because Amara herself wanted to give back to her community at such a young age, RPMU provides unique opportunities for children as young as 8 years old to get involved, as well as people of any other age or ability. Amara calls them her FAVs – her Friendly Ability Volunteers.
Amara also raises awareness about traumatic brain injuries, disabilities and other issues by presenting to schools and other community organizations through her DANCE Awareness program. DANCE stands for Discover, Accomplish, Nourish, Create and Embrace. Amara said DANCE has become her personal motto because it applies to everything.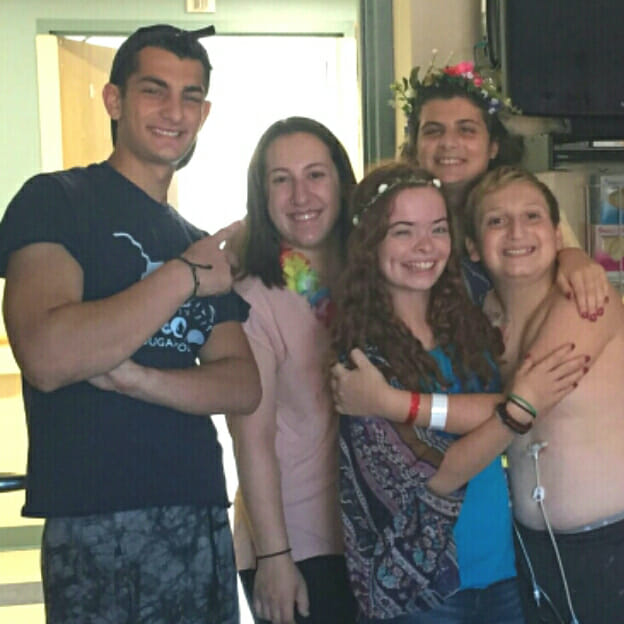 Courtesy: Amara Riccio
Amara Riccio and her Friendly Ability Volunteers sang, joked and spent time with a patient this past summer.
The support that Riccio Pick-Me-Ups provides, however, is not only emotional; RPMU provides financial support for those in need, too. The organization hosts fundraisers throughout the year – such as talent shows and community fairs that raise money to pay for medical expenses and to offer "Caregiver Retreats" for families undergoing medical hardship.
One recipient, Jennifer Bernstein, received a donation from the organization that allowed her family to get a life-saving hyperbaric oxygen chamber for her son, Mike.
Jennifer said of Amara, "She puts her heart into everything." Jennifer now sits on the board of RPMU and volunteers for the organization.
Amara said she quickly learned her life purpose after her injury – to continue to offer emotional and financial support to people of all ages and abilities. She is now studying therapeutic recreation at Kean University and plans to bring creative arts therapy to everyone who needs a "pick-me-up."
To anyone facing hardship, Amara offered this advice: "There's just always hope and just don't give up. And just believe that you still have purpose for this life and you're still worth it. And I'm here for you."