After Father's Cancer Journey, Daughter Connects Others to Patient Services and Resources
Meet Daily Point of Light Award honoree Kathleen Moneghan. Read her story and nominate an outstanding volunteer or family as a Daily Point of Light.
When her dad received his cancer diagnosis, Kathleen Moneghan remembers wanting to learn more. "I remember obviously being scared, but I wanted to know what this was," says the 32-year-old Dover-Foxcroft, Maine resident. "I wanted to learn all about diagnosis and treatment and options." Kathleen says it was then that she also realized the importance of advocating for personal health.
Becoming a volunteer for the Leukemia & Lymphoma Society (LLS), Kathleen is just one of tens of thousands of LLS volunteers that support and advocate for those impacted by cancer, whether it's a cancer patient, survivor, family member or friend. Kathleen is making a difference through fundraising, raising awareness, sharing resources, serving as a patient advocate and inspiring the youngest in her community to contribute to the cause and serve others in need. Paying it forward and extending her hand to help other cancer patients along the journey, Kathleen has established herself as a service leader, spreading the mission of LLS throughout the state of Maine.
What inspires you to volunteer?
Growing up, my parents instilled in me a very persistent notion that you need to give back to your community and put people first. I was always very involved in service work throughout college, and volunteering with LLS was a way to continue serving others when I moved to Maine because of my personal connection to the impact of cancer. My dad was diagnosed with stage 4 lymphoma when I was a teenager, and after going through multiple, multiple treatments, he's doing great, all things considered.
Describe your volunteerism with LLS.
LLS offers services for patients and caregivers, which include everything from financial assistance to resources and support systems. Through service, I raise awareness and help to connect patients with a network of support. As a patient advocate, I help patients along their cancer journey. In addition, I've volunteered for many important events and initiatives that support LLS, including their Light The Night walk and:
– Big Climb: As a committee member, I also most recently led the LLSMaine Big Climb team as their team captain. The annual national event encourages people to get active, fundraise and raise awareness. In years past we've climbed the Prudential Center in Boston, but this year, the climb is virtual.
– Hero Squad: As the campaign leader in my state, I visit elementary and middle school students in Maine, teach them about blood cancers and encourage them to help fundraise. This is an opportunity for students to learn about STEM and science research and LLS service.
– Subaru Loves to Care: Initiative in which LLS partners with Subaru to provide blankets to cancer patients in hospitals.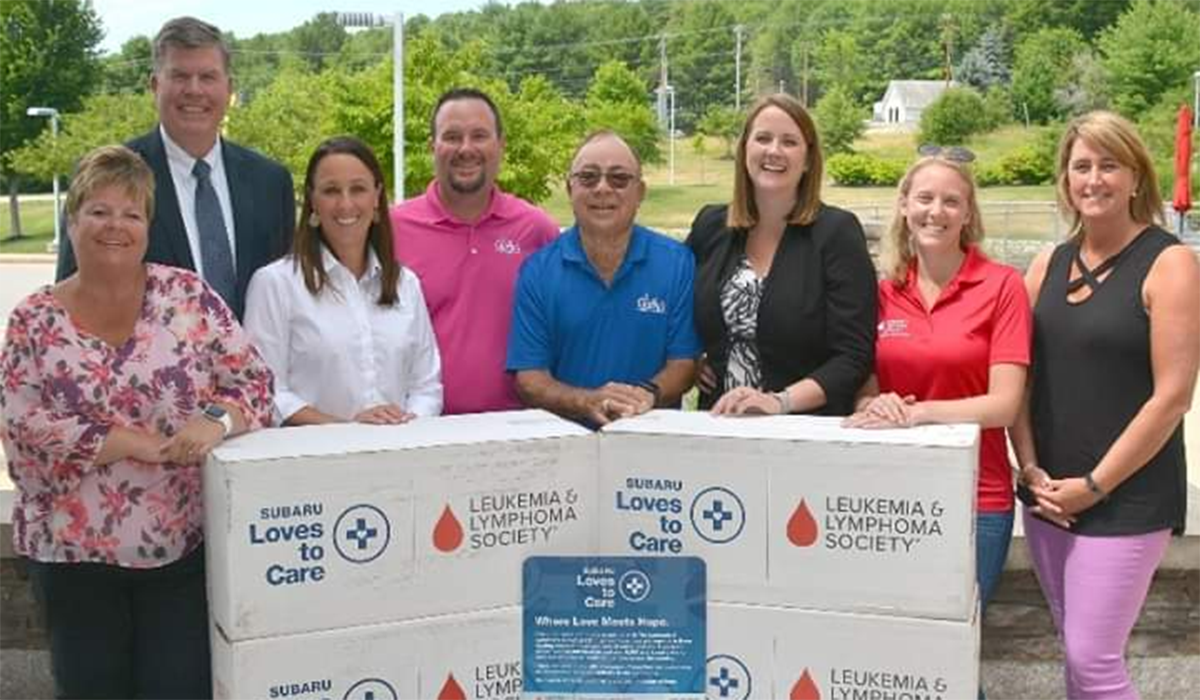 Share one personal story with me from your volunteerism.
Hero Squad service is really fulfilling because I'm visiting these schools, attending their assemblies and celebrations, and helping students who fundraised for LLS to understand the adults and children with leukemia they are impacting directly in their state. It's almost like a lightbulb goes off with the kids, they get excited to know what a significant difference they're making in the community, and they realize they can make a difference for someone else, including for children their own age. We are inspiring kids to give back and hopefully to continue with service.
Why do you think it's important for others to give back?
Giving back to people directly in your community because you want to, and not because you have to, fulfills a different part of you. There are a lot of people in service giving types of jobs and that's a great thing to be a part of, but to be able to choose to do this service on your own, and want to do it, provides a different kind of impact.
What's been the most rewarding part of your service?
I always feel more rewarded by directly helping a patient through our service. One service we offer is a children's initiative that helps patients to survive and thrive after treatment. If I'm helping a young kid, I know I'm impacting their family for a lifetime, because the cancer diagnosis doesn't just go away after they're cured, it's something that changes them and everybody around them forever. When my dad was diagnosed, I became a lot more appreciative of time. You really start to put basic needs ahead of everything else. Through service, I am helping to provide support so that a patient's outlook can be more positive.
How have you continued to volunteer throughout the COVID-19 pandemic?
We've paused or postponed in-person events as a result of the pandemic, and other events have shifted to virtual, like the Big Climb. I continue to visit with students through Hero Squad virtually, and in a lot of ways, this shift has almost been a reward in disguise. Offering opportunities to participate online has meant that we can expand who is able to take part, and we're reaching more people as a result.
In one word, what does volunteering mean to you?
Others. I've always been taught that service is putting yourself last and others first.
How can readers help?
This year's Big Climb is happening virtually on May 15, and anyone can participate. Please visit the LLS website for more information and ways you can help.
Do you want to make a difference in your community like Kathleen Moneghan? Find local volunteer opportunities.
Share this post