Superhuman Service: California Man Does Good for Thousands After Personal Loss
Meet Daily Point of Light Award honoree Yuri Williams. Read his story and nominate an outstanding volunteer or family as a Daily Point of Light.
After a years-long battle with cancer, Yuri Williams lost his mother. And with that loss, his world darkened, the Long Beach, California resident says.
"I was in a five year depression," says Yuri. "I work with children that have mental illness, and recognized (my own) depression through the work I do each day. I used to call my mother every morning to wake her up before I'd go to work. When she passed away, I'd talk to people during the day and then go home and cry for no reason, just thinking about my mom."
Yuri, who by day works as a corrections officer with mentally ill juveniles, decided he couldn't continue on living his life in a state of depression. As he was getting ready for work, he scrolled through Instagram, and spotted a post that intrigued him. That post was from Officer Tommy Norton, a veteran police officer in Arkansas who famously encourages positive community policing to his more than one million followers on social media. Next, Yuri came across the page for Hip Hop Trooper, a man known for dressing up in a red Stormtrooper costume and making a positive social impact.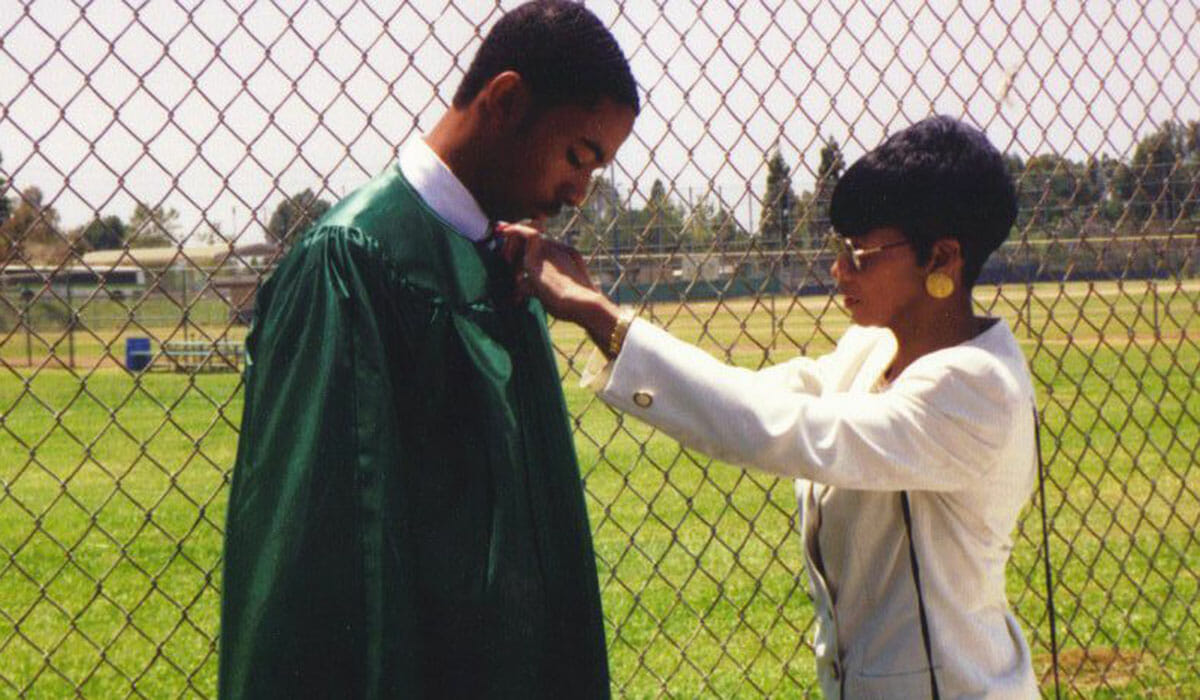 "I saw these guys out doing this, helping others, and I thought I should be doing that too. Growing up in the 1980s, it was a loving time for me. People loved each other and they looked out for each other. I used to have leaders that I'd looked up to. I wanted to be the leader for kids so they could see how to do positive things and uplift their neighbors."
At the time, Yuri had done homeless outreach and other volunteerism, but in the wake of his mother's death, Yuri supercharged his service, launching AFutureSuperhero And Friends. Donning superhero costumes like Spiderman to Star Wars characters like the Mandalorian, Stormtrooper, Kylo Ren and Baby Yoda, even Marvel Comics' Deadpool, Yuri has brought smiles to the faces of tens of thousands of children and adults in need across the United States. His volunteerism knowing no limits, Yuri has infused his service with superhero fun, improving quality of life and restoring the dignity of those he serves. Connecting with people in all 50 states on his '50 States Blessing Tour,' an outreach tour he did not once but twice, Yuri is uplifting people by providing clothing, food and school supplies and raising awareness about underserved populations including the homeless, disabled, children sick with cancer and elderly veterans in need. Yuri says he's not in the game for fame or fortune, rather, empathy is what feeds his desire to help others, his compassion and ability to relate to others growing after the loss of his mother.
"Anything I can do to uplift people in need, whether they're rich, poor or just to bring a smile to someone's face and uplift you. Kids really love interacting with the hero they see on TV. When they see me, the first thing they'll do is smile. When I'm visiting children in the hospital, a lot of times I'm glad I have this mask on, because under it, I'm crying. But for the ten to fifteen minutes I'm there, I'm able to temporarily relieve that pain and make a difference. It's that medicine of love being generated to them and being reflected onto me and carrying me onto the next day."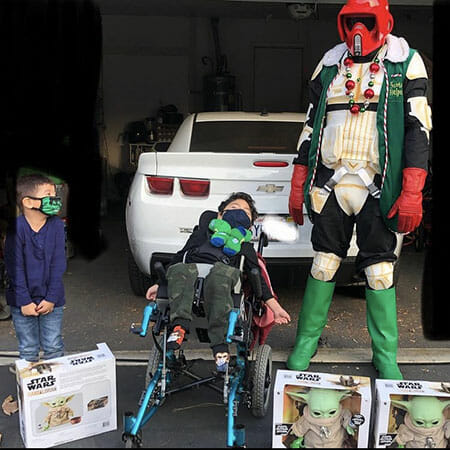 More than a decade later, that desire to give back is still driven by the loss of his mother, says Officer Norton. The two have volunteered together in California and also in Arkansas. Yuri's volunteerism, says Tommy, whether disguised in costume or not, is making people realize they have hope for a better life.
"His impact came on the heels of his mom passing away," says Tommy. "He wanted to do something to honor her. When you have people that have a life threatening illness, or they're down on their luck, and they see Superman come to their door, it makes other people realize they have a chance in life."
While many were shuttered away in their homes in the midst of the COVID-19 pandemic , Yuri was digging even deeper to make a superhuman impact in communities, including visiting Veterans Row in downtown Los Angeles to provide a hot meal and essentials to homeless vets and giving away 200 Easter baskets and 165 toy Baby Yodas to children.
"During the pandemic, a lot of people were hurting. I raised money to help people that lost their jobs. One child needed 21 different medications, and his mom didn't know where to get that money from. On Veterans Day, we visited Veterans Row in downtown Los Angeles to provide a hot meal and essentials to houseless vets. There's no greater feeling than giving somebody relief where they don't have to wait until the next month."
Like his outsized personality as a superhero, Yuri's volunteerism knows no bounds, including his dream to one day establish a facility to host programs and activities for kids and adults in need, including an after-school program and free technology resources.
"I want kids to see they can make it in this world, no matter what people tell you. I come from the era of gang banging and a lot of kids didn't make it. I want kids to see there's more positive in this world than the negative that you get to see all the time."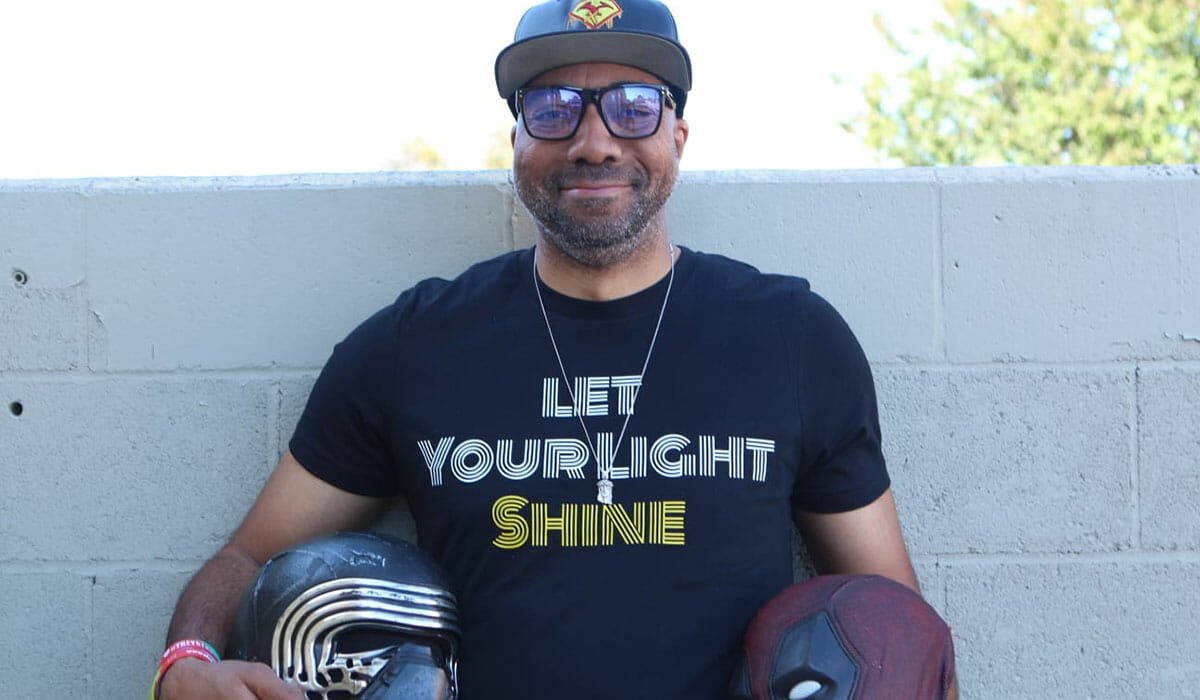 Yuri says he believes his mother would be proud to see the work he's done in her absence, but that she'd be right by his side, encouraging him to do even more. That spirit lives within her son, as his mind never stops thinking about how he can make the world a better place.
"I stole this life motto from my mom (laughs). 'If you're breathing, you can't complain.' If I'm alive today, I'm able to get out and make a difference in someone's life. Every day I'm alive I should be able to make a difference and make someone happy. You don't have to be a big organization to help someone. You can hold a door open and say 'good morning.' You never know how that good morning could help save someone's life that day."
Do you want to make a difference in your community like Yuri Williams? Find local volunteer opportunities.
Share this post