After Grandfather's Heart Attack, Teen Volunteer Teaches CPR Globally
Meet Daily Point of Light Award honoree Akshara Ramasamy. Read her story and nominate an outstanding volunteer or family as a Daily Point of Light.
Spending summers with her family in India, Akshara Ramasamy remembers her grandfather and his devotion to his community fondly. "He was a community leader," says Akshara. "He was very revered in his village and people would come to him for advice because he'd faced a lot of hardships in his life, and he always tried to find ways to make his community better." When her beloved 'Thatha' suffered a heart attack, emergency medical help took two hours to respond to her grandfather's rural home, his wife and sons forced to standby helplessly as the community leader suffered.
When 17-year-old Akshara, a student in Woodlands, Texas, became CPR certified at school, she realized offering life-saving health education was the key to preventing deaths like her grandfather's. Embracing her grandfather's legacy as a leader of action and champion of change, Akshara launched Idhayam in 2018 to promote CPR training, her efforts currently based in remote Indian villages similar to where her family is from.
"I'm volunteering in honor of (Thatha). I'd come to him with a problem and he'd always provide me with guidance. Losing my grandfather coupled with the fact that our family is from an underserved area in India made me realize that I could help others, and I'm also able to honor him by providing this service."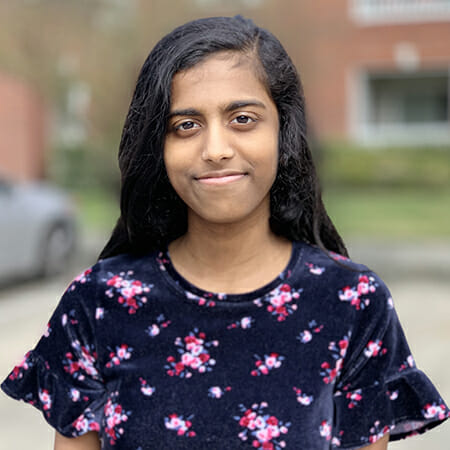 Hosting CPR training through Idhayam, which means 'heart' in the southern Indian language of Tamil, Akshara has reached hundreds of disadvantaged people across India with more than 65 in-person workshops, conducting sessions alongside more than 100 CPR-certified clinicians in their own communities. Aside from the immediate training Idhayam provides, Akshara says her long-term focus is advocating for global health equity.
"Here in the United States, the nearest hospital is five minutes away from my home. In these remote Indian villages, they have to walk incredibly long distances to the nearest clinic. Having this double perspective helped me to understand our global health inequity gap. My grandfather had a heart attack and my family didn't have the opportunity to be proactive. Idhayam is creating the opportunity for people that are in medically underserved areas to be proactive so they're not in a situation where they have to react."
Helping to close the health inequity gap, which persists amongst the most disadvantaged members of Indian society across sociecenocic status, geography and gender, Akshara volunteers alongside Idhayam instructors like Induja Patel, who says that by sharing her knowledge with others, Akshara is helping to save lives through service.
"In order to combat the health equity gap and lack of CPR education in India, Akshara launched Idhayam," says Induja. "Through Idhayam, it was her hope that individuals would at least have this skill in the event of a heart attack in their community, so they would not have to suffer the same fate as her family."
The skills being taught by volunteers are translating into tangible results and actual lives saved, says Akshara, who says one program attendee recently used the CPR she learned from Idhayam to save her uncle, who had a history of heart attacks. In spite of COVID-19 pandemic restrictions, Askshara has grown the diverse group of program attendees she is connecting with virtually, and is advocating to integrate CPR education into school curriculum in India. By empowering underserved populations to take personal health and the health of loved ones into their own hands, Akshara is offering sustainable skills to a country where health expenditures are responsible for more than half of Indian households falling into poverty.
"Any of the attendees, they feel they are equipped, so that in the event of an emergency, they don't feel they're not able to do anything, and they can engage in action and possibly save somebody's life. It feels very rewarding to (know that) in your fingertips, you have the ability to prevent death."
Akshara says that her family's story is just one of many, and by taking her empathetic approach, she hopes to expand her education beyond India to other remote areas around the globe.
"Change begins with empathy. Once you realize the opportunities and privilege you have, and provide that to others who don't necessarily have privilege, that's when you make a difference. Through empathy, you're making a positive impact in the community."
Do you want to make a difference in your community like Akshara Ramasamy? Find local volunteer opportunities.
Share this post