Connecting the Dots Between Economics and Underserved Youth
Meet Daily Point Award honoree Andrew Diep-Tran. Read his story and nominate an outstanding volunteer or family as a Daily Point of Light.
The way Andrew Diep-Tran figures, if you build it, they will come. The San Diego high school junior knew there were other kids who loved economics, or who would if they were exposed to it, so he founded operationEconomics International (oE), a nonprofit aiming to equalize economic education access for underserved K-12 youth globally. So far, oE has impacted about 1,800 students worldwide in six countries and five U.S. states through its 18 student-run chapters and two nonprofit partnerships. Since economics is the engine that drives the worldwide economy, unlocking its principles and demystifying its systems is the key to creating opportunities in business, finance, and economics. This gives underserved youth the tools to bolster their own living standards and to help them make better decisions for the future. Getting young people involved early on allows then to start solving the world's problems sooner instead of later.
What inspires you to volunteer?
Growing up in a STEM-oriented suburb in San Diego County, it surprised me that my school didn't offer classes or clubs in economics. It was only after meeting students at a summer entrepreneurial program and through networking that I've found thousands of students who feel the way I do – underexposed to important economic literacy. I volunteer to share their stories and amplify their silent voices in today's overbearingly loud world.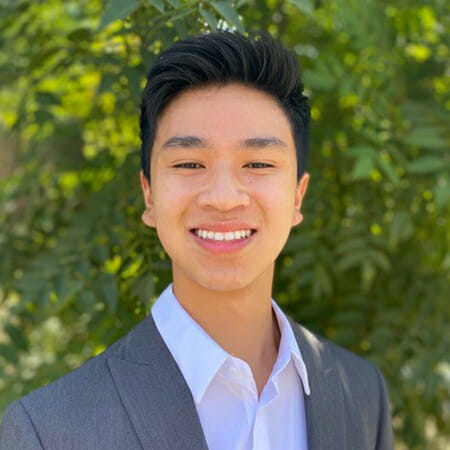 Describe your volunteer role with operationEconomics?
I founded my nonprofit to make economic education more accessible worldwide for K-12 youth. I started with a pilot program at my high school, but now have turned most of my attention outwards. I wear many hats, filing legal paperwork, building the 32-week curriculum we use in our chapters, creating and managing the website, recruiting peers to start their own chapters at their schools, interviewing guests like World Bank developmental economist M.C. Madhavan for the podcast we're developing, brainstorming ideas for future programs and development, raising money from individuals and businesses, applying for grants, and more.
What's been the most rewarding part of your work?
Without a doubt, meeting fellow peers, understanding and listening to their stories, and seeing how operationEconomics has broadened their world. I've seen that there is a whole new world of friends out there, friends that I have yet to make, that deserves better. My hope is to help students make better decisions through economic literacy.
It was super meaningful to me in particular when one of the chapter members in our Harare, Zimbabwe chapter thanked me for the time and sacrifice I've put into making the curriculum and reaching out to them.
What have you learned through your experiences as a volunteer?
Don't stay in your bubble! Everyone is preoccupied, on their phones or walking with their headphones planted in their ears – all of us with our own needs and backgrounds. We need to take time to see those less fortunate around us and see how we can serve. I've learned that creating ways to serve communities is best done through a bottom-up approach. Economic education gives people the tools to make better decisions to overcome their life challenges. I've become more empathetic and aware of people's potential. But more than that, after building our curriculum, I've realized that there's no one-size-fits-all solution.
What works in our Jakarta, Indonesia chapter might not in our Harare, Zimbabwe chapter. Their economies are different, their people are different, their issues are different. So, we try to curate a curriculum that touches on all their needs and most important economic and financial concepts. I've learned that diversity is the foundation of innovation and inclusivity.
Are there any future partnerships, programs, or events that you are excited about?
I'm excited to partner with university economics departments to engage students in academic research. I also hope to create an advocacy component to inspire schools across the country to teach economics. One program that we're working on is our Read@OEI San Marcos initiative, where we're raising money to donate and hand-deliver 300 personal finance books to underserved K-12 students in my hometown. We've partnered with a good friend of mine from Canada, Armita Hosseini, who published her own "for teenagers, by teenagers" personal finance book, so we'll be distributing her book. Read@OEI is a series of locally-organized book drop-off programs to increase economic and financial literacy in various cities worldwide.
Why do you think it's important for others to give back?
To me, service is at the very core of progress. It's extremely crucial that we give back so that we lift up and walk beside those who have been left behind too long. Even a small act of service encourages our youth to adopt productive behaviors early on and become more community-minded and collaborative.
What do you want people to learn from your story?
I want people to realize that Gen-Z youth hold just as much power and potential to create positive change as adults do. Too often we're cast aside as too naive or too young to understand real-world problems––that we don't have enough experience yet. Though there's some truth to that, I still disagree. Kids can bring something different to the table. Kids bring creativity. Kids bring ambition. Kids bring an insatiable thirst for knowledge and so much more that makes us valuable.
So, if you're a young person out there, don't be afraid to take risks and prove others wrong. Don't be afraid to challenge the status quo. Got a passion? Pursue it. Got an idea? Explore it. Got a vision? Build it.
Do you want to make a difference in your community like Andrew? Find local volunteer opportunities.
Share this post