California Teen Shapes Global Change through Virtually Powered Service for Youth Volunteers
Meet Daily Point of Light Award honoree Annie Mokatsyan. Read her story and nominate an outstanding volunteer or family as a Daily Point of Light.
16-year-old Annie Mokatsyan has been volunteering for years, but when the Los Angeles, California teen asked her parents if she could travel outside of the country for a humanitarian service project, they told her she was too young. That's when Annie got creative, and decided there were ways kids like her could make positive change inside their communities and beyond, without ever leaving their homes.
Launching Am4teens in April 2019, Annie is serving alongside more than 400 student volunteers as they create virtual projects with dozens of humanitarian and philanthropic organizations. Dedicated to supporting organizations committed to causes ranging from children's services to environmental advocacy to Black Lives Matter and mental health awareness, Am4teens has indirectly helped thousands of individuals in global communities through their volunteerism. Providing youth volunteers from the United States, Australia, United Arab Emirates and more the opportunity to directly impact society through various initiatives and projects without having to travel long-distances to contribute in-person, Annie is virtually powering the future of global progress.
What inspires you to volunteer?
I'm inspired to volunteer because I know at the end of the day I am creating change. The prospect of the long-term impact that we are making on someone's life or on a community is what inspires me.
Describe your volunteerism with Am4teens.
As founder and CEO, I recruit youth volunteers and coordinate with international humanitarian organizations on how to get our volunteers involved. We focus on creating sustainable online projects for our volunteers with organizations like Feed the Children , MACERUDET and Land of Hope across philanthropic and humanitarian issues, advocacy and awareness.
Share one personal story with me from your volunteerism.
I'd volunteered with MuttShack Animal Rescue since I was 9 or 10 to rescue puppies from poverty. We'd help the puppies with medical issues and then get them ready for adoption to their forever homes. At first, my volunteerism just involved fundraising, then as I got older, I started getting more engaged in service and using resources to promote the effort. As a result, we started to see more and more puppies getting adopted. It makes me feel relieved knowing that I was able to save these puppies from the dangers of overpopulation and put them in forever homes.
Why do you think it's important for others to give back?
During these unprecedented times, we've all been going our own ways trying to adapt. It's important to volunteer because it gives you the opportunity to be in other people's shoes and experience the growth in humanity. You can change someone else's life through volunteering.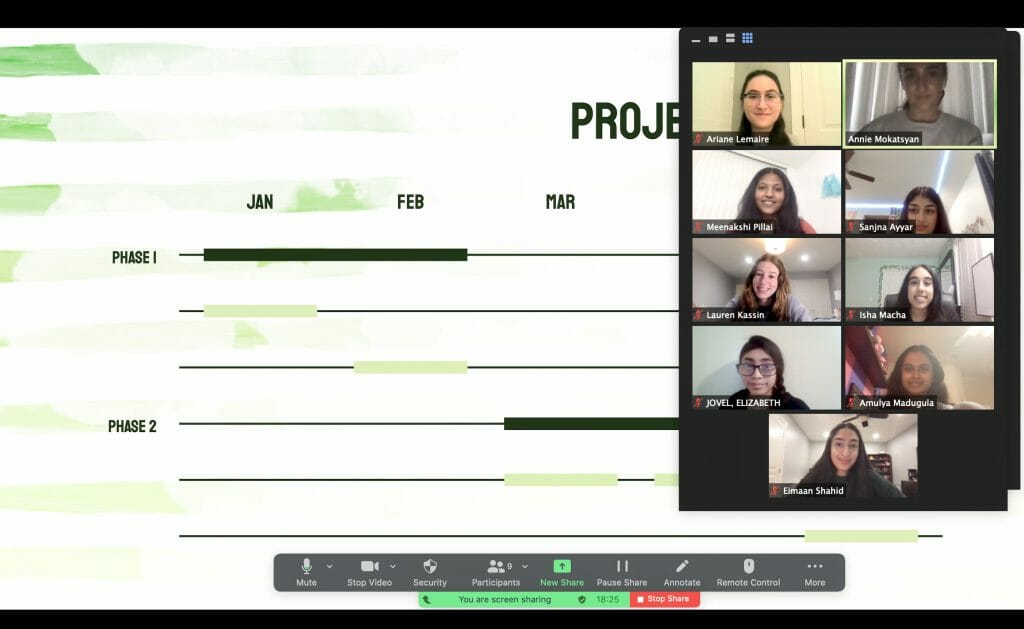 What's been the most rewarding part of your service?
It's rewarding when volunteers tell me they're thankful to be involved in our virtual international volunteer communities, and how they're inspired to be a part of these philanthropic works. We're giving these volunteers the chance to make a change without having to fly to get to humanitarian opportunities on site.
How have you continued to volunteer throughout the COVID-19 pandemic?
There wasn't much of a change due to the pandemic because all of our service is virtual. Worldwide communities are in need of even more help now because of how the pandemic has impacted them, so we were able to continue our work. The pandemic has enabled our organization to grow even more due to certain restrictions. For example, we're currently working with Feed the Children chapters to create worksheets for children around the world that lack educational resources during the pandemic.
In one word, what does volunteering mean to you?
Strength.
When you're not busy with school or volunteering, what do you do for fun?
I play sports including soccer.
How can readers help?
Please visit Am4teens's website for more information about how you can help.
Do you want to make a difference in your community like Annie Mokatsyan? Find Local Volunteer Opportunities.
Share this post