After Hurricane Harvey, Houston Wedding Planner Coordinates Recovery Effort Powered by Volunteers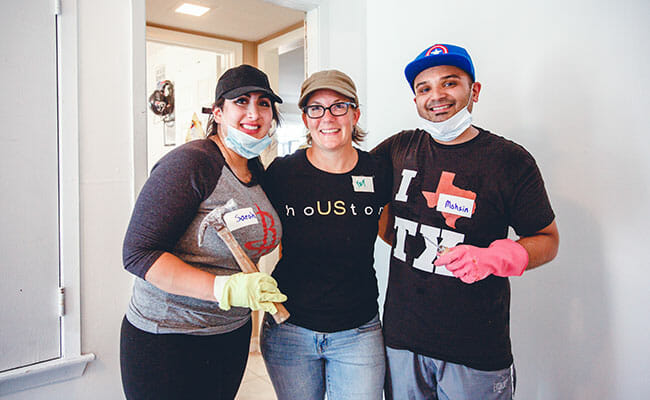 As Texas, Florida and Puerto Rico face the aftermath of Hurricanes Harvey, Irma and Maria, Points of Light is honoring everyday citizens who stepped up to serve their communities during the immediate response and to embark on the long road to recovery. Meet Daily Point of Light Award honoree Kat Creech, and nominate an outstanding volunteer you know as a point of light.
Wedding planner Kat Creech was watching the development to Hurricane Harvey closely, worried about an upcoming wedding scheduled for Labor Day weekend. With doubts about the weather, Kat and the couple, Sarah Samad and Mohsin Karedia, decided to postpone – knowing that they wouldn't truly enjoy their wedding while so many people were suffering through the impact of the storm. And at Kat's suggestion, Sarah and Mohsin invited members of their wedding party, family and friends to instead come together to volunteer in support of families impacted by the flood.
Kat quickly shifted her focus from planning weddings to coordinating relief efforts, and Recovery Houston was born. What started as a Facebook group grew into a movement, with hundreds of volunteers. In just one week, an estimated 600 volunteers helped clear more than 120 homes. The group has now blossomed into a nonprofit organization; they've cleared more than 200 homes and are preparing to start the recovery and rebuilding process.
We spoke with Kat to learn more about her efforts to help people affected by the storm.
What inspired you to start Recovery Houston?
On Monday, Aug. 28, I texted Sarah and Mohsin regarding their wedding scheduled over Labor Day weekend. For more than a year we have designed and planned a 500-person wedding celebration. The unimaginable rainfall and the dam release left the city under siege, with freeways literally looking like rivers. I was not feeling comfortable that their wedding would be able to be executed. All airports and major interstates were shut down and it was pretty certain that supplies and flowers would not be delivered. However, I did not even have to express any logistical concerns to Sarah and Mohsin. Their returned text was simple. "There is absolutely no way that we could possibly start our marriage in a time of crisis and tragedy. We would like to postpone and lift humanity instead." I was really taken back. It was such selfless act.
As this gestured settled in, I pitched the idea of doing some recovery work over what was supposed to be their wedding weekend. They loved the idea and thought that 50-75 of their friends and family would join in these efforts. As a planner, I moved into logistics of how to organize a large group, where do we go, supplies, safety, and how to muck.
While sleuthing I found two people, Kim and Jason, who were separately posting their numbers on Facebook looking for volunteers to help in the recovery effort. I let them know that my clients and their friends wanted to participate in the cleanup effort. They were on day two of mucking houses. They had hearts and hands, but not enough supplies and the list of houses was overwhelming. It was at that moment that the effort to find a place for my client to help ignited an idea and Recovery Houston was founded. Recovery Houston is a volunteer grassroots movement providing relief and assistance to homeowners affected during a crisis. We connect eager volunteers ready to lend a helping hand with house clean-up and mucking.
On Sept. 1, we cleared out six houses while setting up a command center and beginning to put systems in place. The Facebook group quickly grew to 1,000 followers. Over the Labor Day weekend we cleared 94 homes. The volunteers, the donations, and the financial support was extraordinary. The Facebook group has grown to more than 4,500 followers, with continued to grow by the minute. We have assembled a tremendous volunteer group and have already demo'ed, mucked, and cleaned more than 200 homes throughout the Greater Houston Area, with the goal of continuing our efforts well after Hurricane Harvey relief efforts conclude.
One selfless idea, ignited a movement, which has led to an unrelenting desire to continue to lift up humanity. Recovery Houston is an entity which will stick around, drafting a blueprint for how the great people of our city can react better next time, as well as helping to implement similar recovery efforts in other cities and states. We are currently attaining our 501(c)3 status and excited about to lift humanity.
What has been the most rewarding part of the experience so far?
Every day we try to find someone's normal. Normality has a different face, but to offer hope and a step in the direction to rebuild is why we show up every day. Every day, for six weeks, we have been a hero for someone. Helping one person might not change the world, but it could change the world for one person.
What have you learned through your experiences as a volunteer?
People are resilient and humanity is amazing. Hearts and love are stronger than any hate out there.
Why do you think it's important for others to get involved and make a difference in their community?
People helping people made all the difference. Humanity stepped up and saved so many. Without them, so much more would be lost. From the boat rescues to the shelters to the recovery, the unrelenting commitment to help each other was the game changer.
Are there any future partnerships, programs, or events that you are excited about?
Recovery Houston is now an official nonprofit organization and we are attaining a 501(c)3 status. We are ready to get back into the homes we have recovered and help them rebuild. So many do not have the means to rebuild. We also want to be a blueprint for the city, and other cities and states. We are looking at how to reach larger dollars to fund this initiative.
What do you want people to learn from your story?
You can move mountains and really make a difference in someone's life. Volunteers want directions with organizational skills and do not want to be bogged down with red tape. I might have had an idea, but it is the volunteers that truly lift up an organization. I am truly grateful for each and every one of them who continued to give their hearts and hands. What we have learned is that we have solid systems in place for the front end of recovery with first responders and shelters, while we have rebuilding initiatives on the back end. Recovery initiatives are flawed and we can do better.
How can people support Recovery Houston moving forward?
Come volunteer! We welcome volunteers from Houston or anywhere, especially groups. We are also working on obtaining an official 501(c)3 status, but we are accepting monetary donations at Gofundme.com/recovery-houston.
Kat Creech will be recognized at the "Deep From the Heart: The One America Appeal" benefit concert on Oct. 21, 2017, at Reed Arena on the Texas A&M University campus. She will receive her Daily Point of Light Award from Points of Light Chairman Neil Bush, and will be recognized on stage with the five living former presidents, Barack Obama, George W. Bush, Bill Clinton, George H.W. Bush and Jimmy Carter. The presidents launched the One America Appeal on Sept. 7, 2017, to raise funds for Hurricane Harvey relief, and subsequently expanded the initiative to include the regions affected by Hurricanes Irma and Maria. Funds raised will be distributed to Houston Harvey Relief Fund, focusing on the greater Houston region; Rebuild Texas Fund, which distributes funds throughout the state; Florida Disaster Fund; Juntos y Unidos Por Puerto Rico, launched by the territory's First Lady Beatriz Rossello and a private sector coalition; and The Fund for the Virgin Islands.
Share this post