Veteran Leads Platoon of Volunteers in Hurricane Irma Prep and Recovery Work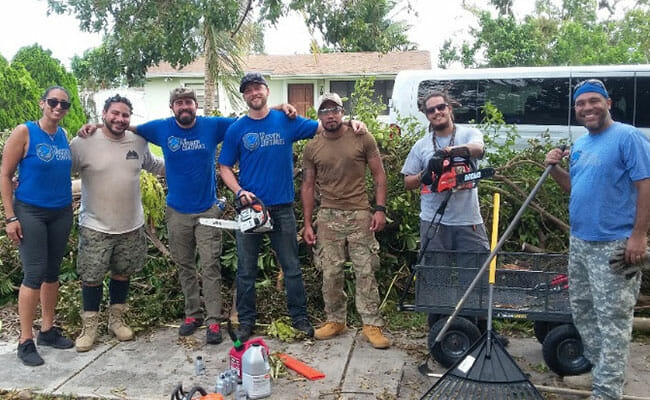 As Texas, Florida and Puerto Rico face the aftermath of Hurricanes Harvey, Irma and Maria, Points of Light is honoring everyday citizens who stepped up to serve their communities during the immediate response and to embark on the long road to recovery. Meet Daily Point of Light Award honoree Derek Auguste, and nominate an outstanding volunteer you know as a point of light.
After leaving the U.S. Army in 2015, Derek Auguste struggled to find purpose outside of the military – but he found his place when he heard about The Mission Continues, a nonprofit that empowers veterans by engaging them in service to the community. Through the organization's fellowship program, Derek volunteered for six months at Up2Us Sports, where Derek recruited and mentored veteran coaches to give underprivileged youth the opportunity to develop positive relationships with adults. At the conclusion of his fellowship, he was hired full-time by Up2Us.
Derek has continued to deepen his commitment to service through The Mission Continues, becoming a volunteer platoon leader for the Miami 1st Service Platoon. As Hurricane Irma moved towards Miami, Derek didn't hesitate to mobilize his platoon to help residents prepare. The homes of elderly and disabled residents were prioritized, including WWII and Vietnam veterans. As the storm passed, Derek recruited volunteers to begin clearing debris. Under Derek's leadership, the Miami Service Platoon has made an incredible impact on the community:
30 homes were prepared with hurricane shutters and plywood.
200 pounds of ice was distributed to a migrant farm worker community in Homestead, Florida.
More than $35,000 of tree cutting, house mucking and debris removal was provided at no charge by volunteers across Miami Dade county and Key West, including assistance for nonprofit agencies who work with disadvantaged youth and special needs students.
700+ hours of volunteer service hours performed.
And, in addition to helping their own community, Derek and his team have stepped up to assist in the aftermath of Hurricane Maria, supporting donation drives to benefit residents of storm-torn Puerto Rico.
We spoke with Derek to learn more about his efforts to help those affected by the recent storms.
What inspired you to volunteer in response to Hurricane Irma and Maria?
In 1992, I was in Miami during Hurricane Andrew and witnessed the devastation caused by a powerful storm. As a child, my parents thought I would be safer leaving Miami and attending school out of state. The sense of leaving my parents and friends behind left me incomplete. I wanted to do more to help. As an adult I believe it is my responsibility to do all that I can for those who might not have the ability to. There was never a question in my mind that I was going to help people in any way I could prior to the hurricanes, and assessing my ability to contribute after the hurricanes.
Describe your volunteer role before and after the hurricanes.
Before the hurricane I was traveling to different homes in Miami to help put up shutters, clean out patios to minimize the threat of flying debris, and moving supplies between teams that were working on homes. We helped 30 homes prepare for the storm. These were individuals who, if we didn't step in to help, there would have been no one else there.
What has been the most rewarding part of the experience so far?
Feeling a sense of accomplishment. After separating from the military in 2015, I have missed the excitement of working as a team towards a common goal and the feeling that I might have saved a life by my actions. Working with the team as I did gave me a great sense of rejuvenation, camaraderie, and mission accomplishment.
What have you learned through your experiences as a volunteer?
Even the smallest gestures can have a monumental impact. Get out and do what you can, regardless of how small it may seem to be. The act of getting out and helping in any form is a contribution.
Why do you think it's important for others to get involved and make a difference in their community?
So much can be done when people get in their minds that something needs to be done. Don't wait for someone else to do it. Some of the veterans that I worked with during this time told me how great they felt, how they didn't think about how bad they have it but instead focused their energy on helping someone else – it really put things into perspective for their own lives and for what they might be dealing with.
Are there any future partnerships, programs, or events that you are excited about?
We are planning a trip to the Florida Keys to work on clean-up efforts. While most of the debris has been cleared away, the amount of trash that is left behind is posing a threat to the environment. I'm looking forward to doing my part to protect the coast line and encourage visitors to come back and enjoy what the Florida Keys have to offer.
What do you want people to learn from your story?
There are no small contributions. Every contribution is important, do what you can with what you can. There is great healing through helping others. While on the outside it appears that I was helping my neighbors, on the inside they were helping me have a sense of purpose and feel like I was accomplished and a contribution.
Derek Auguste will be recognized at the "Deep From the Heart: The One America Appeal" benefit concert on Oct. 21, 2017, at Reed Arena on the Texas A&M University campus. He will receive his Daily Point of Light Award from Points of Light Chairman Neil Bush, and will be recognized on stage with the five living former presidents, Barack Obama, George W. Bush, Bill Clinton, George H.W. Bush and Jimmy Carter. The presidents launched the One America Appeal on Sept. 7, 2017, to raise funds for Hurricane Harvey relief, and subsequently expanded the initiative to include the regions affected by Hurricanes Irma and Maria. Funds raised will be distributed to Houston Harvey Relief Fund, focusing on the greater Houston region; Rebuild Texas Fund, which distributes funds throughout the state; Florida Disaster Fund; Juntos y Unidos Por Puerto Rico, launched by the territory's First Lady Beatriz Rossello and a private sector coalition; and The Fund for the Virgin Islands.
Learn more about The Mission Continues or sign up for a service platoon.
Share this post