Age Isn't a Barrier: 12-Year-Old Volunteer Helps Protect the Earth Through Battery Recycling
Meet Daily Point of Light Award honoree Ananya Potnuru Read her story and nominate an outstanding volunteer or family as a Daily Point of Light. 
Rising seventh grader Ananya Potnuru grew up in Newark, Delaware with one younger sister. Inspired to work toward environmental causes, Ananya joined Recycle My Battery so she can help the Earth. This nonprofit recycling organization is completely run by kids and its mission is to spread awareness of the proper disposal of used batteries.  
Outside of caring for the Earth, Ananya's interests include art and dance. Read on to learn how Ananya is using her voice to educate others about the importance of battery recycling.
What inspires you to volunteer?
Until I found out about how terrible batteries are for the environment, I didn't take recycling that seriously. My parents recycled but I didn't understand how necessary it was. I didn't even know you had to recycle batteries. When my dad told me about it, I decided that this was one way I could help the Earth. When I did some research I realized recycling batteries was a really big deal. Batteries that are just dumped in a landfill cause fire hazards. They release toxic chemicals that contaminate the soil and water, and endanger all living things. 
Describe your volunteer role with Recycle My Batteries.
My main work with Recycle My Battery is to get more kids to join. I am the director of RMB Membership. I give speeches at schools and I also run orientation programs on Zoom for our new members, where I talk about proper battery recycling and answer questions. 
So far I have educated thousands of people and I plan on continuing to spread the word about RMB. RMB has about 325 members right now and we're still growing.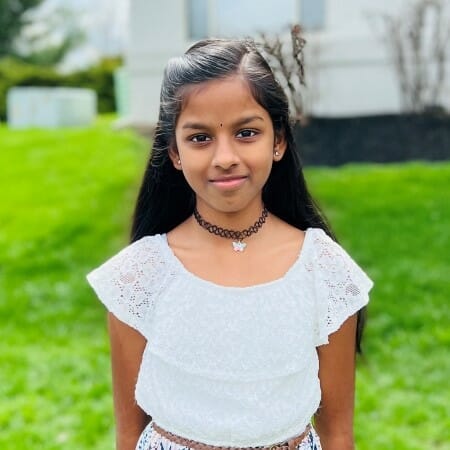 I also distribute battery recycling bins that we get from Call2Recycle, which is the largest battery recycling organization in the United States. Call2Recyle then collects these bins and properly disposes of used batteries. 
RMB holds battery drives at schools, learning centers, community centers and libraries. One thing that all these places have in common is kids, and kids usually have a lot of batteries to recycle from their toys and electronics. These are great places to not only recycle batteries, but also to encourage other kids to join in the effort.   
What's been the most rewarding part of your work?
The best part is that I feel like I'm making a difference. I love helping the Earth and knowing I'm doing something to improve it makes me feel good inside.  
What have you learned through your experiences as a volunteer?
When I was little I was super shy and wouldn't talk at all. I still don't love giving speeches but I'm more confident because I've done so many talks about how important it is to recycle batteries. When I recruit people for RMB, I host a Zoom meeting where I give information and host a live Q&A session. This has made it easier to speak in public. 
It's important to make recycling easy for people because otherwise they won't do it. A lot of people will do what's convenient, not what's best for the Earth. RMB works to make battery recycling simple for the community.  
Are there any future partnerships, programs, or events that you are excited about?
I would love to hold more battery drives. I've been meaning to hold some but can't find a place yet. It's frustrating that not everyone I reach out to agrees to use their location for a battery drive. I'm still working on finding locations for upcoming drives.  
Why is it important for others to get involved with causes they care about?
Getting involved is good for everyone and it's good for the Earth. Volunteering helps with people skills. It makes you feel like you're a part of the community. You're contributing and making a difference.  
I definitely see myself volunteering in the future. I hope to expand on what I'm doing with RMB and move on to something bigger. I don't know what that will be yet but I will definitely keep working to save the Earth. 
What do you want people to learn from your story?
There's no age limit on helping. Kids who are RMB members range from about 8-16 yrs old. My six year old sister just enrolled too! 
Knowing what a problem is and knowing that something should be done about it is awesome but actually doing something about it is way more awesome.   
Do you want to make a difference in your community like Ananya? Find local volunteer opportunities. 
Share this post