High Schooler Fights Food Insecurity with Home-Cooked Meals
Meet Daily Point of Light Award honoree Nate Buescher. Read his story and nominate an outstanding volunteer or family as a Daily Point of Light.
Nate Buescher is 15 years old and, like many other new drivers in the Chicago area, is a bit hesitant to get out on the road. Between traffic and his mom's nerves from the passenger seat, it's a bit of an uphill climb. But as a professional dancer and actor, he's used to confronting the butterflies in his stomach. 
Specializing in hip hop, Nate danced for the Chicago Bulls for four years in a program called The Bulls Kids and is now on a professional team called Xtreme Dance Force. With Nationals quickly approaching, he's spending a lot of his time preparing for the upcoming trip to Florida and the 1,000 other teams in the competition. 
He's also only just returned from a month-long shoot in Toronto acting in a new Apple TV show called Circuit Breakers. And in the midst of all of that, he's also on his school's cross country and lacrosse teams. 
"I'm a very active guy. I do a lot," Nate admits. 
One of his longest standing commitments has been with community service. Nate started volunteering at age seven with The Honeycomb Project. His former neighbor and co-founder and executive director of the nonprofit, Kristina Lowenstein, helps mobilize nearly 5,000 kids and their families every year across the city. 
"When my kids were little, I was looking to get them involved in volunteerism and was finding it really difficult to find meaningful, high-impact projects that welcomed younger kids. But I also was really looking for ways for them to connect to their community and learn about issues in Chicago's neighborhoods," Kristina says of creating the organization.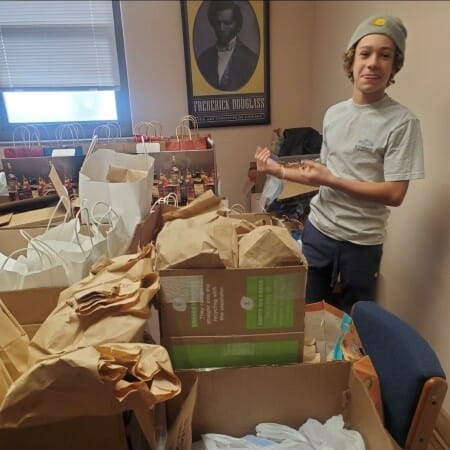 The Honeycomb Project provides opportunities for younger kids to get involved across a wide variety of different causes. In the beginning, their parents make decisions about where they'll spend their time, but as the kids get older, they begin to participate in what is most meaningful to them. For Nate, that is helping people experiencing homelessness and food insecurity. 
"Growing up, my mom always taught me to give back to others. I really didn't know the concept of volunteering until I started [with The Honeycomb Project], but I really fell in love with it because of the way it made me feel. I saw the smiles on everyone's faces," he recalls. "I see a lot of [homeless] people mistaken for being 'druggies' who only want money for the wrong things. You don't see stuff like that every day in the suburbs, so they're often perceived as 'bad'. I think helping them out is really important, because I know how I would feel if I were in that position." 
His mom also taught him to help others without judgement. A person in need is a person in need. 
Over time, Nate has moved into a leadership role at The Honeycomb Project, where he still enjoys participating with his mom. He now mentors the younger kids along with doing his own service projects. One of his favorites is working with partner organization St. Sabina's Food Pantry where, after donating over 200 goodie bags of food in his first week, he saw how big his impact could be. 
"I think what sets him above and beyond is his incredible leadership and taking it next level, particularly with his work during COVID," Kristina mentions, recalling the surge of people visiting the food pantry during the pandemic. "Nate personally collected, prepared and donated hundreds of meals–I think upwards of 1000–that he donated on a regular basis to the pantry so that they could better meet the needs of these clients with healthy non-perishable meals." 
Even still, he wanted to do more. 
"St. Sabina's is only a couple times a year. I wanted to help more regularly. Going through Chicago, you see a lot of tent cities and my mom and I decided to help every other week or as much as we can. There are over 20 tent cities in just a three-mile radius of where I live," he notes of bringing donations directly to residents of such areas and connecting them with social services. 
As an advocate, he often uses his social media platforms to get as many people as possible to participate in making donations. As he is sure to tell people—especially the friends he recruits—it doesn't take much; anything helps. 
Sometimes, communication and the logistics of it all can also be a challenge. Making sure volunteers are clear on when they need to be somewhere or what they can donate is vital. Giving someone with an allergy something with peanuts can be devastating, and coordinating distribution can be complicated. But when it all goes well, it's like a well-oiled machine. 
"All they have to do is go to The Dollar Store, buy a pack of stuff and put in gift bags. Then, we pick them up," he says. "For a lot of these people, their biggest reason for not volunteering is that they don't have time. So, if you're that one person who has time to help others, make it easy for them." 
Another outlet for his creativity and service is the group of under-18 artists he performs with to bring attention to social issues. Singers, spoken word artists, and dancers specifically bring their show to the south and west sides of the city where people are struggling the most. Nate has created a hip hop piece revolving around home insecurity in an effort to reach out to people who might need it. 
"He's just a really special kid with an incredibly busy schedule, and I'm just always blown away by how he fits it all in. And I think service is really important to both Nate and his family. No matter how busy they are, they seem to make it a big priority," Kristina adds. 
As high school graduation keeps getting closer, Nate has had some time to think about his future. While he has already had a lot of forward movement with his artistic endeavors, he is planning a more certain future. 
"I want to go to Notre Dame and work in the medical field. Maybe a physician's assistant. I'm really into helping people," he reiterates. 
He is, however, leaving space for the possibility of an acting career if things take off between now and then. 
"I'm that kind of guy who's like Let's just see what happens." 
Do you want to make a difference in your community like Nate? Find local volunteer opportunities. 
Share this post