Alabama Teen Helps Bring Comfort to Children in Foster Care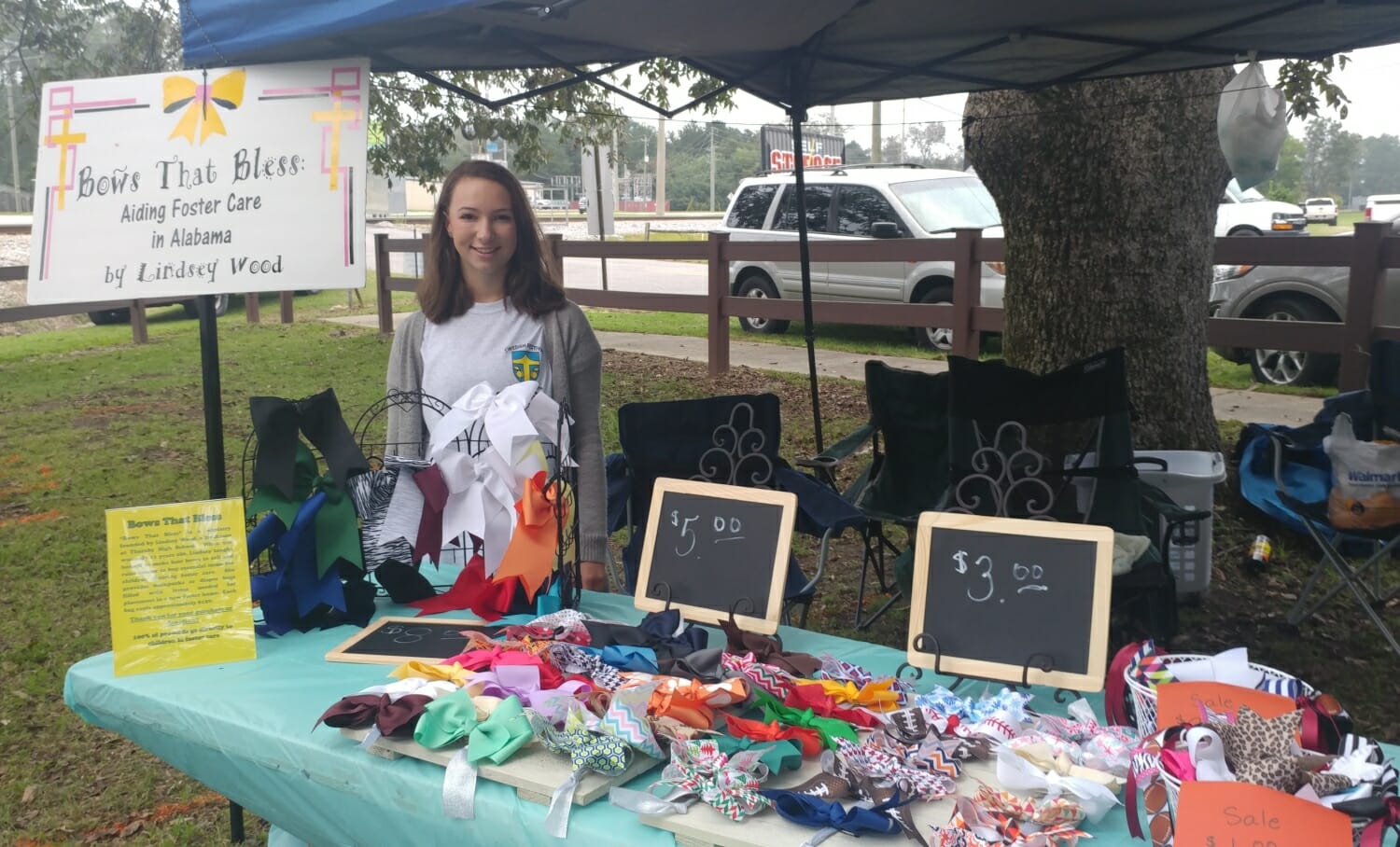 For many children, home means safety and comfort, surrounded by familiar, loving faces. For children in foster care, it can be a different story. Children in foster care often have more than three different placements during their time in foster care. For them, home can mean another new street, another new bedroom, and another new set of faces.
Lindsey Wood's best friend, Amberly, faced many of these challenges while living in foster care, before she was adopted. Inspired by Amberly's story, Lindsey dedicated herself to helping children in foster care feel comfortable in each of their new foster homes as they journey towards their forever homes.
At just 11 years old, Lindsey, now 16, launched Bows That Bless, making and selling hair bows to support children in foster care to cheer teams, at festivals and in local boutique shops. She uses the proceeds to provide backpacks or diaper bags to children when they enter a new foster home. The bags are filled with essential items such as clothing, pajamas, bottles, blankets, stuffed animals, and more. Having a bag of their own helps the children feel a little more at home in their new home.
Making and selling the hair bows is time consuming, but Lindsey's hard work has paid off. Through Bows That Bless, she has raised over $5,500 for children in foster care near her hometown of Thorsby, Alabama, and touched countless lives. And even after five years, she has no intention of slowing down. Alongside making the bows and balancing her commitments to school, sports, and church, Lindsey spends her summers volunteering at Camp of Champions, a summer camp for foster children and their families.
"The most rewarding part of my work is when I get to go to the camps and meet foster families," Lindsey says. "I get to see the joy on the kids' faces and the love that their parents show them."
She hopes to continue to spread this joy, by connecting with other organizations in her community to raise funds for children in foster care and awareness of the unique challenges they face. "I plan to work with my church and other churches to raise money for these children. I am also hoping to partner with my school and sell t-shirts to bring awareness to foster care and also meet the needs of our local Department of Human Services," Lindsey says.
"If you really care about something, you can make a difference," she says. "It always starts small but you can grow into something amazing if you believe it and put in the work."
Do you want to make a difference in your community like Lindsey? Visit All For Good for local volunteer opportunities.
Share this post