Virginia Man Finds New Purpose Through Helping Fellow Veterans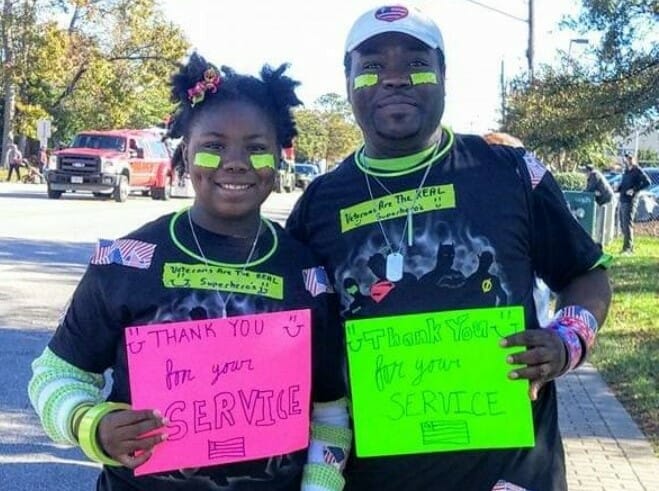 In the years following Antione Hines' honorable discharge from the Navy in 2009, he found himself facing depression, suicidal thoughts and homelessness. He says what helped him turn his life around was volunteering throughout his Chesapeake, VA community. Antione would ultimately find what he called "a new purpose in the community" by creating Veteran's HomeFront, a nonprofit organization dedicated to homeless and at-risk veterans. His focus is giving veterans access to the resources they need and providing them emotional support.
Every Saturday, 30 to 40 volunteers join him in visiting the homeless community to provide toiletries, snacks and contact information for different programs. Antione says he sees about 15 to 20 homeless veterans each weekend, and tries to make the time he and the volunteers spend with them very personal. On top of this, Veteran's HomeFront has numerous other initiatives aimed at reaching the veterans' community that Antione himself is apart of. Antione says he tries to make the organization very family-orientated, and his own teenaged daughter has frequently volunteered with him since she was about five years old.
For his dedication to making sure no veteran experiences what he himself went through, Antione is today's Daily Point of Light Award honoree. Points of Light spoke with him about his journey from homeless veteran to Veterans HomeFront founder.
Describe your volunteer role with the Veteran's HomeFront.
I'm the founder of Veterans HomeFront, in which I coordinate and direct everything.
Our three main goals are to help in veterans' homelessness, number two is to help reduce the number of veterans' suicide, and number three is to help transition our military to a community that is welcoming to them. One of our top programs we do is homeless intervention and street outreach, in which we go on the streets and help the homeless, and we go to different parking lots and help them with toiletries, snacks, different items. But the difference that we do is we bring resources and information and case managers to them, we bring the phone numbers to them, we pray with them, talk with them, motivate them and and make sure we can connect them to different things. So that's one of the main programs. Our second program is our suicide prevention. And so with that we indirectly help with suicide prevention by inviting our active duty military members and our veterans to come volunteer with us. To help the homeless, to clean up the streets, to just refurbish homes, do many things just so we can get the whole family out there doing stuff together to ensure we can reduce those numbers of suicides.
Talk to me about how you founded this organization.
When I was coming out of the military in 2009, I was going through my own depression, divorce, suicidal thoughts, over that year or two. Later, I became homeless and really started volunteering and wanted to be more in my daughter's life. That was the main thing, my daughter's life and my faith. I had to switch my life around in order to be in both of those purposes, but I found a new purpose in the community was to help homeless individuals and help veterans find a better way from just what I experienced.
What has been the reaction from the homeless and the veterans' community in the area?
Many of them reach out to us as a resource. We try to be the gap filler and not be the main source. We have great organizations out here that do housing and other programs with the funding, but there's no one in between that's creating the relationship of being a friend. So we be a friend. We're being the saddle buddy of that veteran, and making sure that at three o'clock in the morning if they need help, two in the afternoon if they need help, we can go out there and talk with them, but also connect them to the things they may need.
What have you learned through your experiences as a volunteer?
I learned it never stops. There's always someone out there who's hurting, there's always someone who has a different story, there's always a family. Not only the veteran is hurting, the spouse is hurting, the children are hurting. And if we can engage the community and we can teach them, train them, and give them a little bit more information, we can bring on 30 to 40 more people and multiply and make it a whole community, a whole city, a whole state, and change lives — save lives.
What's been the most rewarding part of your work?
Seeing the smiles on the homeless, regardless of us giving them money or getting them into housing or anything. Just a homeless person being in their car, having nothing sometimes and just being so depressed, and we bring people out there and they just have a smile. We're not giving them anything but some food or a voucher, little things, but they have a smile, they have a willingness to live another day. We had someone on Facebook, a veteran who was in the Coast Guard. He sent a Facebook post to me later on, after he left the parking lot — he was out there about a year and a half, experiencing it — he said, 'I didn't need much at that point in time but every Saturday I came out there, you motivated me, you don't know how much that changed my life because I was suicidal some of those nights.' And that's why we do this on a regular basis and we can't stop.
Are there any future partnerships, programs, or events that you are excited about?
One of the biggest things in 2019, we're really going to look towards doing focus groups and support groups with our veterans, our active duty and our spouses. Almost similar to AA groups that we can have at any place. At Burger King, at Panera Bread, have a meeting of just veterans talking to veterans, having that peer support. And so we really want to hone in on that. One of the things that's connected back to my daughter, she actually went through suicide prevention training and anti-bullying at her school, so we're really looking at the kids taking a part of this and being leaders in their schools as well as leaders in their home.
Why is something like a support group important to veterans?
We've seen the [United States Department of Veterans Affairs] does as much as they can, the government does a lot of different things. The thing that we've seen is veterans helping veterans, active duty helping active duty. The military community is in a whole other society so that becomes a solution better than just giving them money or giving them housing. It becomes that peer support, wives helping the other wives, military child helping another military child.
What do you want people to learn from your story?
There's more you can do without money. That's the main thing. I think we have so many gifts and so many desires to help people and we think we have to have the degrees and all the certificates. No, you just got to have a heart to love. Bring your kids out with you, make it a family event and just help wherever you can. All these organizations out there, just volunteer.
Do you want to make a difference in your community like Antione? Visit All For Good for local volunteer opportunities.
Post written by Morganne Mallon.
Share this post