Alaska Woman Serves Vulnerable Youth through Fun Activities
Christina Young says the young adults who end up on the streets in her community aren't degenerates, and they aren't someone else's problem. The community shares responsibility, she says, for supporting them in any way possible.
Not willing to write these vulnerable young adults off, the 55-year-old Anchorage, Alaska resident has volunteered with Covenant House Alaska (CHA) since 2014, where she supports staff in offering fun activities for homeless kids in crisis. A safe place offering compassionate, sustainable services and shelter, CHA gives homeless or at-risk youth respite from concerns in their lives that no child that age should have to deal with, Christina says.
Fostering meaningful connections and serving as a support system, Christina is encouraging young people to believe in themselves and make smart choices for their lives, and is today's Daily Point of Light award honoree. Points of Light spoke to Christina to learn more about her volunteerism with CHA.
What inspires you to volunteer?
I strongly believe that volunteers are what move our world forward on so many fronts. Whether it be the environment, political process, helping the homeless or in this case, vulnerable teens. I was raised in Alaska, and had a good friend who could have ended up in a shelter, was it not for a family member who stepped in. I think of her when I volunteer, because this is a population that so desperately needs our support.
Describe your role with Covenant House Alaska (CHA):
I attend their evening activities, and am currently assigned to support the staff in the art room. CHA offers activities in the evenings for youth, including art, gym, guitar, and more. While I'm there, I'm cleaning up the art room, sorting through donations, answering questions from youth about our supply. I let the young adults initiate a conversation with me, if they'd like to talk, I'm there to listen.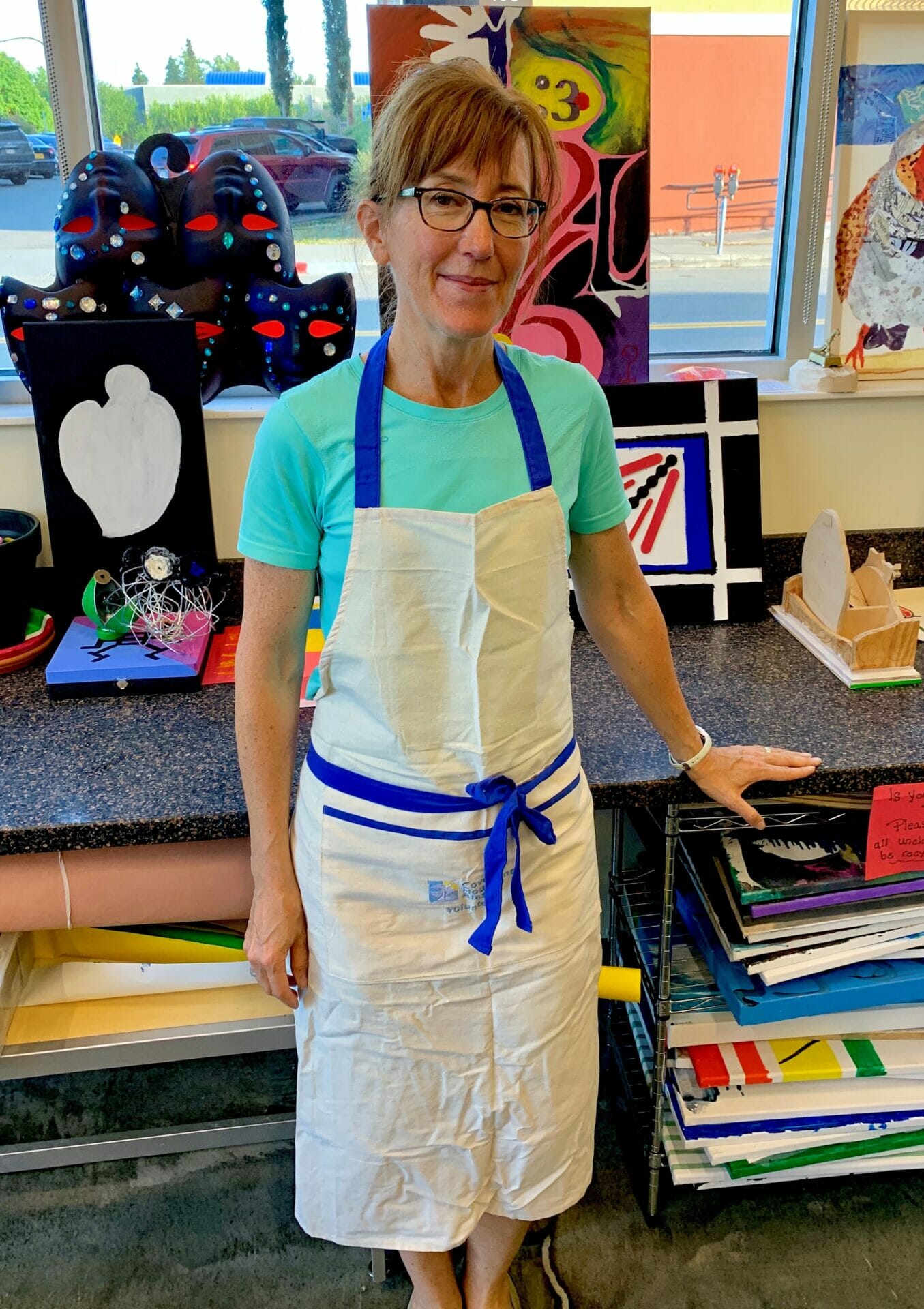 What's your personal motto?
A quote often attributed to Mahatma Gandhi: "Be the change you want to see in the world." Whether it's two hours, four hours, or more, physically volunteering and giving your time is important.
What have you learned through your experiences as a volunteer?
Consistency is key. Showing up, offering your help and participating in service is so valuable.
Share one personal story with me from your volunteerism.
Sometimes there are canvases in the art room that are halfway done, or discarded. Last month, I found a really high-quality canvas that hadn't been used. One of the young adults that attends many of our activities is a fabulous, young, budding artist. I pulled out the canvas for him, and said I thought they could really do something with it. It was so exciting because the piece of art was manifesting into something they really loved. This is a vulnerable population, they are people that want to really be seen. This is the prime of their adolescence, they should be worrying about what color shorts to wear to go play ultimate frisbee. Instead, they're worrying about not being able to go home.
What do you want people to learn from your story?
Be present. Be aware and engaged in what conversation is happening in your community. Identifying and recognizing vulnerable populations in your community is critical. I've really been enlightened by some of the young adults I've met through my service.
How can readers help?
The most valuable asset is people's time. CHA offers evening programs for young adults, but even more could be provided if they had more volunteer support. Please check their website for more information about how you can give back: https://covenanthouseak.org/.
Do you want to make a difference in your community like Christina Young? Click here for local volunteer opportunities.
Share this post