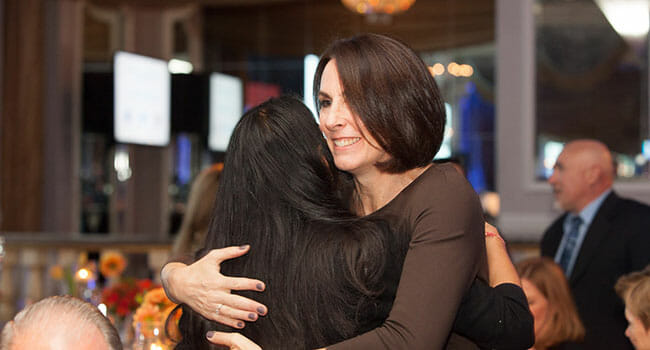 After her mother died of lung cancer in 2008, Andrea Ferris and her family decided to make a generous gift to support research on this devastating disease. But the organizations they found were either young and not very large, or established nonprofits that didn't specifically focus on lung cancer research.
They decided to start their own nonprofit, Protect Your Lungs. "We encountered some amazing researchers who took a leap of faith with us," says Ferris, 48. "Together, we figured out what was missing in terms of the science arena and where our $5-$10 million could be most impactful."
The disease, America's number one cancer killer, remains mysterious and is not as closely connected to smoking as one might think. "About 85 percent of smokers don't get lung cancer," Ferris points out. "That means there's something to discover in the 15 percent who do, so that became a focus of our research." Additionally, 60 percent of Americans diagnosed with lung cancer have either never smoked a cigarette in their lives or have quit smoking.
By June of 2010, Protect Your Lungs was ready to grow and Ferris led a merger with LUNGevity Foundation, which was founded in 2001 by seven Chicago-area lung cancer survivors. Its grassroots activism made for a perfect marriage with the research interests of Protect Your Lungs, says Ferris. Now, as one larger organization, LUNGevity oversees a packed schedule of about 80 events and fundraisers each year, including 45 Breathe Deep walks and runs nationwide. LUNGevity also maintains a comprehensive web presence that brings together patients, caregivers and survivors, while continuing Protect Your Lungs' strong commitment to research.
The research efforts are three-pronged, according to Ferris. The first is early detection and disease intervention aimed at finding ways to non-invasively diagnose malignant nodules. The second is therapeutics, like targeted therapy and immunotherapy and the unveiling of drug combinations that might offer the increased efficacy that AIDS 'cocktails' have. Third is career development, with the organization providing funding to scientists in an effort to keep the field of lung cancer research vibrant with new ideas.
"It's a really exciting time in lung cancer research right now," says Ferris. "There were six new drugs approved last year. That's amazing, and we're proud to be a part of this ongoing research."
To bring together patients and the possibilities that go into working toward a cure, LUNGevity also offers an online clinical trial finder. "A lot of people living with lung cancer survive by moving from trial to trial," says Ferris, "and our tracker allows the user to identify what's out there. It empowers the patient with information and encourages them to present that information to their doctors." A new support service, Clinical Trial Ambassadors, brings together those who have participated in clinical trials and those considering the option. It mirrors the organization's existing Lifeline phone buddy system, which matches people according to their age, disease stage and other factors.
Once a year, all of LUNGevity's efforts intersect at a three-day HOPE Summit. This conference by and for those living with the disease started six years ago, with just 15 attendees. This year, 175 survivors will attend with their caregivers.
"When I go to the summit and see people doing well and I learn how they've benefited from the services we provide, it's incredibly rewarding," says Ferris. "I got involved in this fight because I was looking to make a difference after my mom died, and that includes not just fostering research but encouraging patient education and empowerment. I want to make sure that others don't have the negative experiences that we did."
For those looking to echo her commitment, there are many ways to get involved. Ferris suggests joining a Breathe Deep event in your area, learning about the disease and getting the message out there that there's hope. For more information, visit lungevity.org.
Share this post
---