Animal Lover Helps Special Needs Dogs Find Forever Homes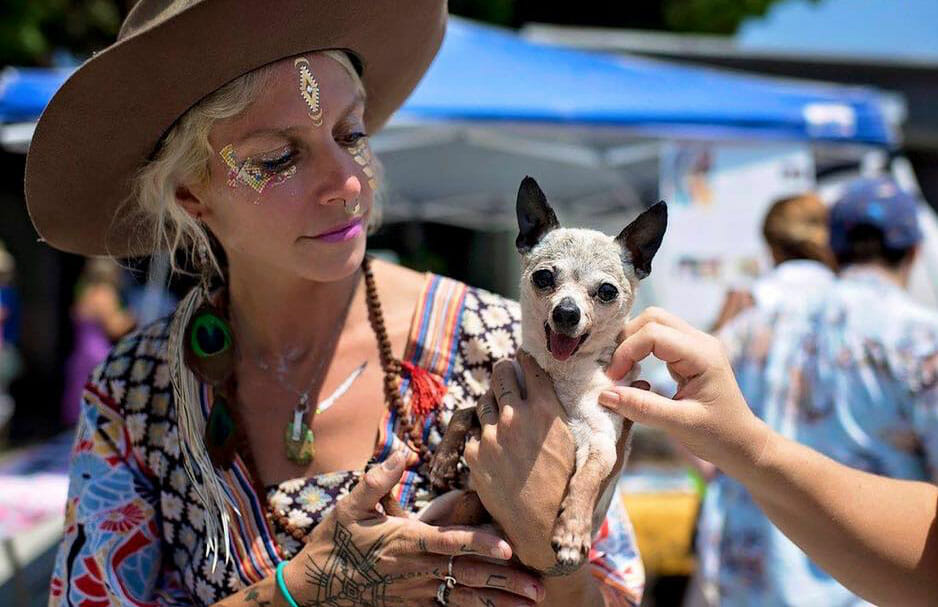 When Carla Naden sees a dog with special needs, a pup that's blind or deaf, hobbling on three legs or feeble, she doesn't get sad. She gets busy. Naden, 38, a San Diego-based artist, is a lifelong animal lover and regular volunteer with Animal Balance global welfare group. In 2013, when she was touring a local animal shelter, Naden had an "aha" moment. That was the day she met Nugget, a homely mutt just a day away from being euthanized. That was also the day she founded Animal Synergy, a rescue, rehab and sanctuary organization that to date has cared for more than 100 dogs. Using her hard-earned network of animal loving professionals, these critters get the help they need, as well as a foster home, or a spot in Naden's own abode, where there is love enough for all.
Describe your role with Animal Synergy – how has it grown and evolved?
I am the director of the Synergy community, a means to help animals more fully. There is help for young and "prettier" animals, but the ones we affectionately call "busted love nuggets" are the ones who spurred us to action. Synergy has saved more than 100 animals from being euthanized, and we have helped individuals, rescues, and shelters work together – helping hundreds of animals this way.
Why is it important to you to support your community in this way?
Doesn't everyone want to feel inspired to make the world a better place? I felt that the animals need us because they have no voice. They offer us a boundless supply of love, and all they ask is that we show up – plain and simple.
What's the most challenging aspect of your volunteer service?
I'm often asked "Isn't it hard to let the animals go after you've nurtured and loved them, particularly when they come to you so broken?" The answer is "yes." But it's not about me. We must love these animals deeply to undo the damage that has been done both physically and mentally to them. To see them embark on their new journey is always bittersweet and a complete privilege.
Why is it important to you to support shelter animals in this way?
The shelter system can improve with help from volunteering, advocating, adopting, rescuing etc. No animal should be euthanized without a real opportunity at life.
What's been the most rewarding part of your work?
The love, the love, the love. Every moment with these animals is a reward. They teach us to slow down, to enjoy the present moment – that's all that exists for these nuggets. They teach us to love fully and to be compassionate. And seeing the joy they bring their forever families is beyond gratifying.
What have you learned through your experiences as a volunteer?
I have learned to truly listen – to an animal who wants to live, or whose time it is to let go. To listen to what volunteers and foster families are able to offer. To listen to shelters, their hopes and their limitations. I've learned to listen more closely to my own gut.
Are there any future partnerships, programs, or events that you are excited about?
Yes! I'm leaving for Nepal shortly for a conference called 'Changing Human Behavior' because most animal suffering is caused by humans doing, or not doing, something. To help animals, we must change the hearts and minds of humans.
What do you want people to learn from your story?
Do the best you can until you know better. Then when you know better, do better. [That's a] Maya Angelou [quote]. "I did then what I knew how to do. Now that I know better, I do better"
Isn't it amazing that we have the power to change, simply by our choices? That is pretty incredible.
Do you want to make a difference in your community like Carla? Visit All For Good to find local volunteer opportunities.
Share this post