For This Family, Making Time to Volunteer Means Making Time to Spend Together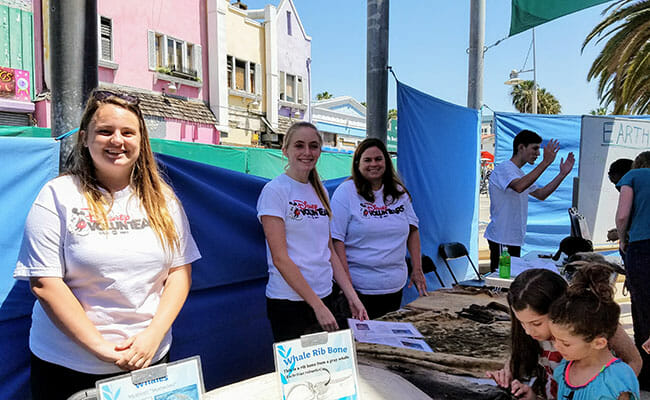 As a mom with two teenage daughters, Susan Birthright says finding dedicated time to spend together can be a challenge. That's why she looks forward to her regular weekend volunteering projects with her daughters, Caitlin, age 14, and Morgan, age 16.
"I like volunteering with my daughters because it allows us to give back," says Susan. "When we volunteer together, we know that time is family time."
Susan, who has been a Disney VoluntEAR and Disney employee for the past 12 years, has been able to find great opportunities for the three of them to give back and spend time together, volunteering at Heal the Bay's Santa Monica Pier Aquarium-themed Saturday events.
Susan, Caitlin and Morgan have volunteered together at the aquarium for the past two years, educating visitors about different marine life and the environmental hazards they face, helping to man the touch tank, and running special event tables such as face painint, a mock vet clinic with stuffed animals, and various arts and crafts. Volunteering at the aquarium has given them the chance to meet a wide range of people, educate visitors and learn more about these issues themselves.
Volunteering is something the Birthright family has done together since the girls were very young. When asked for their first memory of volunteering, Caitlin says, "I remember many years ago we did the chalk walk for the Children's Hospital of Orange County." Susan echoes, "That was actually the very first event we brought them to! Caitlin was only three years old. They have a good memory, it made an impact."
It's no surprise Susan got her daughters involved at young age, as she started volunteering when she herself was young, after seeing the joy and confidence her cousin had from participating in the Special Olympics. Susan realized that when you find a cause to get involved in, your passion to give back helps inspire confidence in others and exposes you both to new opportunities.
"I really liked volunteering in high school," Susan says. "I knew that I was helping and doing good, and it took off from there."
Her dedication to the Special Olympics was also shared with her daughters.
"Volunteering with the Special Olympics is one of the highlights of our volunteering, for me," says Morgan.
Now, Susan looks forward to her dedicated time with her daughters, and also encourages other families to get involved. Volunteering with her daughters since they were 3 and 5 years old has given Susan a unique perspective on getting little ones involved.
"At lot of people say 'well we have really young kids …'," Susan says. "But I say find organizations or causes they can get your family involved and see what sparks your kids' interests. Get them exposure to other things they wouldn't be able to do [on their own]. Even little kids can hand out shirts or pompoms at registration. At first it might not mean much, but taking repetitive action as a family shows them how they can make an impact."
See how your family can get involved on Family Volunteer Day.
Share this post