Youth Mentor Helps Students Realize Their College and Career Dreams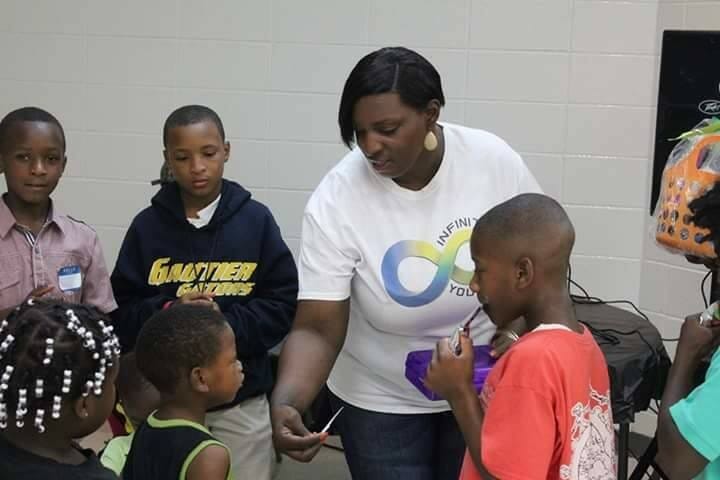 Conventional wisdom dictates if you want future success, you have to pave the way. That's what Ebony McLaughlin tries to do for young people who face challenging circumstances.
Through her organization, Infinity Youth Incorporated, Ebony offers young people the resources they need to reach their academic potential and forge a path for lifetime career achievements. It's an effort, she says, designed to help teens conquer the life hurdles they face and navigate the complex world of college applications and professional goals.
When and how did you decide to launch Infinity Youth Incorporated?
I'm the founder and executive director of Infinity Youth Incorporated. I founded it in 2011. I became a mom at a young age and lost my daughter to heart disease in 2000. In the midst of my homeschooling from the hospital where she was, God gave me a vision to be the support for young people who didn't have the support system I have.
That's why Infinity Youth was created — to make sure [teens] knew they still had a chance. A lot of them don't have the support out there, and a lot of them give up when they become young parents or they have upsets at home. I dedicate my entire life and my time to Infinity and my family. I make sure we give the kids we work with inspiration and encouragement to lead them with the necessary tools that they must have to grow academically and have the life skills they need. We offer academic and life goal setting.
How do young people in the community find you?
Usually, they come to me by word of mouth or a connection with the schools I work with. I also recruit in the community because you have a lot of kids who are involved in organizations or through the schools. But, a lot of them don't think they're worthy of being involved in anything in the school. Infinity goes into the community, and we get our children to participate that way.
What services do you offer your students?
The resources we provide them are academics supports. If they're having trouble with a subject, we get them a good tutor. We [help them focus on] their goals to graduate on time and complete the college application process. We take them on college outings because a lot of parents can't take them themselves, and we want them to have the chance to visit the schools they're interested in rather than just making a decision after viewing online. It's important to a find out what they enjoy, so we sit with them and discuss their passions and what they love to do.
We work hard to make sure our students are prepared on every level and that they understand the do's and don'ts of how to apply for college, how to meet deadline, how to navigate the red tape of financial aid and how to stay academically focused. We have study group gatherings that help them stay grounded and help them live up to the expectations they have of themselves.
We also want to make sure our students go away to college debt free. Parents often hear about student loans and grants, but there are scholarships out there. Each of our students applies for five to 10 scholarships per month because the more you look for opportunities and go after them, the more you get back.
What impacts do you feel you've had thus far?
So far, I've seen a lot of kids that wanted to give up and stop because they didn't think they could do it. Many have been challenged with self-esteem issues, and that comes in all races and ethnicities. I specifically work with these students to give them a plan to go by. They've been more successful under structured leadership.
Since 2011, we've served more than 200 students. One stands out, in particularly. His name was Anthony. He was into sports and wanted to go to school and make his mom proud. We helped him come up with a plan and stay focused. He graduated with a bachelor's degree in business administration. He wanted to be a truck driver, and now that's what he's doing.
Why do you feel that volunteering, in general, is so important?
Volunteering is so important to me because everyone needs that person to let them know they matter. Every family, regardless of whether they're two parents or one parent, needs a second or third helping hand. Every child needs to know they have outlets to go to when things get tough. Sometimes parents just don't understand, and they think the kid should do things the way the parent would do them. Volunteering is very important because it makes sure people know there are those in the community they can go to for a helping hand.
What are your future goals for Infinity Youth?
One of my major goals is to be able to have a campus where students will have 24-hour access. It will have a computer lab and a library where students can study. It will be something like a Starbucks, but like a study hall. Right now, we're looking at the blue prints and the cost of what we're trying to build and which route will be best for grants. Since 2011, we've been funded off of private [donations] — which basically means me, my husband, and people giving from the community.
Currently, we also have two scholarships for $500 each that we award every year. We want to give away five to 10 yearly and have them be as big as possible.
The fact is that without our community and our organizational leaders in the community, we can't make this happen. But, everyone understands that these children need a bright future, and we appreciate everyone that is willing to come out and support us to make a difference.
Do you want to make a difference in your community like Ebony? Visit All For Good to find local volunteer opportunities.
Share this post