Army Veteran Fights Terrorism by Funding Education for Refugee Children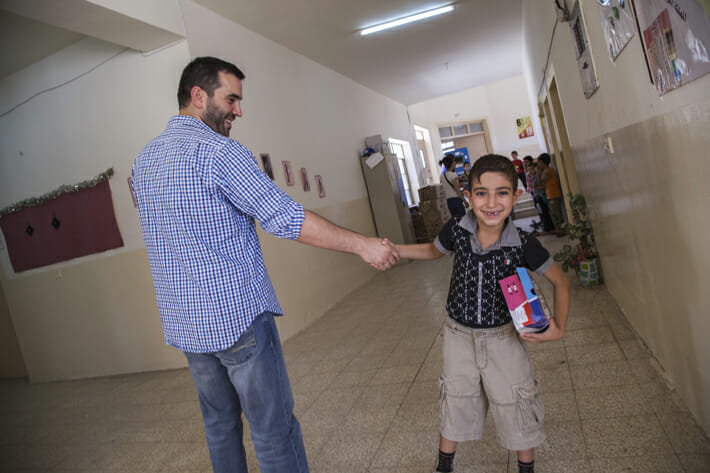 To kick-off National Volunteer Week, which starts on April 23, Points of Light and Got Your 6 are recognizing a volunteer who epitomizes the power of service to unite people for good – even over large distances and across borders. Meet Daily Point of Light Award honoree Zack Bazzi. Read his story and nominate an outstanding volunteer, family or organization as a Point of Light.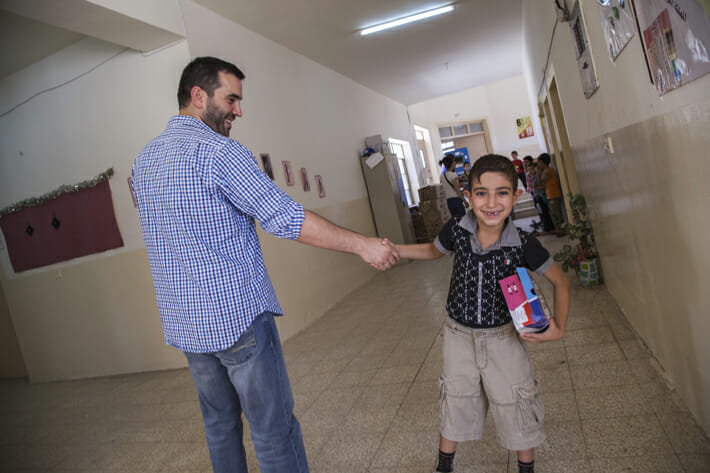 Photo: Younes Mohammad
Zack Bazzi, co-founder and executive director of TentED, with a child who just received a new pair of shoes.
For U.S. Army veteran Zack Bazzi, protecting our national security and making sure Americans are safe is an ongoing mission. However, he believes that the solution to keeping our nation safe goes well beyond our borders.
"We live in a world that's very connected. It's more complex than ever," Zack said. "Good governance in Mosul, a city that a couple of years ago no one in the U.S. knew where it was, affects security in my hometown of Boston. And so in this very mixed up world that we live in, conflicts no longer play out on battlefields. They're more like ideas, and ideas cannot be defeated by armies. They cannot be checked by borders."
Zack believes that putting an end to terrorism and extremism means stopping it before it begins – and the fundamental solution is education.
"Any place where you don't have good schooling to challenge bad ideas that eventually lead to extremism and terrorism is a place that's dangerous to Americans," Zack said. "Investment in educating children displaced by war overseas is also an investment in American national security."
That's why he, along with two other veterans, started TentED, a nonprofit that funds other organizations to help provide education and supplies to refugee children displaced by war.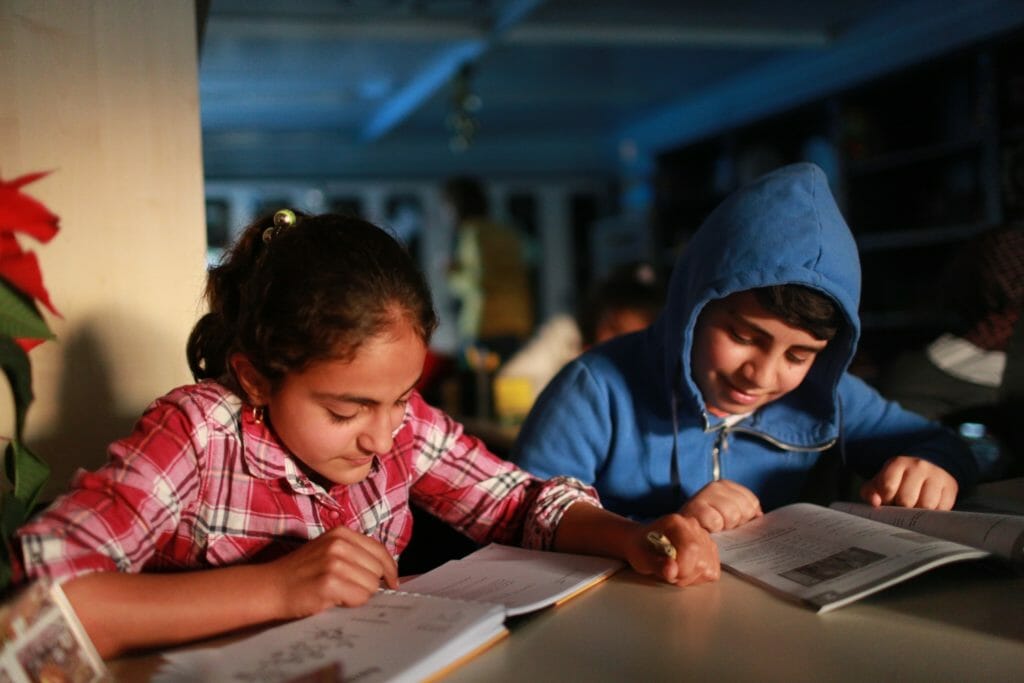 Photo: Anton Fric
Students read books in a new library, funded by TentED, on the grounds of the Mar Elia Church in Erbil, Iraq.
From a project that provided 200 girls and boys with school uniforms to a library that created a safe environment for more than 200 refugee children to learn and read, TentED has provided funding quickly and efficiently to make sure that these children receive an education while also being provided with the resources to help them heal from their traumatic experiences. To date, Zack and his organization have made a difference in the lives of 1,250 Iraqi children and refugees.
The idea for TentED came from Zack's experience as a volunteer aiding Syrian refugees in the Kurdistan region of Iraq. He met and formed relationships with individuals and families who had been uprooted by the conflict. Moved by their courage and resilience, Zack knew that he had to do something. He saw that while there were many large organizations that were doing the heavy lifting, what was needed were smaller, nimbler organizations that could be responsive and do quick, high-impact projects. With fellow veterans Scott Quilty and Patrick Hu, Zack created TentED to help fill gaps in organizations' programming by rapidly funding urgently needed educational support.
Co-founder Scott said that one of Zack's best traits, and a driving force to TentED's success, is his ability to form positive relationships with everyone he meets.
"Zack makes friends as if it were his part-time job," Scott said. "When you first meet Zack, he is very charismatic. All the TentED board and TentED volunteers have met Zack at one point, and were just infected with his good nature and attitude."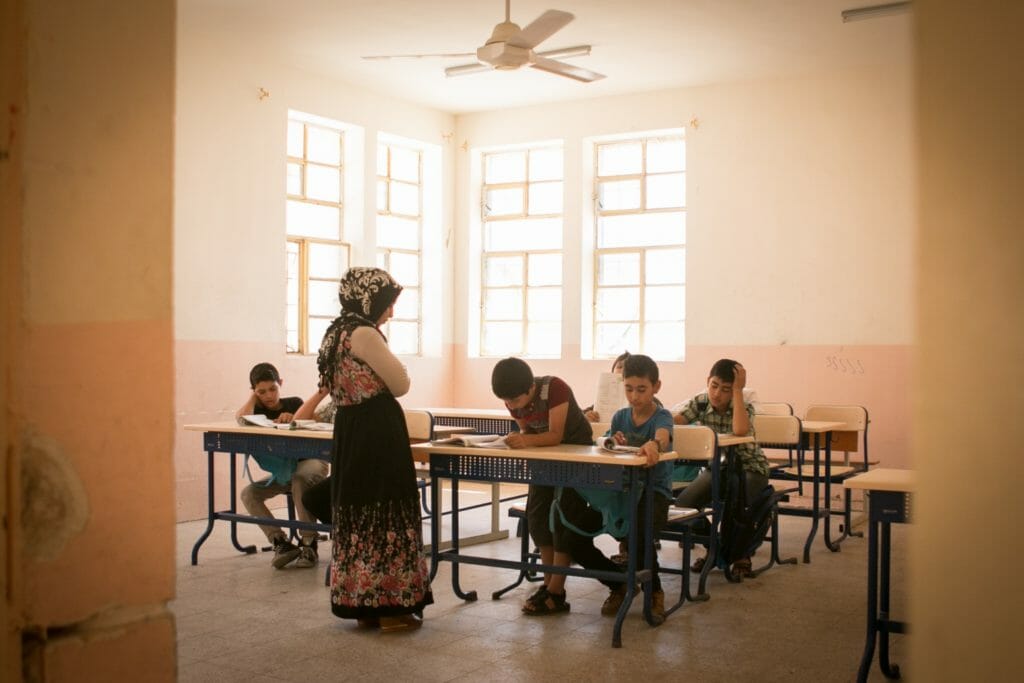 Photo: Romina Peñate
Students study at Garanawa Elementary School in Erbil, where TentED funded three months of bus transportation for students who could not afford it.
In addition to supporting TentED, Zack hopes that Americans will become educated and aware of the complexities and challenges facing Iraq and the Middle East region.
"People cannot just be focused on what's within our borders because the problems that affect us are oftentimes initiated somewhere else," Zack said. "The smart population will ensure that our government is designing and implementing smart policies that are effective in the short-term as well as the long-term."
To help Syrian refugees in the United States, consider volunteering domestically with the International Rescue Committee to mentor refugee families and help them develop job skills or learn English. Volunteer with your local HandsOn Network affiliate or search for local opportunities at All for Good.
Share this post