Finance advocate champions new financial literacy education standards in Delaware school system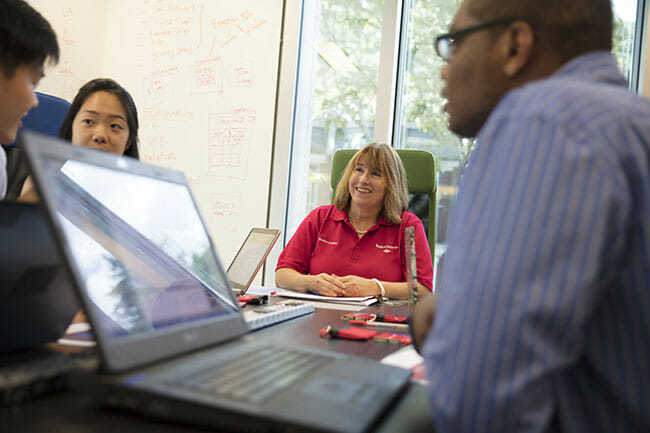 To kick-off National Volunteer Week, which starts on April 23, Points of Light and Bank of America are recognizing a volunteer who has united her community around the cause for financial literacy education for people of all ages. Meet Daily Point of Light Award honoree Connie Montana. Read her story and nominate an outstanding volunteer, family or organization as a Point of Light.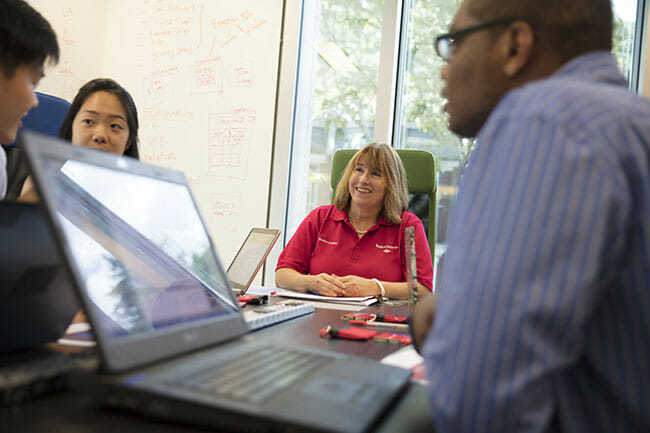 Courtesy: Bank of America
Connie Montana (center) meets with Bank of America's Student Leaders.

If Connie Montana had her way, figuring out how to balance a checking account or improve a credit score would be as commonplace in America's schools as learning the difference between a metaphor and a simile.
For more than two decades, Connie has volunteered to help people improve their financial literacy through one-on-one financial coaching. She also influences large initiatives that promote the inclusion of financial literacy education standards in all Delaware school curricula as a board member for the University of Delaware's Center for Economic Education and Entrepreneurship and a member of the Delaware Department of Education's Financial Literacy Task Force.
"When I realized what an impact you could have on [young people], helping them to understand the business of their lives and their financial futures – that's when I really became passionate about [volunteering]," said Connie, who is a senior vice president and community relations manager for Bank of America.
Working with the Center for Economic Education and Entrepreneurship, which offers K-12 schools supplemental classroom instruction on economic matters and practical skills such as conscientious spending and saving habits, Connie spearheaded the development of one of the organization's most successful programs – "Credit: The Most Important Grade You'll Ever Earn." Now in its ninth year, the program has engaged more than 5,000 incoming college freshmen at the University of Delaware.
Another of center's programs that Connie is deeply involved in is the Personal Financial Challenge. The program is geared toward high school students, who first take an online test to gauge their financial literacy. "The top scoring teams go to the University of Delaware for a Jeopardy-like quiz bowl competition," Connie said. "And, we have about 20 talented volunteers who come and help with that."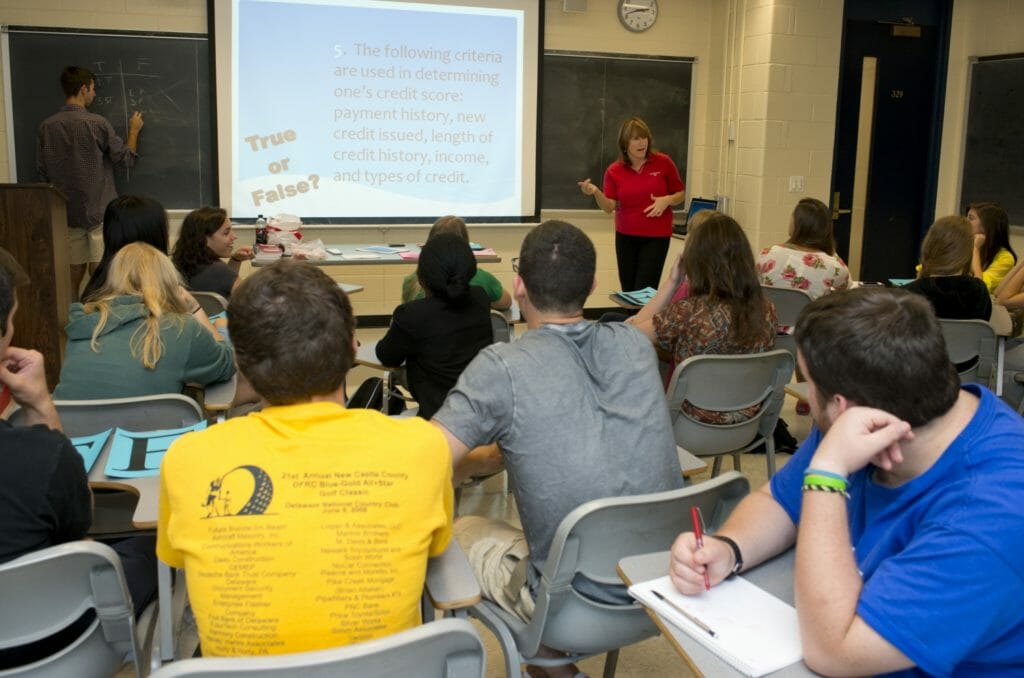 Courtesy: Connie Montana
Connie Montana teaches college freshmen at the University of Delaware about the wise use of credit.

Last year, Connie was the first woman recipient of the James B. O'Neill Award for Excellence in Economic Education, honored largely for her work in providing personal finance education to first-year university students and increasing the number of high school students in Delaware who are receiving financial education.
Connie is also an active member of the Department of Education's Financial Literacy Task Force. The task force has been instrumental in proposing new state standards for financial literacy that will be integrated into existing K-12 curriculum for schools that choose to opt in. "We've already doubled the number of students who are getting financial literacy in classrooms … and [the new standards] will obviously have the multiplier effect there," Connie said.
Always on the go, Connie sits on the Strengthening Communities Council for the Delaware Banker's Association and conducts grant reviews as a volunteer with the Governor's Financial Literacy Education Fund.
"Volunteering, in general for me, is responsible citizenship," Connie said. "But, it's also about diversity, inclusion, advocacy, friendship, team-building, and impact – all that is woven together in the simple act of service."
Share this post