Atlanta Dentist Offers Restoration and Healing as he Repairs Smiles and Lives Through Volunteerism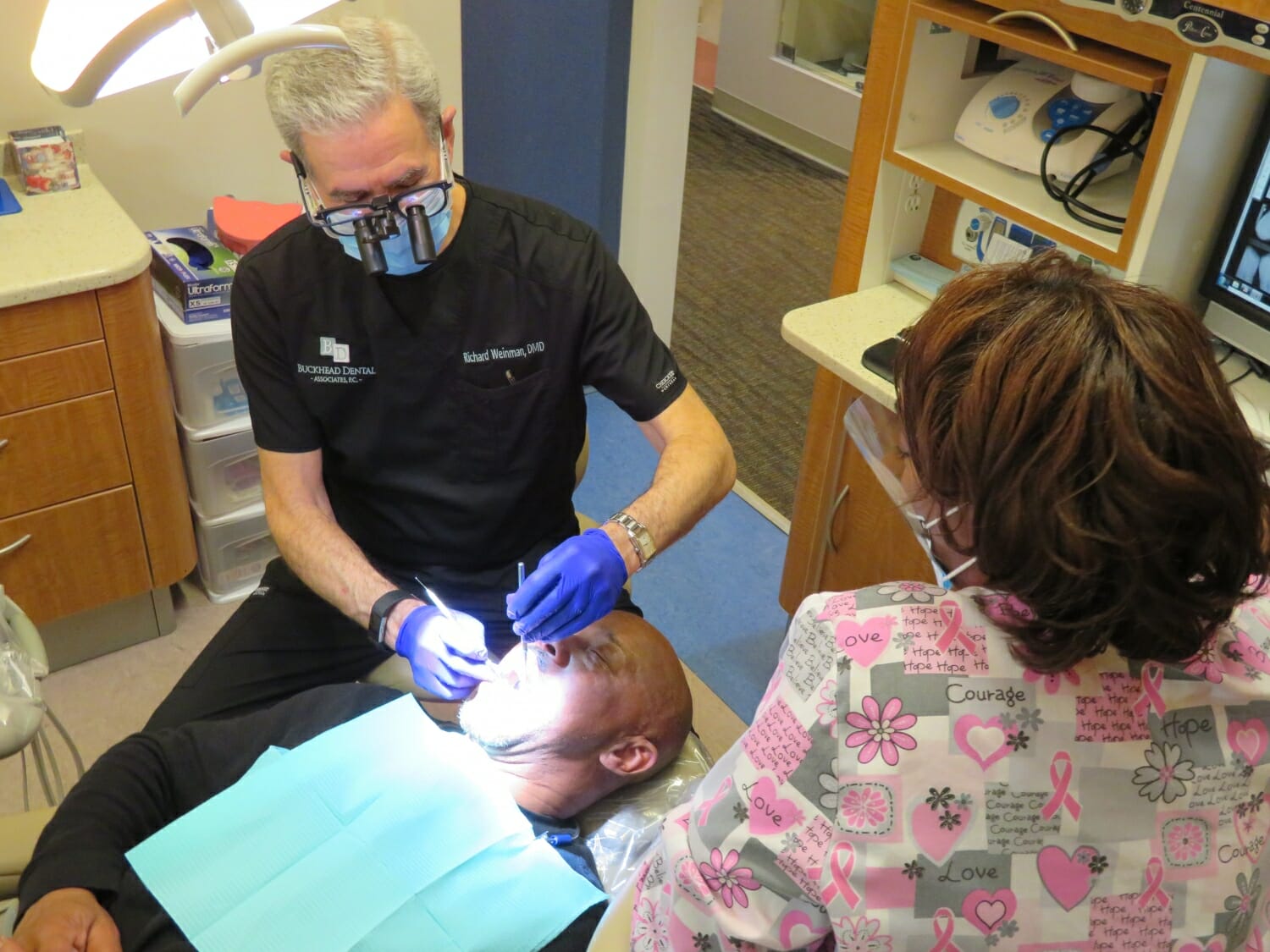 Pearly whites. Chompers. Ivories. Your teeth play a larger role than most give them credit for. They are an integral part of the structure of your face and healthy teeth are vital to diet, health and an overall sense of well-being. But the care of teeth can sometimes take a backseat due to lack of resources.
That's where Richard A. Weinman, DMD, comes in. Devoting several hundred volunteer hours each year across several organizations including the Ben Massell Dental Clinic, Donated Dental Services and Georgia Mission of Mercy project through the Georgia Dental Association, and the Special Smiles program, the Atlanta-based dentist gives his time and talent to treat about 185 low and no-income patients annually across the state of Georgia, at no cost to the patient.
As the cost of annual dental care runs on average over $600 according to the American Dental Association, and sometimes higher, Dr. Weinman is truly giving people in need a reason to smile, and is today's Daily Point of Light award honoree. Points of Light spoke to Richard to learn more about his volunteerism.
What inspires you to volunteer?
My family inspired my volunteerism. My mother, especially, volunteered for many, many organizations. My father always supported her, and always made it a point to give to many different charities. His contributions weren't a secret, he wanted us to know that giving back was something he felt was important, like a personal responsibility. Some people have different hobbies, for me, these different volunteer activities keep me busy and happy.
You are an active volunteer. Share some information about the organizations you work with.
Ben Massell Dental Clinic: Over 100 years old, this is the oldest continuous dental clinic in the country. It is 100% charity, there is no sliding scale, so we are able to take care of the neediest people first. The staff is completely volunteer, we have about 190 dentists on staff that include all specialities for adult dentistry, and we treat between 2,000 and 3,000 patients each year. I have volunteered at the clinic for over 35 years treating the people who fall through the cracks – both low-income and no-income people – and serve as a member of the clinic's board of directors.
Donated Dental Services: This is a year-round charitable program that provides free, comprehensive dental treatment to ​Georgia's most vulnerable people with disabilities or who are elderly or medically fragile. I led the effort to establish this program in the state after seeing how well the program did in other parts of the country. In 2016, the Georgia Dental Association made a three-year commitment to the Donated Dental Services program.
Special Smiles Program: I have been a volunteer with this program for 20 years. It is run by Georgia Special Olympics and provides comprehensive oral health care information, including offering free dental screenings and instructions on correct brushing and flossing techniques to participating Special Olympics athletes.
Georgia Mission of Mercy: I serve in a lead role for the Georgia Mission of Mercy project, a 2-day free dental care clinic that provides about 2,000 patients with nearly $1.7 million in care.
Wow, tell me more about the Georgia Mission of Mercy project.
The Georgia Dental Association's Foundation for Oral Health sponsors this free dental clinic about every other year. Approximately $150,000 has to be raised in advance to host an event of this size, and then in-kind donations are coordinated. Several hundred Georgia dentists and more lay volunteers gather from across the state to donate their time and expertise to provide dental care to thousands of adults in need. Basic dental services are offered to low and no-income adults including cleanings, fillings and extractions. We will see a couple thousand patients over this two-day period. These are people who are really down and out, and they'll wait overnight in lines like you would for a rock concert. We see as many of them as we are able.
Describe your volunteer role as the Chairman of Governmental Affairs Committee for the Georgia Dental Association.
My job as chairman of the governmental affairs committee for the association puts me in the lead to ask for funds and help level the playing field a bit in supporting our dentists and providing care for the community. While the legislature is in session, we ask dentists from around the state to come in and talk about different programs we support. I attend about 6-8 sessions in total, and I might also be called on to testify in committees. Last year, we were able to achieve helping dentists with their student loans. This year, we're working to address the shortage of dentists in rural areas, a crisis affecting all medical professions. We are asking to put into place a program that encourages new practitioners to work in underserved counties by offering to pay their malpractice insurance if they relocate. Lastly, we successfully got the state to commit to paying for a coordinator for five years to help facilitate donated dental services. This role helps the association continue their service to patients across the state.
Share one impactful story with me from your volunteerism.
One young lady had problems with drugs, which is common with some of the patients we see, because they're so out of it, they don't take care of their teeth. They get horrible decay and their mouths are ruined. She came to me through the Donated Dental Services program. In addition to her addiction, she had anxiety issues. Once she recovered from drugs, she then became homebound because she was anxious about the way she looked. I took her on as a patient and restored her teeth. She was an attractive lady but before her teeth were fixed, but she kept her hand in front of her mouth when she talked to you because she was that embarrassed. I've kept her as a patient since then to help her maintain her dental health. When she comes to see us now, she always says how our help changed her life.
You've dealt with some very serious medical situations. Explain.
Let me tell you another patient story. This patient was also referred through the Donated Dental Services program, she had stage 4 cancer and had such severe dental problems, her doctor stopped her chemotherapy because she would have likely died from dental infections if she took drugs to suppress her immune system. The concern was that she'd likely die from cancer if she continued on without chemo. I coordinated her care because it required some extractions and because she wasn't healthy, we got oral surgeons involved in her care. We restored her dental health and got her back on chemo. Truly, once we were able to get her squared away, we knew she was going to be able to take care of herself.
What's one thing you want readers to take away from your service?
What people don't realize is that it's not uncommon for dentists to take on patients on a volunteer basis, whether they're doing so through their church, or for a clinic or organization. People sometimes stereotype us as those rich dentists, making money, buying cars, but there are lots and lots of dentists that really provide for those most in need, and don't talk about it. They're not tooting their horn, they're just out there providing care. When we can make someone look good and get them out of pain, it's a great feeling. It's a great profession, I wouldn't want to do anything else.
What's your favorite part of being a dentist?
My favorite part of dentistry is restoring a patient's smile. A patient can't tell when something is technically correct but everyone can appreciate when we give them an attractive smile.
Outside of Georgia, how can those in need get dental help?
The best way is to check programs that the American Dental Association offers. Additionally, some public resources are available through local organizations, including religious organizations.
For those reading, how can they help?
The Ben Massell Clinic and the Georgia Dental Association are always in need of volunteered services. Please check their websites for more information.
Do you want to make a difference in your community like Dr. Richard A.Weinman? Visit All For Good for local volunteer opportunities.
Post written by Marlena Militana.
Share this post