Georgia Dad is on Mission to Help Pediatric Transplant Patients with "Enduring Hearts"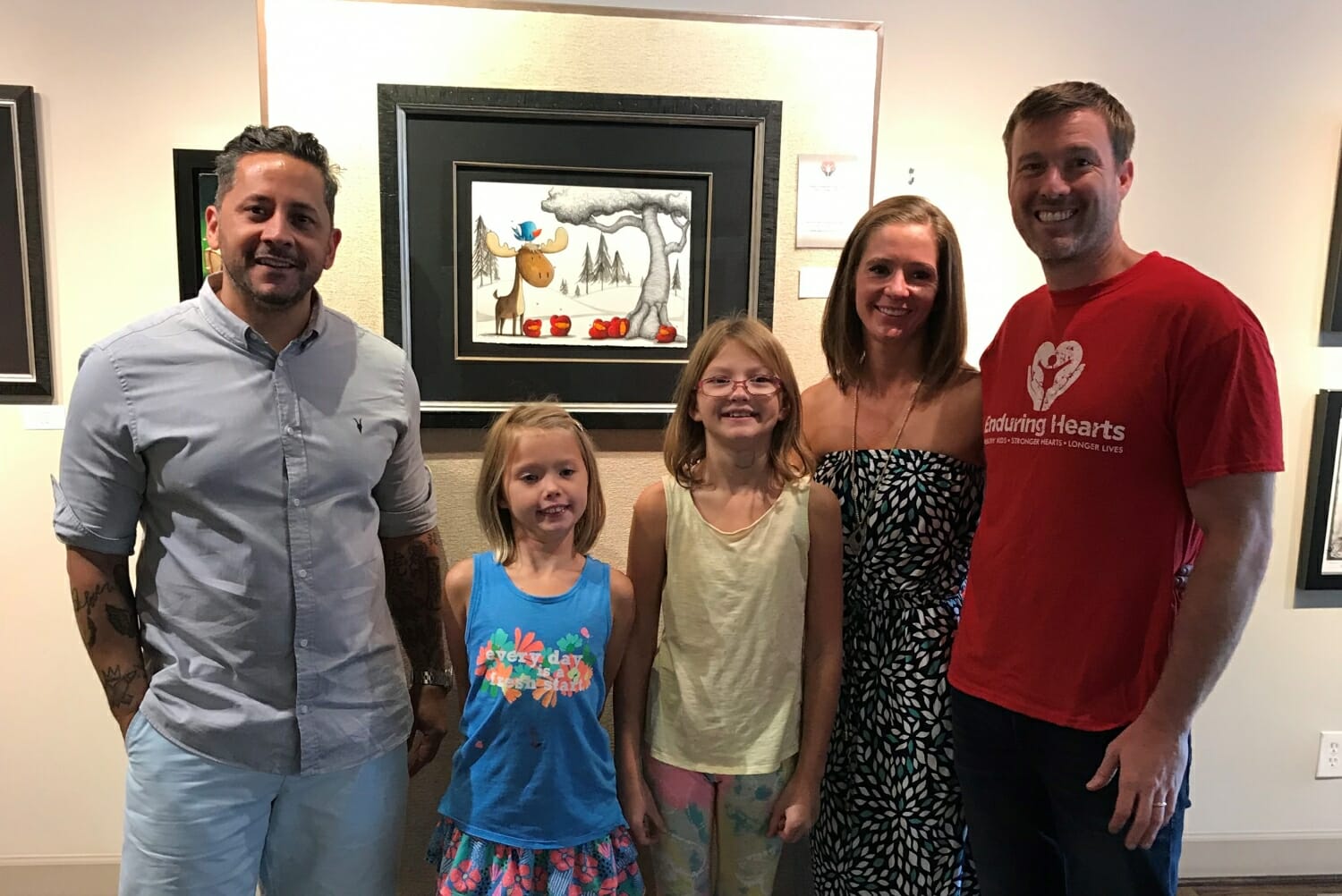 A family vacation, which was planned to be a wonderful trip together, became a nightmare for an Atlanta couple as their youngest child, Mya, 18-months-old at the time, was rushed to the ER suffering from what seemed like an asthma attack. Precautionary X-rays at the time indicated her condition was much worse, the toddler's heart was the size of a 9-year-old's heart.
Mya was subsequently put into a medically-induced coma, and her family prepared for what would turn into a battle for survival. After being listed with top priority status on the pediatric heart transplant list, Mya and her family waited for 6 months in the hospital before she received her heart. Her father, Patrick Gahan, says that excruciating time, filled with many questions and few answers, was difficult as he and his wife, Madelyn, were unsure about what to expect for a child living with a heart transplant. Explaining that heart transplants usually do not end the need for medical attention and concern, instead replacing current issues with new ones, Patrick wondered why there wasn't more innovation in the field to help children live more normal lives following transplants. Launching "Enduring Hearts" in 2013, Patrick designed the organization to fund research that increases the longevity of pediatric heart transplants, improves quality of life, and works to eliminate pediatric heart diseases that may result in transplant.
Raising more than $4 million in donations plus private equity for highly targeted research ongoing at more than 20 medical institutions around the country, including prominent institutions like Duke, Vanderbilt, University of Chicago, and Emory, Patrick is making a difference for pediatric heart transplant recipients, and is today's Daily Point of Light award honoree. Points of Light spoke to Patrick to learn more about his work with Enduring Hearts.
What inspires you to volunteer?
Mya's illness was the starting point for my volunteerism. Now, it's almost a relief to know that when parents go to the internet, they can start searching for what's being done when it comes to pediatric heart transplants, and they can find out that there is someone focused on solving their problem. They're not alone with what they are going through.
Describe your role with Enduring Hearts.
Initially, as the founder of the organization, it was just me setting everything up, getting everything for the organization up and running. I didn't want any dollars going to anything but research. Our staff were volunteers for the first 2 years, then there were very limited salaries after that. Today, we have over 30 active volunteers between our events, board and scientific committee at any time. At one time I was chairman of the board, I now serve as chair of the vestment committee. My primary role is fundraising, so I do a lot of major donor development work for the organization. We also work with the charity's financial advisor to help allocate investments to generate income for the charity.
Tell me about some of the ongoing research projects and annual events you have.
Research: We have over 25 ongoing research projects across medical institutions nationwide including research on transplantation tolerance and validation of novel non-invasive assay for the detection of heart rejection. We are doing groundbreaking work on identifying the precursors to transplant rejection before patients start to go down that path.
Annual 5k: We hold at least one 5k each year, and we're always looking for volunteers. Check our website for more information about how you can help: https://www.enduringhearts.org/.
Private Gallery Showing: On August 23, 2019, we'll have a private gallery showing to benefit Enduring Hearts by Fabio Napoleoni. Please check our website for more information: https://www.enduringhearts.org/.
Holiday Lights: Locally, we'll hold a lights show with an animated Christmas display for families to attend.
Giving campaigns: We'll host end of year campaigns around Giving Tuesday or National Philanthropy month (November).
Your entire family has helped with this mission. Tell me about your oldest daughter.
Our oldest daughter, Anya, is 11-years-old, and she has jumped in to help support the cause with her artistic skills. She makes the most fantastic thank you drawings for notes for our major donors.
How is Mya doing today?
She is about to celebrate her 10th birthday this March. When you look at her, you would have no idea she's had a heart transplant. She's about the best you could expect with a child with a transplant. Her favorite thing to do is play games on the iPad, just like any other child. She doesn't want to be in the spotlight, and she doesn't want to be different than any other kid.
Share one impactful project that Enduring Hearts is working on.
The Road to Recovery program is the most important program we facilitate. It serves two purposes: First, it helps families to mitigate fuel costs associated with transplant care. The expenses can really add up. Transplant families endure frequent back and forth travel during hospitalizations and follow-up appointments or labs during pre and post-transplantation, one parent is often going back and forth between work, the other is watching the other kids. Secondly, it makes us visible to families who might not know about us or our mission. It's really important that we arm them with our resources and information, so they don't feel like they're on their own.
What's in the future for Enduring Hearts?
The priority is making sure the kids that receive heart transplants are living as long as possible and experiencing as few complications as possible. Additionally, we plan to grow our care side, and make sure that we're helping the families at the transplant centers live as normal lives as possible. These kids who have had transplants have to go in once a year for an invasive biopsy of their heart to check for rejection. A lot of research has been done to figure out less invasive ways to detect rejection as opposed to the current gold standard. We are probably two years away from having an alternative. In the name of research and support, we're looking to double, if not triple, our funding.
What's one thing you want readers to take away from your service?
We are going to solve this problem. We are going to make a heart last a lifetime.
What future event do you have coming up that you're excited about?
Our 4th annual Bourbon Gala and Auction is being held on February 15, 2019. Over 400 people will be attending from states across the country. If you want more information about the event, visit https://www.enduringhearts.org/event/bourbon-gala-and-auction-stave-room/.
Do you want to make a difference in your community like Patrick Gahan? Visit All For Good for local volunteer opportunities.
Post written by Marlena Militana.
Share this post