From Disaster Zones to Everyday Life, New York Red Cross Volunteer is Ready to Help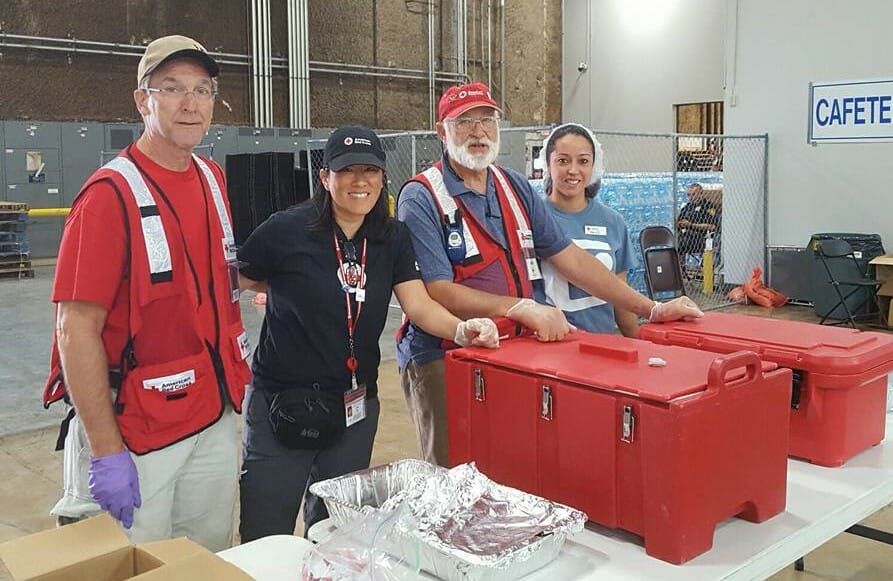 12+ hour shifts. 2,800 person mega-shelter. 20,000 meals a day. A fleet of 30 ERVs. These statistics illustrate only a part of what it takes to support a community in crisis, a sampling of a variety of disasters that have struck the country in the last several years. Behind the equipment, food and time? People like Vivian Moy, who put their hearts and souls into helping strangers in a disaster zone.
The 53-year-old Port Washington, New York resident wears many hats as a Red Cross volunteer, but her passion for helping others in need is behind all that she does. Vivian is involved in volunteering for the Red Cross' Home Fire Campaign, which installs free 10-year smoke alarms in vulnerable high-risk neighborhoods across the five boroughs of New York City, Long Island and Metro North. In addition, she's deployed to five national disasters with the Red Cross including hurricanes, fires and Nor'easters as a sheltering and feeding volunteer, and most recently for the devastating Camp Fire in Northern California as a public affairs volunteer.
Impacting more than half a million people with her service and volunteering more than 3,000 hours over the last two years, Vivian is today's Daily Point of Light award honoree. Points of Light spoke to Vivian to learn more about her work with the Red Cross.
What inspires you to volunteer?
I can't think of a better way to spend my free time than in service to others. Volunteering with the Red Cross enables me to make a "career of humanity". As Martin Luther King Jr. famously said, "Make a career of humanity…it will enrich your spirit as nothing else possibly can. It will give you that rare sense of nobility that can only spring from love and selflessly helping your fellow man…You will make a greater person of yourself, a greater nation of your country, and a finer world to live in."
Describe your volunteer role with the Red Cross.
I do a lot of different things for the Red Cross. Some of the following responsibilities include:
Major disaster deployments: When we deploy for disasters, we leave our homes for two weeks. Imagine stopping your life for two full weeks, and going to help a perfect stranger. That's what we do. I've had 5 deployments so far, my most recent deployment was to the Camp Fire in California. Typically, I'm working 12-hour shifts to help people with resources, basic needs and health services. But it's more than that. You're sitting down, talking to these people, listening to their stories and letting them know they're not going to be alone in this pathway to recovery.
ERV (Emergency Response Vehicle) Driver. Whenever there's a large disaster and the location needs more ERVs than they have in that area, someone from Maine or Maryland or New York is driving that vehicle over to wherever it is needed. The ERVs are able to feed hundreds in affected neighborhoods after a hurricane or tornado, and can be loaded with resources to help in the wake of a disaster.
Home Fire Campaign volunteer: I visit homes in our area to install free 10-year smoke alarms in vulnerable high-risk neighborhoods. Over 500 lives have been saved nationwide as a result of this campaign.
Tell me more about the Home Fire Campaign.
Volunteering with this campaign takes up the bulk of my time. I have looked into the eyes of too many people who have lost loved ones in a fire, and that's the kind of pain you just never want to see on a person's face. Spending my time installing free smoke alarms is something tangible I can do that increases a person's chance for survival. It's such a wonderful program, especially for the elderly. Think of grandmas and grandpas that can't get up on a ladder to check a smoke alarm to see if it's working. I can't tell you how many homes I've gone to where they say the detector is working, and we press the button to see if it's working, and it falls off the wall.
Share one impactful story with me from your volunteerism.
We have what we call mission moments, where we feel like we've really helped somebody. In the San Antonio, Texas shelter following Hurricane Harvey, I came across a gentleman who was so upset. He told me that his rent was due that day. He said he didn't know whether he had a home or a job to go back to. He'd left his dog in his apartment, and he didn't know if the dog was alive. I calmed him down and then connected him with a mental health person on site who could provide more help. While we were in Texas, we were driving through the affected neighborhoods, everybody's house is gutted, their belongings are water logged. Just thinking about these people and what they're going through – you're coming back to your home, and you're trying to clean up from this disaster, you don't have a kitchen to use, you don't have a restaurant to go to for food (cries). It's so powerful to sit down with someone, be genuine about the help you are offering, and provide care and compassion.
Tell me about a unique service the Red Cross provides that readers might not know about.
We replace prescription medications! When a person has a fire, they have two minutes to get out. You can't grab anything, it's not a lot of time. We help those affected by a fire replace all sorts of medication, we help them replace their eyeglasses. One woman displaced by the Camp Fire had a motorized wheelchair, and we got her a new battery for her wheelchair.
You also volunteer for the USO (United Service Organizations). Tell me about this volunteerism.
My son just commissioned as a 2nd Lieutenant in the US Army. He is stationed in Anchorage, Alaska. Once he enrolled in ROTC, I started volunteering for the USO because I knew once he became active duty, those three little letters would mean something to him. I am based in the JFK International Airport location here in New York. It's like a business center where active military and retired can come to relax, use a computer, have cup of coffee. It's a place to be safe before they leave on a flight. I also help with some of their major events like Fleet Week and the Wounded Warriors run. I'm a mother to those military members coming in, just like somebody's going to be a mother to my son when my visits the USO in Germany or Japan.
What's one thing you want readers to take away from your service?
Be the good in your community!
What future event do you have coming up that you're excited about?
Sound the Alarm is a national blitz of events that the Red Cross is hosting through their Home Fire Campaign, it starts on April 27 and goes until May 12. Nationwide, all Red Cross chapters will have this 2-week blitz of home fire installations. Since the inception of the program, Red Cross volunteers have installed over 1 million new smoke detectors. Check the website for more information, and how you can help: www.soundthealarm.org.
Do you want to make a difference in your community like Vivian Moy? Visit All For Good for local volunteer opportunities.
Post written by Marlena Militana.
Share this post
---