Atlanta Medical Student Brings Healthcare and Medical Education to Refugees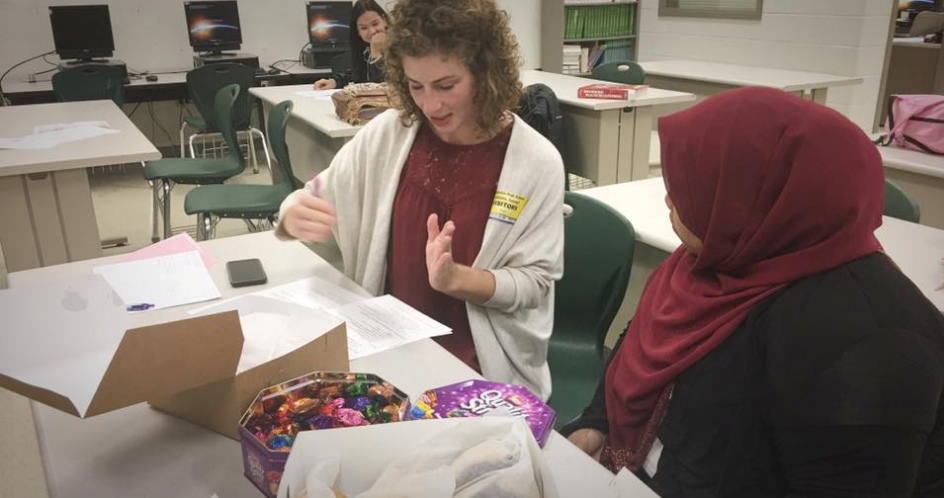 But what sets Hannah apart from other medical students is that she is passionate about providing healthcare and medical education to refugees and the underserved. She co-founded and is program director of the Young Physicians Initiative, a "pre-medical" mentorship program that prepares high school and undergraduate students in their journey of pursuing a career in medicine. The program has had over 40 participants across four different high schools and one university. Hannah also regularly volunteers at the Harriet Tubman Women's Clinic, which provides free reproductive health services to underserved and uninsured women, many of whom are refugees. We spoke with Hannah to learn more about her passion for medicine and why she believes refugees deserve equal access to healthcare.
What drives you to volunteer?
It's just something that I really enjoy. Often going to the women's clinic is the best part of my week. You learn a lot even though you're volunteering. You're not in school, but it's still a great learning experience. Working with the patients at the clinic and working with the students at YPI, it's just something that I enjoy.
Describe your volunteer role with the Young Physicians Initiative and the Harriet Tubman Women's Clinic.
Dr. Kelli, the co-founder, was stepping in for what we call a small group advisor. They're faculty that meets with first and second-year med school students on a biweekly basis. Our small group leader was out of town so Dr. Kelli came and led the group instead. During that time, he told us more about himself, his story and that he was interested in starting a high school mentorship program in Clarkston. The Clarkston High School is made up predominantly of refugee students. I was really interested in working with refugees. I had lived in the Middle East before coming to medical school. I studied Arabic and Middle East politics in college and I really wanted to continue working with populations from other parts of the world during medical school even though I was in Atlanta so I approached him about helping start the program. Ever since then, we've been building it and evolving it. For me, it was really important to continue teaching as that was something that I did before medical school. I just love the opportunity to get to know the kids and watch them grow.
I started working at [the Harriet Tubman Women's Clinic] about a year and a half ago. I'm one of the clinic coordinators. We all volunteer to manage and run the clinic about 1-2 times a month, which involves checking patients in, helping them get any medications that they need, and making sure that the clinic is flowing smoothly so that patients don't have to wait a long time. The clinic also has a phone that enables patients to call us to either schedule an appointment or ask questions.
Why did you choose to start volunteering at the women's clinic?
The clinic serves a large refugee population as well as an underserved and uninsured population in Atlanta. I wanted to continue working with underserved populations because I think that everyone should have equal access to healthcare and the healthcare that you can be provided shouldn't be dependent on what you're able to pay.
What does the Young Physicians Initiative do?
It's a program that is aimed at giving mentorship to low-income and minority students interested in a career in medicine. We know that both of those demographics, both low-income and minority students, are routinely underrepresented in medical schools. While there are bigger structural reasons why that's the case such as financial barriers to get to medical school, part of the other reason is that if you don't know someone in medicine or you don't understand how the application process works, it can be really difficult to even know what classes to take or when to start planning for this. It's easier if you start planning in your early years of college. You really have to be ahead of the curve to be successful to get into medical school.
Our pilot program was at Clarkston High School. The idea was to do interactive medical cases where we took the class in small groups through a medical problem and they would ask questions about the patient, look at their physical exams, tell us what's abnormal, normal, look at their imaging, any other studies that the patient would have in a workup and then at the end, they would get together, summarize the patient and come up with a diagnosis. At the end of the session, we talk about what diagnosis the patient was supposed to represent. The idea is that through that it shows them what the thought processes are in a medical diagnosis and to get them excited and engaged about something related to healthcare. In addition to those interactive medical case sessions, we do physician speakers where doctors come in and talk to the students about their own journey to medicine. We also offer college application assistance.
Why do you think it's important to reach these students while they're in high school?
I think it's important for several reasons. First, developing a mentor relationship with someone in medicine at an early stage is helpful. At the end of the year, I give all the students my email address and phone number and tell them, "If it's seven years from now and you're applying to medical school and want to talk to somebody, you can call me, email me, I'll answer." Also, for a lot of these students, when we ask them "What would stop you from pursuing a career in medicine," a lot of them feel like it's both financially out of reach or too difficult. So addressing some of those issues early and showing them it's possible, that they have resources, and that they're capable of doing it academically is important.
If you're talking more largely about healthcare in general, I think it's important for healthcare providers to reflect or mirror the population that they're serving and that's certainly not the case right now. I think that also having a diverse group of physicians and a diverse medical school class brings a diversity of thoughts and experiences to your learning environment.
What's been the most rewarding part of your work?
With YPI, it's watching the kids get really excited about medicine and watching them work through difficult medical problems and then solve the case and realize that they did that by themselves. So I just enjoy watching them succeed, watching them get excited about medicine. For the women's clinic, it's being able to provide care to women who desperately want healthcare and aren't able to access it and just watching them be able to get that care whether it's somebody who hasn't been able to get birth control pills for the last seven months and is just so excited to have birth control again or a woman who needed a pap smear in a year and didn't know where she could get it because she lost insurance and being able to do that for her, that's the most gratifying part.
Are there any future partnerships, programs, or events that you are excited about?
At YPI, we've incorporated a pre-medical program for university students. I'm not directly running that because we handed it off to students who are a year below me and so that there's continuity for the next two years. So for the program, that's exciting because it's expanding our curriculum to a more advanced level and the students that are showing up at the university programs are very interested in medicine and they're a lot closer to trying to apply to medical schools than the high school students.
Why do you think it's important for others to give back?
It's a learning and growing experience for the person that's volunteering. There's a lot you can learn from helping other people out. It can change your perspective on how you view a problem or just how you see other people in your community. There are definitely people in your community that could use help and if you're able to give that assistance, then you should.
Do you want to make a difference in your community like Hannah? Visit All For Good for local volunteer opportunities.
Post written by Alicia Lee.
Share this post