Atlanta Pastor Shows Neighbors He 'Cares' By Helping Repair Homes
Meet Daily Point of Light Award honoree Justin Schaeffer. Read his story and nominate an outstanding volunteer or family as a Daily Point of Light.
As Atlanta faces a growing gentrification problem, causing many of the city's oldest homeowners to be displaced, one neighborhood association is doing everything it can to help prevent their neighbors from being forced out of their homes.
Local resident and pastor Justin Schaeffer is one of the volunteers running Kirkwood Cares, a committee within the nonprofit organization Kirkwood Neighbors Association. Kirkwood Cares works to fundraise and organize critical home repairs for low-income neighborhood residents who cannot afford the repairs themselves, and are thus facing the possibility of being driven out of the homes that many of them have lived in for decades.
Justin estimates that within the past year and a half, the organization has put on 20 roofs, replaced three furnaces, rewired an entire house, built two wheelchair ramps, fixed dozens of plumbing issues, and helped two different homes that were facing code violations get back up to code. Eager to preserve the socioeconomic and racial diversity within his neighborhood, Justin continues to assists as many of his neighbors in need that he can.
Describe your volunteer role with Kirkwood Cares.
We provide critical repairs to low-income neighbors' homes. I do everything that needs to be done. I do fundraising and social media and graphic design. I visit homes and I collect intake forms. I hire contractors. Sometimes I go out and do volunteer work if it's something we can do. I coordinate volunteer meetings. I interface with our board for the Kirkwood Neighbors Association to ask for our budget every year and give reports on how we're doing. I talk to the treasurer a lot because I have to get checks from him. I'm a chairperson of the committee, because we're a committee of [the Kirkwood Neighbors' Association].
When did you first get involved, and why was it something you wanted to be a part of?
I first got involved in January of 2018. Atlanta has a long history of injustice toward minorities in terms of lending and white flight, when masses of white families left the south part of Atlanta to move to the north. These neighborhoods were divested and banks wouldn't invest here. Often the police wouldn't come here. Now these neighborhoods have suddenly become cool, so people are moving in and the minority residents that have lived here for years often feel unwelcome. They get unsolicited offers on their home. Many of them are living off of $700 to $1,200 a month fixed income, and can't afford repairs to their homes and might be pressured to sell or to leave. I desperately want them to stay and to feel honored and welcome. When I found out that our neighborhood organization wanted to form something like this, I asked if I could volunteer. As a pastor, I had a lot of time I was allowed to use toward this because my congregation let me do that sort of thing. I took it over and started running with it.
What do these house repairs mean for the residents?
It's different for each person, but they often express to me how much they want to stay in their homes and how angry they are at the builders who offer them cash for their house all the time, how annoying it is. Oftentimes, because of that activity that's going on in the neighborhood, and me being a white guy with a beard that looks like the people that are moving in and displacing them, it takes a while for me to gain their trust. But once I do, they talk to me about how this is their neighborhood and they've been there for 50 years or 40 years. Sometimes they're raising grandkids here or they have a few generations or maybe someone else is down on their luck and they're letting them crash on their couch. The house should be paid off — it is paid off a lot of times, sometimes they have a reverse mortgage to try to help pay the bills or something — but between their taxes and needing repairs, they just wouldn't have been able to get [repairs].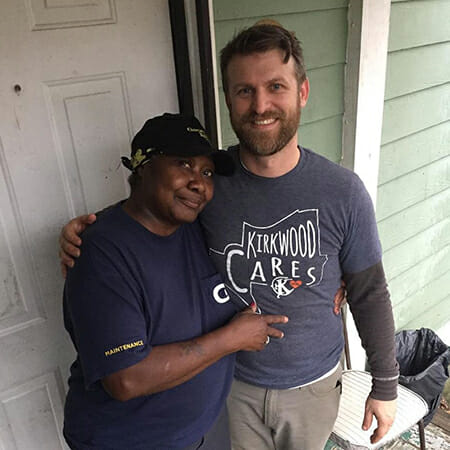 We took down a tree for a lady. It was a 100-year-old white oak. It cost us $8,000 to take the dang thing down, it was so expensive. There's no way she was going to be able to afford that and that was a safety issue. They're always so thankful. They want to stay. Their community here, and the people they know and have been around for 40 years, are dwindling whether they're passing away or being displaced and moving off somewhere else. But this is their community and they still have neighbors who they know and love and they're very thankful to be able to stay.
How do you find the residents you are helping?
Natalyn Archibong is our city council representative for this area and she has been for many years. She has a very good relationship with a lot of the seniors and a lot of the residents who have lived here for a great deal of time, so they reached out to her. … Oftentimes, residents used to reach out to her and she would refer them to us, but more and more now they reach out directly to us. … We just had an article in the Atlanta Journal-Constitution earlier in January and that sparked quite a few of our neighbors calling to ask if we can help them. Sometimes we're on 11Alive, the NBC affiliate here. They come out to interview us when we're fixing up somebody's house and whenever that happens, people find out about us and start calling. We never knock on somebody's house and say 'Hey, your house looks like it's in disrepair.' We give people the dignity to reach out to us if they would like to.
A fantastic story — earlier this month, right after the AJC article, a neighbor reached out to me and said 'Hey, I think our neighbor needs a new roof, he said it was leaking.' And I said, 'Ok, well if you would like to help him, here's our intake form. If you could help him fill it out that would be great.' He helped him fill it out and send it in, and then asked if he and his other neighbors could help fundraise toward the roof. It was a $6,000 roof, and just his immediate neighbors paid for the entire roof within like a day. They just sent us money. Really with almost no work on our part, we found out about the need, got the money to meet the need, and hired a contractor to put the roof on. I love stories like that.
Can you describe what the Kirkwood community means to you since you've been involved with this?
I have been here for three years. I love my neighborhood so much. Their generosity constantly amazes me and encourages me. Sometimes we've done GoFundMe's that aren't related to Kirkwood Cares because somebody needs a bill paid, and our neighbors will just give somebody they don't know $2,300 to pay off their debt. It's amazing. It's really incredible. It's very encouraging. I love the socioeconomic and racial diversity of my neighborhood and want to do everything I can. I'm not a millionaire, I'm not a politician, I'm not a real estate developer, so I want to do everything I can to try to keep it a racially and socially and economically diverse neighborhood, because I think that's best for all of us. I think the neighborhood is great because of it's diversity. It's a wonderful place. It's a place with a rich history. I love the businesses here, and mostly the neighbors are super generous and excited to help.
What's been the most rewarding part of your work?
I've been in ministry for over a decade. The church that I've been apart of, we've talked a lot about what we believe and we really studied a lot and we've talked a lot, but we haven't done much in the community. Now that I have my own church and I'm really involved in the neighborhood, it's really rewarding for me to get an opportunity to do what I say I believe is what's best to be doing with your time, which is serving others, considering others more highly than yourself and loving your neighbor. It's also super cool that we're in Atlanta which is where Martin Luther King, Jr. lived and was centered. His vision for the beloved community inspires me a lot.
What have you learned through your experiences as a volunteer?
The main thing is that there are people you can help no matter what resources you have — education, money, time — right outside your door if you would just look. You don't need to wait for somebody else to figure out something for you. It doesn't need to be complicated, it doesn't need to solve all the problems at once. The problems of affordable housing and gentrification and displacement in Atlanta are overwhelming, and it makes me feel sick to my stomach and kind of sad to really think about the whole problem. But I couldn't let that stop me from meeting my neighbors' needs that I saw are right there. If everybody met their neighbors' needs right out their front door, a lot of social problems would be solved right there. I think that's the main thing.
The other thing is, you learn and are blessed, and as much as you bless others, by having the honor of getting to go into someone's home and hear the stories of their lives, and the stories about their homes where they live, and having them as a friend who is looking out for you, and saying 'hey' to you in the neighborhood — I've really gotten a lot out of getting to know my neighbors and being inside their homes.
Do you want to make a difference in your community like Justin? Find local volunteer opportunities.
Share this post