In honor of her late son, Virginia mom starts volunteer organization to bring joy to sick children
Meet Daily Point of Light Award honoree Kelley Kassay. Read her story and nominate an outstanding volunteer or family as a Daily Point of Light.
Mason was just five years old when he was diagnosed with stage 4 neuroblastoma, a very rare type of childhood cancer. He fought the good fight for several years, but ultimately, life was unfair and Mason passed away at the young age of 11.
His death devastated everybody, but none more than his mom, Kelley Kassay. To help cope with her loss, a friend suggested that Kelley bring toys to kids in hospitals. She didn't think it was the greatest idea at the time, but now that act of kindness has grown into a full-blown organization called Mason's Toy Box.
Every holiday season, Kelley and a group of volunteers dress up as elves and bring donated toys to children's hospitals in Virginia, hoping to bring a bit of warmth and happiness to cold hospital rooms.
Tell me about your son, Mason.
He was five years old when he started limping and telling me that his back hurt so I took him to doctor after doctor and nobody could figure out what was wrong with him. So finally, after three or four weeks of going to multiple doctors, he was granted an MRI and that showed a tumor on his right adrenal gland, but it had already spread to his bone. It was stage four neuroblastoma, which is a rare childhood cancer. He passed away when he was 11 in 2011. He was a really generous, funny, quirky kid. Always joking on people and giving away his presents. One time he asked me for a video game and it was like $50. A couple of days later, I gave him the game, I found a way to get it. And a parent called me and said, "I just want you to know that Mason gave my son this brand new video game." And I was like, "What? I just bought that for him." So when I asked him where it was, he said he thought that kid needed it more than him.
How did Mason's Toy Box come to be?
About six months after Mason had passed is when we started it. A friend of mine had suggested that we bring toys to kids in the hospitals to brighten up their holiday and to help with my grief. At the time, I didn't think it was the greatest idea at all. But we went ahead and did that and the response from the community was overwhelming. We spent many of our holidays in the hospital and it's really no place to be. It's a very unhappy place to be. So to be able to help the families that were in that situation was very rewarding for me.
What kind of comfort do you think toys bring to children that nothing else can?
It provides them with something to occupy their time instead of looking at four walls all day. I think that knowing that other people care, people that don't even know them is very helpful for these patients and families. A lot of families have come back and told us that was their last Christmas with their child. A lot of these children are dying so this may be their last opportunity to do Santa Claus or get a family photo with Santa.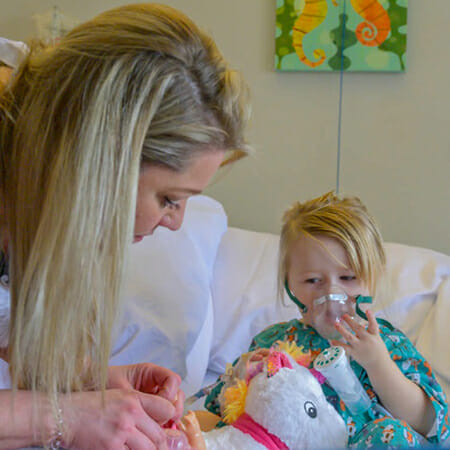 Do you only deliver gifts during the holiday season?
We deliver throughout the year based on birthdays and things like that. If there's a child whose survival is questioned, we'll get Santa to suit up in the middle of the summer and go to the hospital to see that child just to provide some joy.
How has your organization grown since it was founded in 2011?
It's grown significantly. We started with one hospital and I think we have more than 11 hospitals and it just keeps growing. Our volunteer base is over 300 people and we've served thousands of people over the past eight years. We've actually given three families who can't get their children to treatment, we were able to get vehicles donated for them. There was a teenage boy who was in a car accident and he became a paraplegic. So we went in with our volunteers and we got people to sponsor the items and we built him a smart room so he could have some sense of independence. So we're always looking for ways that we can provide for the true needs of the families who are impacted by childhood illness and injury.
What's been the most rewarding part of your work?
It's a very tough situation that I'm all too familiar with. A lot of what's rewarding for me is when those patients are in a better situation and they come back and volunteer. We've had several families do that and it's amazing.
Do you think of Mason and have him in your heart at every fundraiser and event?
Absolutely. His picture is plastered everywhere and he wouldn't have it any other way. It's great to see so many people support and honor my son's memory and I think that's a major part of what helps me through this on a daily basis.
Are there any future partnerships, programs, or events that you are excited about?
We're definitely expanding our hospitals and we're looking into one now in South Carolina. We're also looking into coordinating a black tie gala so we're excited about that.
What do you want people to learn from your story?
I just hope that people remember to keep paying it forward and know that everybody's going to face adversity and we're all going to be in a situation where we're going to hope that there are community members out there working hard to help other people.
Do you want to make a difference in your community like Kelley? Find local volunteer opportunities.
Share this post