Atlanta Teen Creates Nonprofit to Help Keep Hospital Workers Fed and Local Restaurants Busy Amid the Pandemic
Meet Daily Point of Light Award honoree Grey Cohen. Read her story and nominate an outstanding volunteer or family as a Daily Point of Light.
Health care workers have tirelessly worked for the past several months to fight against the coronavirus pandemic that has gripped our nation.
With nurses, doctors and other hospital workers putting their own lives at risk to save others, the last thing they should have to worry about is what to eat for lunch. Well, thanks to 16-year-old Grey Cohen, hundreds of health care workers haven't had to.
Despite her young age, Grey, a high school sophomore, is the founder and director of nonprofit organization The Meal Bridge, a website that allows people to easily buy meals for hospital staff.
It all started back in March when her uncle wanted to send meals to the workers at Emory Hospital, which is where Grey's mother works. Grey thought it was a great idea, but she knew it had the potential to be bigger.
"I thought, 'How can we make this a platform that's available to the whole community?'" Grey said.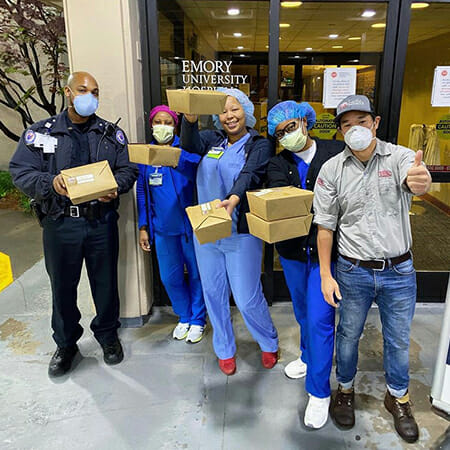 So with the help of her dad who works in advertising and her mom who knows all the ins and outs of the hospital side, Grey was able to launch the Meal Bridge website in just a couple of days.
While donating meals on your own would require you to call the hospital and figure out all the details, Meal Bridge makes donating meals hassle-free. Whoever wants to donate meals can go onto the website, pick a hospital and shift, number of people to feed and then place an order from a list of approved restaurants. All the details you need to tell the delivery driver are right there on the website.
Grey first started the program at Emory Hospital in Atlanta, but it has since expanded to over 30 hospitals not only in Georgia, but also Washington, D.C., Seattle and Los Angeles.
"I think we've delivered around 25,000 meals in Atlanta," Grey said. "I don't have all of the numbers from all the other cities, but they have been doing very well as well."
"We want to show these health care workers that we support them and have their backs. But we also want to help support the restaurant industry because they have been hit so hard," Grey added.
Joey Smith, the unit director for the cardiovascular ICU at Emory Hospital, said Meal Bridge allowed his nursing staff to receive 20 meals twice a day for about a month and a half – one for the day shift and one for the night shift.
The meals "freed up time for our health care workers. It's just one thing they don't have to worry about when they're taking care of these covid patients," Joey said. "They don't have to worry about going to the grocery store or bringing food in."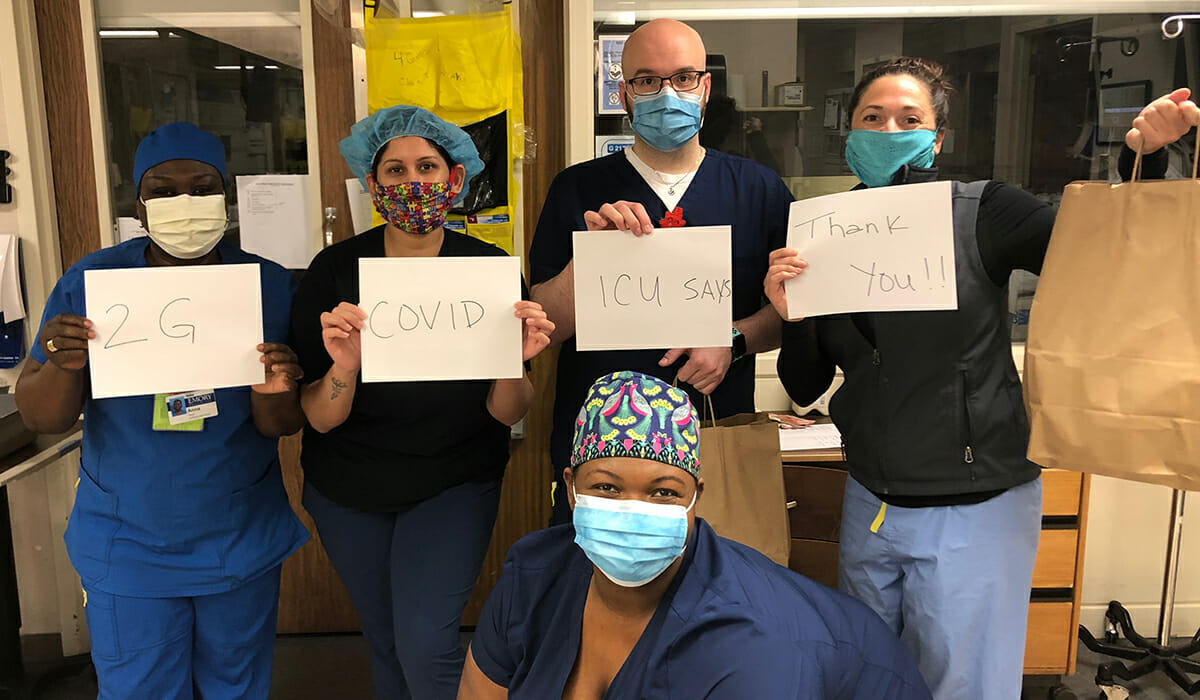 "We're just amazed that somebody that young is doing such an amazing thing," Joey said of Grey. "It means a lot to see our community and American, in general, to see and recognize our work and help be a part of the fight."
Grey doesn't know yet what she would like to study in college or what she wants to be when she grows up, she said, but she noted that Meal Bridge has opened her eyes to volunteerism.
"Through Meal Bridge, I've really seen how community service is so rewarding and helpful to the community," Grey said. "I really just started this because I wanted to help the staff at my mom's hospital, but I never imagined it would turn into something this big."
Do you want to make a difference in your community like Grey? Find local volunteer opportunities.
Share this post