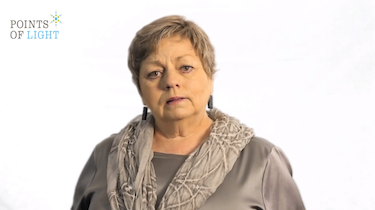 When a long-unused World War II victory garden in north Chicago – created to stave off a food shortage during the war – was converted into a community garden in 2010 by the nonprofit Peterson Garden Project, retiree Barbara Kirchner was one of the first to rent a plot.
She got to work planting vegetables, but she didn't stop there.
Kirchner, who lived just across the alley, was so excited by the Peterson Garden Project that she became an almost daily volunteer: helping staff, greeting new gardeners, bringing snacks and iced tea, allowing construction workers to use power outlets at her home and even opening her home to anyone who needed to use the restroom.
Her enthusiasm and countless contributions quickly led the project's founder and director, LaManda Joy, to proclaim Barbara Kirchner the "Garden Mom."


"I didn't know I'd get so involved," says Kirchner. "But I had wished for years that the city would turn that old lot into a new garden or a park. It was like an answered prayer when the garden project opened, and I just gradually began spending more and more time there, doing anything I could to lend a hand."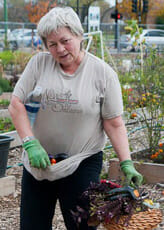 Kirchner also helped to tend the garden's large Grow2Give plot, a section set aside to provide fresh vegetables to the city's food pantries. Grow2Give has produced thousands of pounds of food since the Peterson Garden Project's first year.
While the original garden site was forced to close in 2012, fortunately by then the Peterson Garden Project had expanded to five new locations – including a workplace garden for employees at Chicago's prestigious Field Museum.
Kirchner has continued as a regular volunteer, helping with Peterson Garden Project exhibits and shows throughout the city.


"I was sad, of course, when the first garden closed," says Kirchner. "But I'm more involved with the project than ever. And I can't believe how the Peterson Garden Project transformed our neighborhood. Before 2010, the people on my block didn't know each other. We all met through the garden. And now we're a neighborhood of good friends."
Share this post