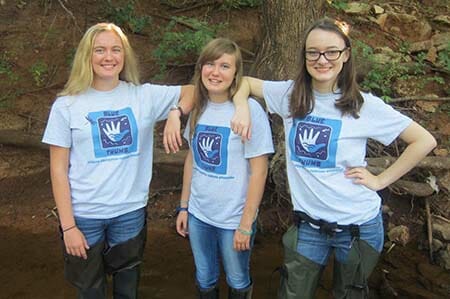 Meet the Daily Point of Light Award honorees behind the book, "Bob Has an Idea." Read their story and nominate an outstanding volunteer you know as a Point of Light.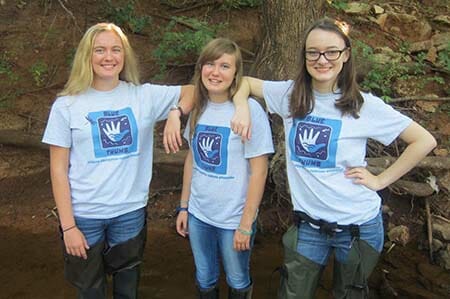 From left, Ariel McAffrey, Ava McAffrey and Katie Prior take a break during a Blue Thumb river cleanup project.
One day, about five years ago, three Oklahoma City Girl Scouts – all avid writers – had an idea for serving their community. They thought: Why don't we use our love of writing to help make a difference?
And so began the saga of these three young friends, who together wrote a book called, "Bob Has an Idea."
Bob is a chipper little hedgehog the girls had created as a mascot for their fledgling writing club. And his idea was to introduce young children to a new version of the "three Rs" – reading, writing and arithmetic became reducing, reusing and recycling.
"We noticed that there weren't many children's books with environmental themes in our library," says Ariel McAffrey, now 17 and the eldest of the girls.
Her sister, Ava, now 14, adds, "We love being outside and we wanted to make a positive impact on the environment. Ever since I was young, my mom has told us that it was important not to create too much waste."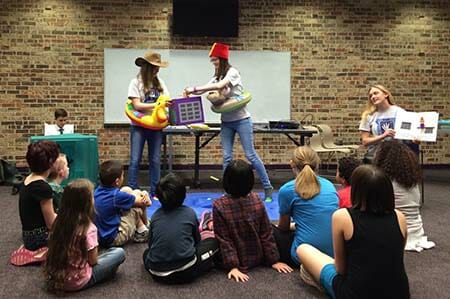 Ariel McAffrey, right, reads to children about caring for the environment as Ava McAffrey (wearing the cowboy hat) and Katie Prior act out the story.
Other parents don't always emphasize that message, though, says Katie Prior, also 14 and who, along with Ava, drew the book's illustrations: "A lot of people don't really talk about it. We wanted to provide another outlet for kids to learn about the issues involved."
The girls self-published the book and donated several copies to the public library and to the nonprofit Oklahoma City Beautiful, which included it in an environmental education kit distributed to fourth grade classrooms.
Encouraged by their success, the girls dreamed bigger.
Next, they created a survey to see whether their peers understood the mechanics of storm drains. They discovered that most people didn't realize that when they rinse a paint brush over a drain or empty their pool water down one, the sludge eventually ends up in the city's waterways.
"We knew we had a lot of educating to do," Ava says, with a laugh.
So they published a second book, "Bob Has a Blue Thumb," which tackled the complicated issue of storm water management. This time, they turned over the proceeds – some $550 – to the Oklahoma Blue Thumb Association, which supports an Oklahoma Conservation Commission program that organizes river cleanups.
More books are in the future, although the young authors haven't yet chosen a topic. But Katie offers a hint: "We're thinking about one that discusses the importance of different plants that live along the riverbanks."
Share this post