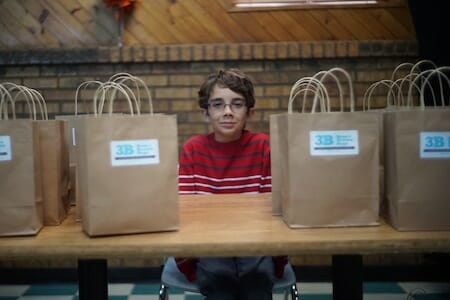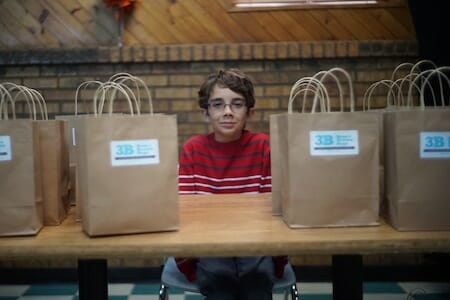 Braeden Quinn Mannering
When 9-year-old Braeden Quinn Mannering was selected to represent Delaware in 2013's Healthy Lunchtime Challenge – part of First Lady Michelle Obama's Let's Move initiative – he had no idea where his tasty tortilla bowl recipe would lead him.
His first stop, the White House, was dramatic enough. As a guest at the Kids' State Dinner, he was privileged to join the first lady in a flavor-filled meal that offered samples of many of the winning entrees.
But then Mrs. Obama asked him how he was going to pay this experience forward.
"At first I didn't know," Braeden, now 12, says. "But when we got home, I saw a homeless man on the street and it was raining and he had a cane and I couldn't stop thinking of him."
Upon arriving back at his house, Braeden packed up some food, grabbed a bottle of water and ran back to find the man. "I thought that this would answer Mrs. Obama's question," he says.
His impromptu act of kindness would grow into Brae's Brown Bags (3B), an effort through which Braeden has given out about 5,000 lunch bags filled with healthy snacks, such as protein bars.
At first, Braeden and his mom, Christy, made sure they always had a packed brown bag on hand for when they encountered a homeless person on the street.
In addition to the snacks and water, they soon began to include contact information for local shelters. Then to make a bigger impact, they started personally delivering lunch bags to the shelters and soup kitchens – something they now do three times a week.
As 3B took off, Braeden began to seek food and other in-kind donations, hold fundraisers and even learned how to write grant proposals. He enlisted the help of students at the University of Delaware by staging bag-packing events.
And he started a spinoff effort, 3B Ripple Student Chapters, which talks to kids about the program and encourages them to participate with starter kits that they can personalize with their own designs and notes.
In addition to his travels around Delaware, Braeden has visited New York, New Jersey, Pennsylvania, Maryland, Florida and Georgia to tell his story. At a hunger conference that Braeden developed and co-hosted, nearly 200 students learned about food insecurity and healthy living.
"I'm always surprised – but inspired by – the fact that there are so many other kids who want to help," says Braeden, recently a guest in the audience during President Obama's final State of the Union address. "It's great for them to see that they can have a voice in making things better."
Share this post