California Teen is Making Her Community Healthier, One Corner Store at a Time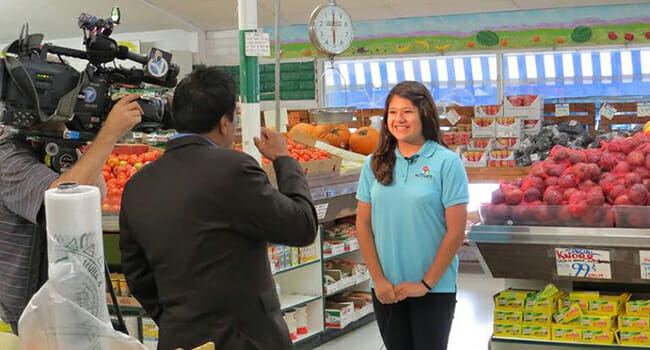 More than one out of every four teenagers are overweight or obese in the city of Whittier, according to the County of Los Angeles Public Health. Officials knew they needed to figure out a way to combat the obesity epidemic in the southern California community. And that's where 17-year-old Analaura Amezquita comes in.
The high school junior has become the face of healthy eating, by promoting Healthy Picks – an initiative that highlights better food choices for families by encouraging corner stores to stock and label healthy items.
It takes dedication to get stores to sign on and keep the program going. Amezquita has embraced the challenge, but at first, she said, it wasn't easy.
"It's a bit nerve-racking. You don't know if they're going to reject [you] … it's not like you want to dictate what's going on in their stores, it's just adding something to make their stores better and healthier, in my opinion," Amezquita said.
But with each store, it gets easier, according to Amezquita. As she spreads the word of healthy eating, store owners have become enthusiastic about making a difference. She also designed the Healthy Pick logo, which is featured in the stores next to certain items that meet or exceed California's nutritional standards.
Amezquita's interest in healthy eating was sparked when she was in 7th grade. Her mother received a flier to attend a program called Change Begins With Me, sponsored by Activate Whittier, a collaboration of local organizations working to build a healthier, more active Whittier.
Through the class, which encourages individuals to develop long-term, healthy living habits within the community, Amezquita discovered the enormous obesity issue Whittier was facing. She set her focus on not only changing her own personal eating habits, but helping to lead others as well.
How does Amezquita explain her commitment? "I'm very passionate about healthy eating." But she has a greater mission: "Giving a voice for the people who don't have one."
Penny Lopez is a project manager for Activate Whittier, which Healthy Picks operates in conjunction with. She said Amezquita's dedication to the neighborhood sets her apart from others.
"Health in your community is based a lot on hope. If you believe that you can make a better community, then you're more willing to risk saying something about [what] you want to see changed," Lopez said. "It's not that we saw anything outstanding that wasn't there already. [Analaura] was already this child who was ready to take on the world – it's just that she needed someone to show her that she could do it."
Amezquita's former principal at Whittier High School, Lori Eshilian, agreed. "She is comfortable standing out by making a positive contribution but does so with humility and appreciation for every opportunity. Analaura is not focused on looking cool or being in the popular crowd; she is focused on contributing to make the world a better place."
Lopez said Healthy Picks has been a success. Members of the community notice the labels, and at one of the stores, people started buying more fresh fruits and vegetables because of the labels, according to Lopez.
Amezquita's mother, Rosalia Calam, who accompanies her daughter on trips to stores on behalf of Healthy Picks, said she's inspired by how her daughter leads by example.
"There are people, like Analaura, who want to be the voice of the community, who serve unconditionally, who are willing to listen and do whatever it takes to help; you just have to find them. I'd tell them to not stay at home, to get out there and find that help that they need."
Amezquita said working with Healthy Picks and eating better hasn't just changed her physically, it has motivated her to do more. Her next goal? Getting larger grocery chains to pick up Healthy Picks.
"Activate Whittier has been essential in just helping me grow as a leader … if you don't go and ask, you'll never get anything done."
Share this post