Former Foster Child Turned Country Star Seeks to Help Other Kids in Need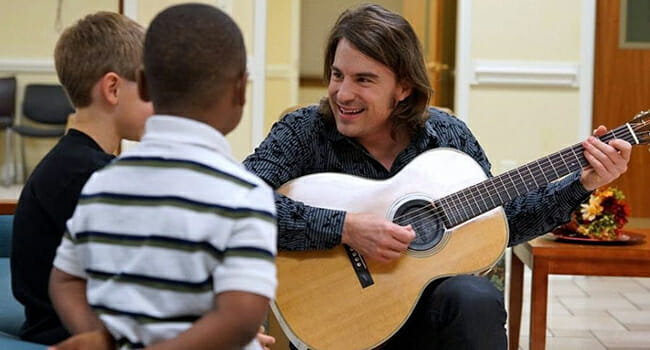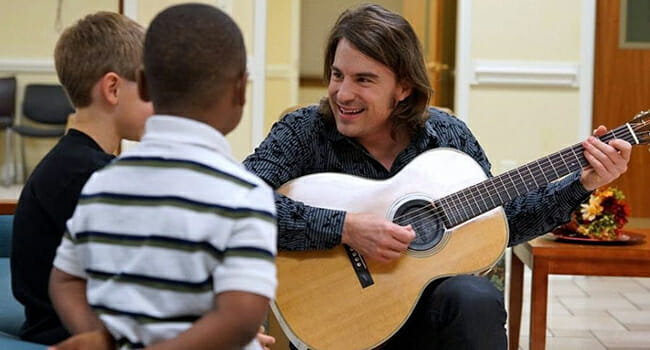 Courtesy: Jimmy Wayne
Country artist Jimmy Wayne sings to children in Mobile, Ala. The children were homeless and living with their mothers in the battered women's shelter.
In 1994, a class of criminal justice students from a community college in North Carolina took a field trip to a local youth detention center. The guard at the center greeted the class by saying, "Good morning. In here we have all kinds of trash." One of the students raised his hand and said to the guard, "You may not remember me, but my door was the last one on the right and you were the officer that checked me in on my 15th birthday. We've all made mistakes, but none of us are trash."
That student's name was Jimmy Wayne. And that was the moment he knew he had to do something for America's foster kids. And it had to be big.
Born to a single mother who suffered from bipolar disorder, Jimmy spent his childhood being shuffled in and out of foster homes, while his mother spent time in the hospital or behind bars. Crystal Friday had Wayne in her sixth-grade writing class, twice.
"His anger is what I remember the most," Friday said. "But I worked with him and told him to just write it out. Everyone had to have a journal. But if they wrote something they didn't want me to read, I told them to fold that page down and I respected that."
Friday said Wayne's journal was full of folded pages, but from the pages she was allowed to read – she could tell he had a gift for storytelling.
When he was 13 years old, Wayne's mom got out of jail and drove him to Florida where she abandoned him in the middle of the night at a bus station. Suddenly he was a homeless teen who had to learn how to live on the streets. He got into his share of trouble but eventually figured out the key to survival.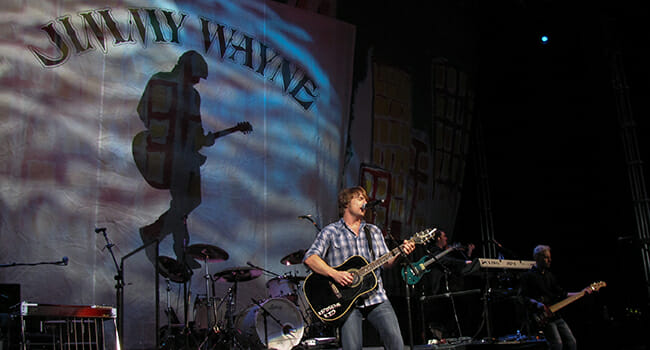 Courtesy: Vickie Ferrante
Jimmy Wayne on the road with Brad Paisley's American Sunday Night tour, singing "Sara Smile," the song that helped land his first record deal.
"Work. That's what saved my life," Wayne said. "Learning how to physically work and earn money. It made me brave enough to walk up to people and ask for help."
For the next three years, Wayne worked any job he could find while couch surfing among foster group homes and receiving homes. By the age of 16, Wayne had aged out of North Carolina's foster care system and was back on the streets.
That same year, he met Bea and Russell Costner. The elderly couple took him in and helped him turn his life around. He graduated from Bessemer City High School in 1992 and went on to earn an associate degree in criminal justice from Gaston Community College. Inspired by Bea's love of music, Wayne also started writing songs and before long, he had moved to Nashville, Tennessee where he landed his first recording contract and publishing deal with DreamWorks. The homeless teen turned rising country music star was now sharing the stage with the likes of Vince Gill and Brad Paisley. But something was still missing.
"I was standing in the foyer of my house, staring at my cup of coffee and thinking about the past years of success," Wayne remembered. "I looked outside and it was very cold. But I was inside. I had a housecoat and comfortable shoes on. I turned the thermostat up and when I heard the furnace turn on and I felt that heat blowing through the vents, it just sent me over the edge. I started feeling really guilty."
Wayne said his mind immediately flooded with the harsh and painful memories of what it was like to be abandoned and homeless.
"When you live outside, and you're asking people for food and work, that never leaves your mind," he explained. "You never really forget how that felt."
Within minutes, Wayne decided to make good on the promise he had made to himself in that detention center. He came up with the idea to walk halfway across America to raise awareness for the more than 20,000 foster kids who age out of the system and become homeless each year.
On Jan. 1, 2010, Wayne set out on a six month, 1,700-mile journey from Nashville to Phoenix. He named the project "Meet Me Halfway."
"In other words, I'm not going to do it all for you, you have to at least meet me halfway," said Wayne.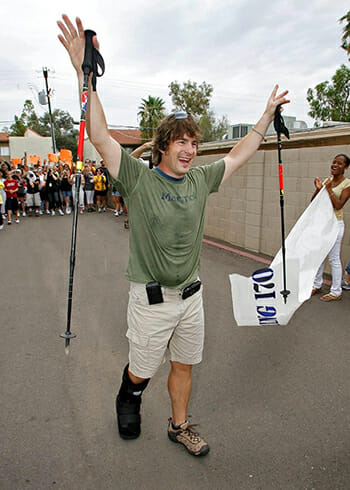 Courtesy: Jimmy Wayne
Jimmy Wayne seen crossing the finish line, after his 1,700-mile journey to raise awareness about the country's foster care system.
He chronicled his walk in a New York Times bestseller titled "Walk to Beautiful: The Power of Love and a Homeless Kid Who Found the Way." Project Meet Me Halfway is now a 501(c)(3) dedicated to building transitional homes for foster children who age out of the system.
Since completing the walk, Wayne has also shared his story with state legislators to help pass bills extending the age limit of foster care from 18 to 21 in California, Tennessee and his home state of North Carolina. Jimmy said giving those kids just three extra years to finish school, find work and transition into adulthood can make a world of difference.
But ultimately, Wayne believes the biggest impact is not going to come from the government.
"It comes down to ordinary everyday folks like us to get involved," he said. "We all have resources that we can offer these kids. Mine was singing and writing and performing. So we all have to identify what our resources are and then ask ourselves, 'How can this resource help a kid?'"
Wayne says it doesn't take much time or money to give a kid hope. Visit his website for more ideas and inspiration on how you can help change the lives of America's foster and homeless children.
Share this post