Campus Initiatives Spark Gratitude and Desire to Give Back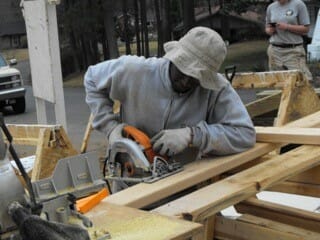 Frandy Osias-Louis grew up not expecting a lot. Haitian born, his family immigrated to the U.S. after his father's death, and life was difficult. His mother became gravely ill, the family struggled. So when a way was opened for him to go to college, a profound sense of gratitude took hold of Osias-Louis, who graduated in 2012 with a degree in psychology from Dominican College in Orangeburg, NY.
"The spark really started when I was in college," recalled the energetic young man. "I wanted to do something positive, so when I heard about the alternative spring break program, I signed up."
Working with Habitat for Humanity, Osias-Louis volunteered in New Orleans after Katrina and his passion for making a difference took hold. The following year he went with a group to central Alabama in the wake of devastating tornadoes. The trip proved epic in more ways than one – he met his wife Elena on that trip. The recently married couple lives in Nyack, New York.
Working with the Rotary Club, Osias-Louis started what he calls his midnight runs, trips into New York City to provide food and other necessities to the homeless population, forays he continues several times a year. "This population is barely recognized. They can feel invisible. People tend to think that being homeless is the person's fault – but sometimes it's just how life goes."
Osias-Louis' penchant for service extends into his profession – he works for the New York State Office for People With Developmental Disabilities, assisting and promoting independence for managers of group homes. Despite full time jobs, Osias-Louis and his wife continue to volunteer. The couple regularly works with Soup Angels, a Nyack group that provides weekly healthy meals in a dining room setting to anyone in need.
They coordinate volunteers for two midnight runs a year into the city and offer ongoing support to Habitat projects. His wife works for Volunteer New York!, which gives Osias-Louis another volunteer outlet to support the non-profit's regular schedule of community safety days, park clean up events and charity 5Ks.
"When you've been there, when you know how easily life can change, situations can change, that's something you don't forget," he said. "Volunteering is simply a part of life for us, something we will always do."
Share this post