Family Began Volunteering to Help Their Daughter Socialize, Discovered Passion for Service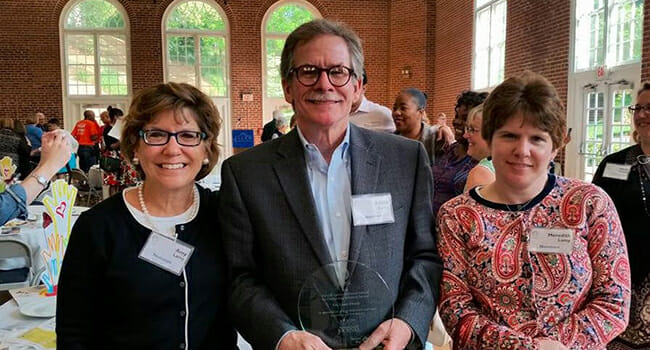 In honor of Family Volunteer Day, Nov. 19, Points of Light and Disney are recognizing families with the Daily Point of Light Award. Meet today's winning family, the Lamy family of Winston-Salem, North Carolina, and nominate someone in your community.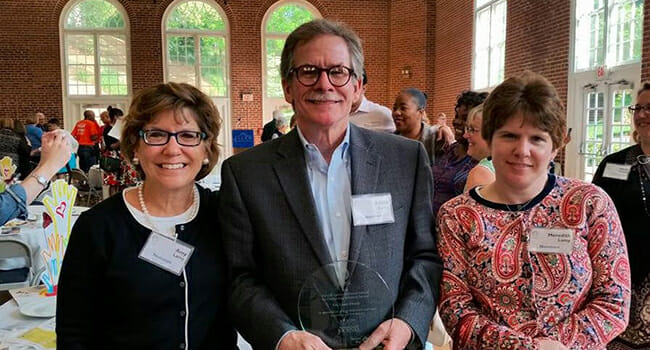 Left to right: Amy, Bobby, and Meredith Lamy
The Lamy family received a Forsyth County Governor's Volunteer Service Award, sponsored by United Way of Forsyth County and HandsOn NWNC.
For the Lamy family, volunteering together began as a way to help their oldest daughter, Meredith, who lives with a form of autism, build social skills.
Bobby Lamy was already volunteering with the Second Harvest Food Bank, but his hours there were spent stocking shelves, not interacting with others. A fellow volunteer suggested Samaritan Ministries Soup Kitchen. After one visit, Bobby was certain the organization was the right place for their daughter, said Bobby's wife Amy Lamy.
Soon, the entire family was working together, increasing their oldest daughter's comfort level with people she doesn't know, said Amy. Volunteering as a family has been important because it has taught her children the importance of helping those in need.
"We wanted to do something to help our children get a good understanding of how communities handle needs," she said. "We wanted them to understand being in a position to lend a hand to those who are less fortunate in a way other than writing a check."
On the third Sunday of every month, the Lamys are at Samaritan Ministries Soup Kitchen preparing meals cooked by professional staff with food donated from local businesses, restaurants and supermarkets, which can include soups, pasta, salad, fruit, bread and dessert. Food preparation begins around 9:30 a.m., with lunch served from noon to 2 p.m. – in that time, volunteers arrange and serve trays to approximately 200 individuals.
Even though their children are grown, Amy and Bobby continue to work with the soup kitchen – not only because doing so has become a big part of their lives, but also because they believe consistency in volunteerism matters.
Having a reliable group of volunteers helps Samaritan Ministries create schedules and budgets based on the known number of volunteer and professional helpers. It can also make a difference in how comfortable people feel returning to the soup kitchen for the nutrition they need.
"For a lot of people, seeing familiar faces gives them some hope," said Amy. "And, I think it's nice for them to see the same people when they come to Samaritan Ministries."
See how your family can get involved on Family Volunteer Day.
Share this post