California Teen Starts Basketball Camp for Opportunity Youth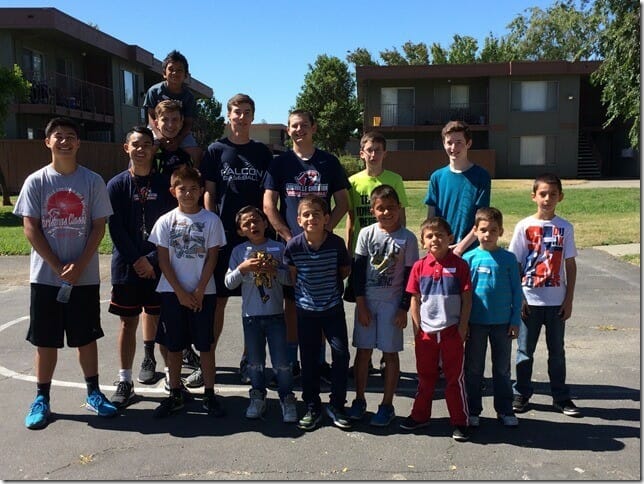 Adam Grabowski may just be 17 years old, but the junior at Vacaville Christian Schools in Vacaville, California has already spent eight years helping other young people succeed. Grabowski, who says his parents raised him to be oriented towards community service, started volunteering at The Leaven when he was in the sixth grade, first helping out with the soccer camp and now he's in a leadership position.
The Leaven works in partnership with members of the local community, including businesses, schools and church groups to bring after-school mentoring and tutoring programs to struggling neighborhoods where drop-out rates are out of control and gangs threaten the peace of the community.
Although Grabowski works on literacy skills with 15 at-risk kids from five to 12 years old, the nuts and bolts of helping kids with school work is only part of his mission.
"It's really about bringing hope and friendship to these kids," he said. "We have a sense of family, of continuity with them. Many of these kids come from difficult families, sometimes even histories that include abuse and not getting enough to eat. The Leaven feeds them and provides a lot of encouragement and mentoring."
In 2015 Grabowski had the idea of working with his high school varsity basketball team to start a basketball camp for the kids when he got into high school. The majority of his group live in the Groves apartment complex. When he showed up, the basketball hoop had been taken down and the kids had nowhere to play.
"That really made me sad – but I knew we could fix the problem and move forward." He got a truck and brought in his own portable hoop to that the six-week camp could go ahead. Although the sport is central to the camp, being present, helping the kids work out conflict, show an example of leadership and encouragement; those are the real takeaways for the children. Besides volunteering on the weekends for events and during the camps, Grabowski has motivated his teenage friends to volunteer and have fun as they serve others.
An Eagle Scout, he participates in many projects and events and strives to be a role model and mentor for his team and camp attendees. He is currently putting together a camp for cheer and volleyball for The Leaven this summer.
"A lot of teenagers think they can't really affect change – they're still trying to figure themselves out. I get that. But just a few hours a day makes a huge difference in these kids' lives. I've been knowing some of these kids for four years now, and to see the changes, how they are growing, is the greatest reward."
Share this post