California Teen's Unstoppable Drive to Change the World
Meet Daily Point of Light Award honoree Abigail Chiang. Read her story, and nominate an outstanding volunteer or family as a Daily Point of Light.
As a 15-year-old in high school involved in more than four nonprofit organizations, Abigail Chiang stays busy. But she wouldn't have it any other way. The California native leads her local chapter of a global organization of pen pals and advocates, inspires others with STEM, cares for hospital patients and has a passion for encouraging quality care and compassion toward her senior community.
Chiang believes that her volunteerism stems from a profound sense of purpose and a passion to effect positive change, and she wants to inspire others to do the same.
What inspires you to volunteer?
My inspiration to volunteer is really driven by a sense of passion, purpose and a passionate desire to make a positive impact in the world. It's not just limited to just one area of service, it really encompasses all of my volunteer roles. For example, at UnifyStem, my inspiration stems from the belief that every student, regardless of their background, should have access to the opportunities and knowledge that STEM fields offer.
At Torrance Memorial Hospital, I'm deeply inspired by the dedication of the healthcare profession — it's a privilege to support hospital staff. But more importantly, I'm motivated by the chance to directly contribute to the wellbeing of patients by being a compassionate presence during their healthcare journey. Being the chapter president of Kids for Peace is another source of inspiration where I have the opportunity to foster kindness, compassion and unity among young people. It's really, really rewarding. Whether it's sending pen pals across the country, or even providing aid to communities — it's deeply inspiring.
Lastly, my involvement with the South Bay Senior Care Center creates a respect for our seniors in a sincere desire to enhance their quality of life through compassion and care. I bring music to seniors because it's a passion of mine and I've seen the positive impact it has on wellbeing.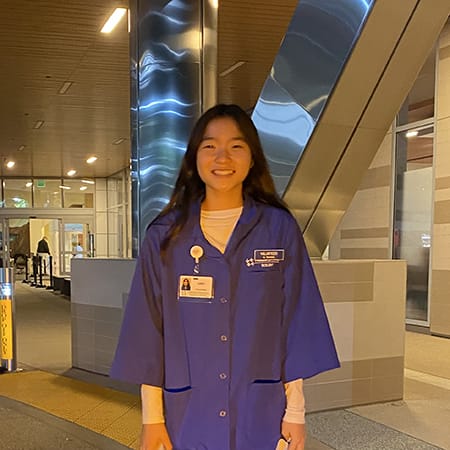 Tell us about your volunteer roles with the organizations you're a part of.
My volunteer role at the hospital is as a blue jacket volunteer, and it's allowed me to serve the medical community and patients in a meaningful way. I undertake weekly shifts to discharge patients and ensure the timely delivery of blood and waste samples, patient admissions and hospital requests. These responsibilities actively support the hospital and give me a firsthand insight into healthcare operations. It's allowed me to be a compassionate presence and helped me with being the chapter president at Kids For Peace. I'm deeply committed to fostering kindness and compassion and unity among young people. We coordinate impactful kindness and peace projects throughout the school year.
Pen Pals also help contribute to essential aid and supplies to communities in need by hosting monthly meetings, coordinating projects and events, and keeping open communication with adult advisors. Together, we create a community of young leaders dedicated to spreading positivity and making the world a better place.
What's been the most rewarding part of your work?
The most rewarding part of my volunteer work has been the personal connections and stories of impact that I've experienced especially at UnifyStem. I've seen other students get access to STEM education and it's really unlocking doors to a brighter future. Additionally, volunteering at the hospital allows me to directly contribute to the well being of patients, and witnessing their journeys has been incredibly moving. Peace is the transformation of young people as they come together to spread kindness and make a positive impact and it truly touches my heart.
What have you learned through your experiences as a volunteer?
I've learned the power of resilience and the importance of community engagement. I've learned to adapt and to be resourceful using various tools, educate students and support hospital operations, gaining valuable insights into healthcare and the need for compassionate care. It's deepened my appreciation for the human spirit and the significance of coming together to create a positive change.
Any advice for people who want to start volunteering?
To those considering volunteering, I would advise you to follow your passion and seek opportunities that resonate with you personally because of the potential to connect with causes that genuinely move you. Regardless of the area you choose to volunteer in, it's important to be open to diverse opportunities and stay committed to the cause. You're onto the journey of self-discovery and personal growth, and it's immeasurable.
Why is it important for others to get involved with causes they care about?
Getting involved in the causes you care about is crucial because it allows you to grow to a larger purpose and make a difference in areas that deeply matter to you. It's not just about "giving back." It's about finding fulfillment and meaning in your actions. The emotional rewards of making differences in a cause you care about deeply are really not measurable. It's a lasting impact on the world.
Tell us about future partnerships, programs or events that you are excited about.
I'm excited about the potential for UnifyStem to expand its reach and its impact by establishing more partnerships with tech companies, educational institutions, scholarship programs and startups who can help host more STEM lectures and global hackathons. It'll help us reach even more underserved students worldwide.
At Kids For Peace, we're excited about the opportunity to coordinate our kindness projects and a potential partnership that involves organizing music therapy sessions for patients at the hospital. I'm deeply passionate about music and its therapeutic benefits. And I see this as an opportunity to bring even more comfort to patients to their hospital space.
Do you want to make a difference in your community like Abigail? Find local volunteer opportunities.
Share this post