In Good Company: Retired Teacher Brings Peace to Those in Hospice Care
Meet Daily Point of Light Award honoree Ana Dolores González. Read her story, and nominate an outstanding volunteer or family as a Daily Point of Light.
In 1971, at just 15 years old, Ana Dolores González and her parents left Cuba and settled in Massachusetts. They left everything behind and set out for a place they had no relatives and—as they discovered—an unreliable sponsor. "I was the only child, and my dad wanted something better for me. So, would I have come on my own? No. We just followed him, and I'm glad we did. But it was a very traumatic experience at that age," Ana recalls.
As time went on, life offered Ana many wonderful opportunities: She had a son who graduated from Harvard, who is bilingual and is studying to become a Catholic priest. She fell in love with golf. After a nearly three-decade career in telecommunications, she moved into a role as a Spanish teacher with Brockton Public Schools, a position she held for 17 years until retirement. She spent her days helping others speak her native tongue and her nights mentoring those facing housing insecurity at a local shelter.
While community service has always been a part of her life, it had looked different in her home country.
"We were required as students to do 45 days of voluntary work at the fields, cleaning the trees around the roots. We didn't pay for our education or books or anything. That was a way of contributing to the school and the community," she remembers.
When she was just 13 years old, Ana joined her classmates in the fields. It was her first time away from home and involved more than a month of sleeping in dorms and eating what she described as undesirable food. She loved when her parents would visit with care packages and remembers the bond it created amongst the kids fondly.
"Every one of us knew each other, helped each other, loved each other. It was great community building to be away like that," she says.
Ana's care and compassion for others continued when she came across Old Colony Hospice's call for volunteers through a church bulletin. There was a need for people to provide companionship to patients in their final days, doing things like reading, looking at old pictures and talking about their lives while giving respite to their caregivers, who are often hesitant to leave but rarely have time for themselves. But first, Ana would have to undergo training.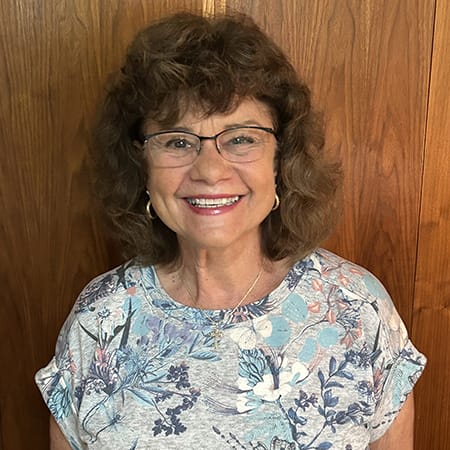 "We usually put our volunteers to about 15-16 hours of training," says Janela Shtylla, volunteer program manager and former volunteer at Old Colony. "There is some internal training that we do. There is some required state training that we offer. And then we have an online program, which is about 11 hours, that covers end of life, boundaries and how to deal with families at this difficult time in their lives."
Once trained, volunteers learn about the process and are matched with a patient when a request comes in. Janela typically sees people volunteer who have given to others throughout their lives—retired nurses, healthcare professionals and teachers. Ana has been visiting patients now for more than 22 years, since before they even kept records. On an average week, she visits patients once or twice for one to three hours, typically in their home but occasionally in nursing homes or assisted living facilities.
"It's something that I really find rewarding and that teaches me a lot of humbleness and perspective and different views," she states. "It doesn't cost me anything to sit and hold a dying woman's hand. It's my time, which I have plenty of."
Ana's dedication can always be relied upon. Janela once called her on a Wednesday to sit with a patient for a few hours on both Saturday and Sunday so their spouse could run errands. Ana didn't hesitate, and they were so pleased with her kindness, the couple wanted to extend her visits.
"Even during the pandemic, she would drive by the patients' houses when she couldn't go in. She would call them. She would drop flowers on their porch," Janela adds.
Typically paired with two patients at a time, Ana remains with them until they pass. It's a comfort to know that they are not suffering and are usually at home, surrounded by family. Old Colony provides complete medical support, religious care and access to social workers as well.
"It's hard, because you get close to somebody. You form a friendship; you lose them, and you move to the next person. It's hard, because you can't help but get involved emotionally," Janela says. "We've had volunteers who try it and realize it's not for them, and they move on. Ana has never stopped. She's always there for anything that is asked. She's always been amazing."
Amidst caring for her patients and her aging mother, now 91, Ana also fostered a 3-year-old boy from 2019 to 2022 before he was placed with his grandmother.
"I was 60-something. I actually wanted a newborn, and my friends and family thought I was crazy. Then, I got my JJ, and I loved him like I love my son," she reflects.
Being there for others is a common theme in Ana's life and one that has allowed her to befriend many people at the most challenging times of their lives. Her kind nature has and will remain a valuable asset to her community.
"I think I've always recognized that I've been given a lot of blessings, an abundance of resources and love when I first came to this country and throughout my whole life here. So, for me, it's very rewarding that I can do the same for someone else. I can make their life easier, make their existence better by just being there."
Do you want to make a difference in your community like Ana? Find local volunteer opportunities.
Share this post