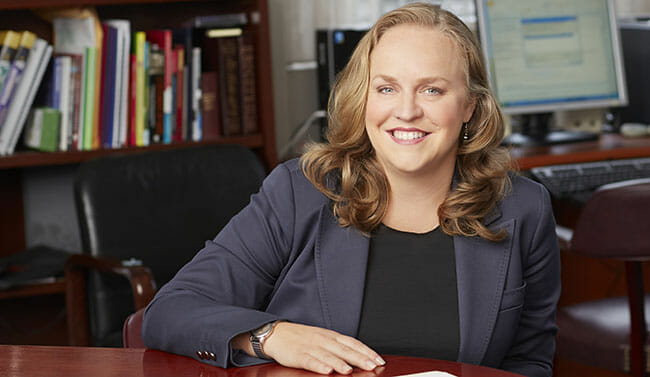 To Cami Anderson, social justice for at-risk youth is personal.
"My passion for equity and service relates directly to my parents," says the respected leader in urban education reform. "They had three children and adopted nine. Most of my siblings were considered 'hard to place' because of a broken child welfare system that doesn't value kids of color, older kids, or kids with mental and physical health challenges."
"My mom ran various family support organizations, child care centers, and trained foster and adoptive families. She also fought for immigrant rights and eventually ran one of the first shelters for kids with HIV."
Anderson's family lived in Los Angeles because her father joined the Watts Community Labor Action Committee after the devastating riots of the 1960s. "A strong sense of social justice was just part of our family," she explains. "I grew up seeing firsthand how my siblings confronted every kind of prejudice, from homophobia to racism. It was never a question that my life would be dedicated to trying to fight for equity on all levels."
Anderson, 44, who graduated from the University of California at Berkeley and earned a master's degree from Harvard, is recognized nationally for her administrative and volunteer work relating to education, child welfare, criminal justice, and gender equality.
A year ago Anderson left her job as superintendent at Newark Public Schools in New Jersey after four years in which she and her team accomplished tremendous results for kids in the face of difficult politics. During her tenure she blazed a trail of reform, negotiated four groundbreaking labor contracts with unions, including nationally recognized teachers' contracts and improved graduation rates by 12 percent. While working in Newark, Anderson was named one of Time Magazine's Most Influential People.
Now back at her home in Harlem, Anderson founded ThirdWay Solutions, a company dedicated to policy, practice and people solutions to seemingly intractable problems across social justice issues. One focus is breaking the school-to-prison pipeline. "Suspension and punitive school discipline policies are often just another way of disproportionally disadvantaging kids of color," she says.
Of all the work she's done promoting social justice, Anderson is most proud of the leadership coaching she's done with women and individuals of color. "So many times I'm in a room where there is a discussion going on about communities of color, and I'm the only woman there," she says. "And, often, there isn't anyone of color participating."
In the past two decades, Anderson has mentored and supported scores of leaders around the country, mostly women, mostly people of color. "The next generation of leaders will hopefully be more representative of the talent in this country and will continue to affect change," she says.
Anderson is a firm believer in inspiring others to act. "When we don't take the inequities to heart and see social issues as impacting us, we turn a blind eye to injustice and perpetuate it," she says. "If you don't take society's failings personally, it's way too easy to get involved in your own world. The more personally connected we all are to making our society more equitable and fair, the more likely it is to happen."
Anderson was awarded her Daily Point of Light award at the generationOn luncheon in New York City on June 8, one of the amazing people honored for bringing the generationOn mission to life.
Are you inspired to take action and serve? Find opportunities to help better your community by checking out All for Good.
Share this post