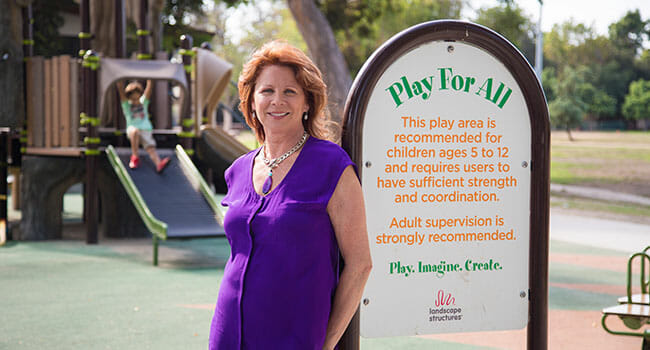 Today's Daily Point of Light Award winner, Catherine Curry-Williams, was recognized by L'Oréal Paris and Points of Light as a 2015 Women of Worth honoree for her extraordinary efforts creating essential inclusive playgrounds and programs, uniting children of ALL abilities. Nominate an inspiring woman who is creating change in her community to be one of this year's Women of Worth.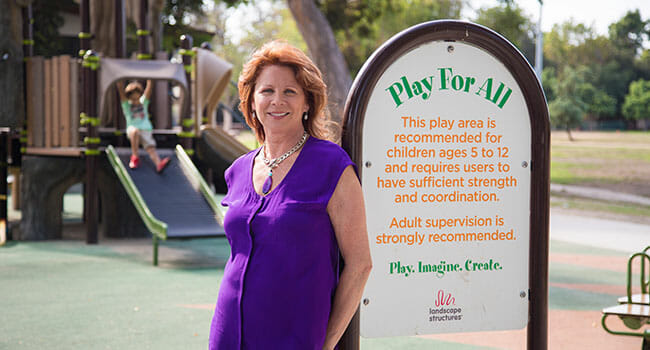 Catherine Curry-Williams, co-founder of Shane's Inspiration.
"The passion of a mother who has lost her child can move mountains," says Catherine Curry-Williams, who turned grief over the loss of a son into, not just one, but 60 fully accessible playgrounds worldwide. "We believe deeply in our hearts that play is the birthright of every child."
In 1997, Curry-Williams and her husband, Scott Williams, were devastated when their son Shane was born with spinal muscular atrophy and died at just 2 weeks old. In addition to their grief, the prospect of raising a child with disabilities opened their eyes to the fact that there were no truly accessible playgrounds in the Los Angeles area. So the couple decided to create one as a tribute to Shane. With no experience in construction, playground design or fundraising, Curry-Williams says she "asked the right people for help and doors started to open." Parents of children with disabilities described what they needed. They found a company to build the components. City officials rose to the need and dedicated land in popular Griffith Park. A man whom the Williams' met on their honeymoon turned out to be a hospital CEO and fundraising expert. Her good friend, Tiffany Harris, was by her side from the beginning, co-founding this endeavor and helping drive the groundswell that would become a worldwide inclusion movement.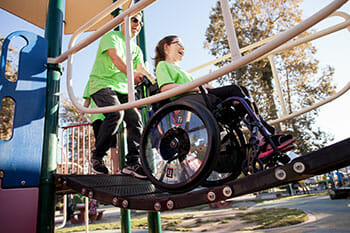 The finished park was such a success that families drove for up to two hours just to visit. Soon, requests for accessible playgrounds in other communities poured in, and Shane's Inspiration, the nonprofit was born. Shane's Inspiration provides project development and design services to communities around the world – whatever it takes to make these custom, sensory-rich playgrounds a reality and open to the public. Always evolving, Shane's Inspiration has also developed education and family social inclusion programs that bring children of ALL abilities together at their playgrounds to teach compassion and acceptance for all children.
More than 35,000 children have been served through the social inclusion programs developed by Shane's Inspiration, and hundreds of thousands have benefited from the playgrounds. The core vision is designing the playgrounds to be inclusive, so children of all abilities can play together on the same equipment. For parents like Nicte Mack of Santa Monica, this is crucial. Mack has two children with disabilities: one with spina bifida, who uses a wheelchair, and one with Cohen's syndrome, who is able to walk but has developmental delays and coordination difficulties.
"Before, at public playgrounds, my daughter in the wheelchair had to stay down while I assisted the other one," she says. "There was no way for them to play together. I gave up. I quit trying to take them to the playground."
Mack was thrilled when Shane's Inspiration playground opened in Griffith Park, and eagerly drove nearly half an hour to get there. "Since then, they've built accessible playgrounds only ten minutes away from my home," says Mack. "It's made a world of difference. They start playing and they forget about their disabilities."
Curry-Williams says playground equipment manufacturers used to think putting a ramp at the entrance to a park was enough. "We went from playground to playground. There was accessibility, but no play-ability," she says. "There certainly wasn't side-by-side, interactive play." She herself was surprised that parents hadn't rallied in the past to demand inclusive playgrounds. She soon learned that families are already overwhelmed by advocating for their children's medical and educational needs. "I was shocked," she says. "I thought, gosh, we're pioneers here? This is a critical, unmet need."
Shane's Inspiration playgrounds offer special swings that can support children who use wheelchairs that provide the back support they need. But the playgrounds provide play opportunities for a host of other children with disabilities as well. There are enclosed areas and sensory-rich sound, visual and tactile elements that are beneficial to children with Autism and other sensory processing disorders. There are activities designed to improve balance and muscle tone, a common need for children with Down syndrome and other disorders. "It's actually great physical therapy," says Curry-Williams. "There's Braille, there's music, there's everything." Best of all, Curry-Williams says the special features are "beautifully intertwined" with equipment that appeals to all children. "The playground is the first place children learn to negotiate with each other and work things out and they learn a lot."
Curry-Williams is eager to continue expanding inclusive playgrounds to other communities and nations, rich and poor. Shane's Inspiration playgrounds are now open across the United States, in Mexico, Ecuador, Russia and Israel and soon to be opening in South Africa and Australia.
Curry-Williams believes her son, despite having lived only two weeks, taught her to be more compassionate and showed her a way to help others. She still marvels at having gone from a young, grieving mother to being consulted as an "expert" in accessible design. "I was selfishly trying to heal my own pain, just putting one foot in front of the other and these families come to us like we are heroes. I think they are the real heroes."
If you know a woman who works to create lasting and significant change in her community, nominate her to be one of the 2016 Women of Worth.
Share this post