Today's Daily Point of Light Award winner, Teri Kelsall, was recognized by L'Oréal Paris and Points of Light as a 2015 Women of Worth honoree for her extraordinary efforts helping Veteran Entrepreneurs on their quest to become tomorrow's high-impact business leaders. Nominate an inspiring woman who is creating change in her community to be one of this year's Women of Worth.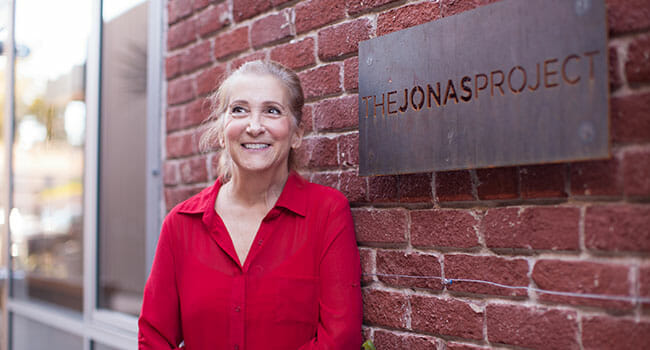 Teri Kelsall, co-founder of The Jonas Project.
Teri Kelsall understands the drive and potential in U.S. veterans. "The people we've had the opportunity of knowing are truly incredible individuals who work hard and want more for their families than just getting a paycheck," says Kelsall, whose nonprofit organization helps veterans to start their own businesses. "They want to be responsible for building their futures and giving back to their country. They're willing, they're capable and we are going to give them that opportunity."
Kelsall and her husband, John, created The Jonas Project two years ago, pooling her skills as a job training professional at a nonprofit organization and John's expertise in chamber of commerce business networking. The project is named for the couple's son, Jonas Kelsall, a Navy SEAL who was killed in action in Afghanistan in 2011.
The Jonas Project helps veterans with the drive to become entrepreneurs develop formal business plans, obtain advice from mentors and seek funding for start-up capital.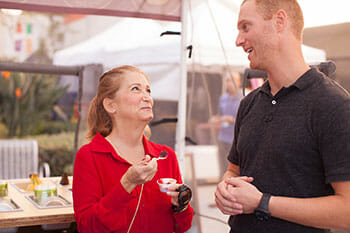 Teri Kelsall and Teague Savitch, who founded Assemblers with help from The Jonas Project.
William Osgood, who is himself a military veteran, small business owner and mentor at The Jonas Project, explains: "We take a proposed business model and turn it upside down. We've done everything from discussing the seven P's: product, pricing, promotion, packaging, placement, etc., to developing a 3-year forecast, a market analysis and more. We ask tough questions. We're looking at the whole business and how to make it eligible for financing and for contracts." Osgood says he supports TJP because of its own solid business tenets. "The vetting of what I call the 'vet-preneurs' prior to eligibility to enter into the program is among the distinguishing characteristics that I looked at when I chose to become involved, first on the Board of Directors, and then as a mentor," he says.
Start-up companies represent a range of ventures, including restaurants, construction firms, real estate companies, online publishing, and security firms. Would-be entrepreneurs must present detailed business plans and agree to monthly evaluations and intensive coaching.
Before his death, Jonas and his parents were already discussing how they could give back to the military community when he returned. The Kelsalls believe Jonas would be proud to see that in just two years, they've provided comprehensive assistance to 18 veteran-owned start-up companies across the country, four of which are now open for business.
"The Jonas Project was instrumental in setting me up with a law firm who helped me work through the details of my lease, get me set up to start hiring employees and bring on a partner. And they did it all pro bono," said Teague Savitch, founder of Assemblers, a health food concept with customizable acai bowls. "The Jonas Project set me up for success because going through the loan application process forced me to get my financial projections and P&L statements together. I probably would not have gotten that on paper otherwise. I had to take a microscope to my business and look at what I was spending on everything. With all of that work done, I was able to get funding from a private entity. I had everything I needed for the loan," says Teague.
Kelsall firmly believes many veterans have the skills and perseverance to run businesses. "They want a career, not just any job," she says. At the same time, starting a new business is a long, complex process. Filling out the paperwork to incorporate a business, obtaining service-related disability certification and arranging financing can be daunting. It's not uncommon for veterans to have trouble getting conventional bank loans, she says. Military paychecks can be delayed while bills pile up; divorce or other family issues can hurt credit, too. TJP is working to persuade Congress to pass the Credit Reporting Act for Military to increase protections for servicemen and women. In the meantime, although TJP does not invest equity in the new businesses, it does offer them low-interest loans.
"The need is definitely there," says Kelsall. "America was built on the backs of small businesses. It's not an easy road to travel, but we're trying to remove every roadblock for the veterans."
If you know a woman who works to create lasting and significant change in her community, nominate her to be one of the 2016 Women of Worth.
Share this post