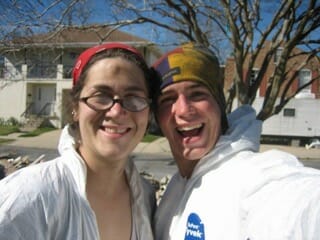 To commemorate the 10th anniversary of Hurricane Katrina, we are honoring volunteers who served along the Gulf Coast after the storm. Meet Chandra Linnell, today's Daily Point of Light Award winner, and nominate an outstanding volunteer or organization you know as a Point of Light.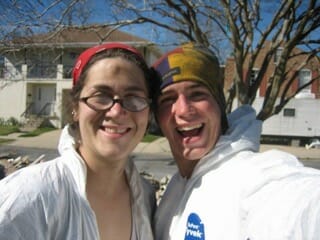 Chandra Linnell, with fellow volunteer Ryan Shuford
What started as a three-week volunteer project in New Orleans after Hurricane Katrina turned into a much longer stay for Chandra Linnell, working tirelessly under difficult conditions to bring hope and order into communities that had little of either.
Living in a bunk house with 100 other volunteers, Linnell led teams of workers six and seven days a week in gutting houses, removing mold and otherwise assisting homeowners. Within weeks she began taking on leadership roles and eventually took charge of training all team leaders.
"My time in New Orleans changed me," says the 33-year old, who now works as a certified ELL (English language learner) teacher at a high-needs elementary school in western Massachusetts. "It impressed on me the importance that service would have in my life, always. It helped me understand how to do service in a way that is most impactful on the people who need the most help."
Although she'd never volunteered before, and had zero experience with New Orleans and its diverse communities, a year after the storm Linnell connected with a friend of a friend who worked for HandsOn New Orleans, part of Points of Light's HandsOn Network. Linnell decided to come down from her home in Minneapolis and see how she could help.
She had never considered herself handy, so she was surprised how much she enjoyed the physical labor.
"I knew I could work hard, and that's what it took," she says. "I loved the people we were meeting in neighborhoods like New Orleans East and Gentilly. And I loved being part of an intentional community of people living and working together."
In January 2007 she joined the HandsOn New Orleans staff full time, continuing to coordinate volunteer efforts until she left the following October to pursue her teaching career.
"Chandra made her mark by opening her heart, getting her hands dirty and simply giving back," says Kristin Burlage, who worked with her at HandsOn New Orleans. "She poured her heart and soul into each project and was a natural leader. She inspired a multitude. I know for certain, that although 10 years have passed, her work in New Orleans, and her continued service as a teacher in underserved communities inspires me to this day."
For Linnell, that work in New Orleans is equally memorable.
"I learned about leadership, about trying things that were out of my comfort level, how to motivate and create a positive environment," she says. "I got back so much more than I gave and that's something I'll always treasure."
See more Hurricane Katrina stories and memories at www.pointsoflight.org/katrina.
Share this post