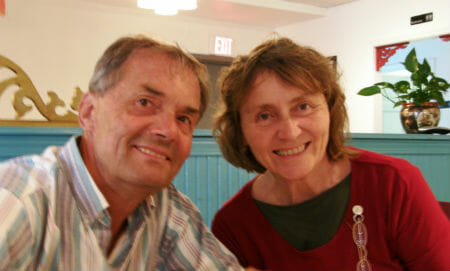 To commemorate the 10th anniversary of Hurricane Katrina, we are honoring volunteers who served along the Gulf Coast after the storm. Meet John and Mary Mueller, today's Daily Point of Light Award winners, and nominate an outstanding volunteer or organization you know as a Point of Light.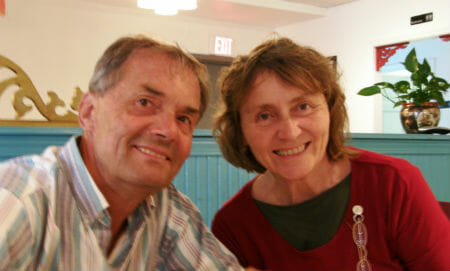 John and Mary Mueller
When Hurricane Charley touched down in Lee County, Florida, in 2004, the Category 4 storm was the roughest to hit the area since the 1960s. John Mueller remembers seeing the endless caravans of utility trucks headed for Florida from all over the eastern seaboard.
"It was so humbling," he says. He and his wife, Mary, "promised ourselves that if we ever got the chance, we'd be there to reciprocate."
As a professional builder, John, 66, knew he had the skills to be of assistance. He even started training to be a volunteer project leader for Brethren Disaster Ministries, run by the Church of the Brethren, thinking that when they were ready to retire 10 years later, he and Mary, 65, (who handled the operations side of their business) would transition into serving devastated communities full time.
"Lo and behold, Katrina hit the next year," he says, "and we got our chance a lot sooner than we thought."
When she heard that the Brethren were looking for a regional director to oversee the rebuilding in Alabama, Mississippi and Louisiana after the Aug. 29, 2005 hurricane, Mary immediately thought of her husband.
"It sounded right up his alley, but I wanted him to figure it out for himself," she says.
Soon enough, the couple would find themselves suspending their business and relocating to the area. They wound up mostly directing efforts in the town of Chalmette, Louisiana; normally home to a population of 16,000, it was basically deserted when they arrived in March 2007. By the time they left in May 2011, the Muellers had managed more than 3,400 volunteers, who helped repair and rebuild 250-plus homes.
Typically, the organization's relief arm waits until it is invited by a community rebuilding agency, which researches families most in need of volunteer help and supplies the necessary materials.
"We simply show up with the labor a year or two after the disaster," John says, "and stay until the community seems to be back on its feet." In New Orleans, teams of 15-20 volunteers rotated weekly, working on a few houses at a time.
Volunteers came from all over the country and from all walks of life. "We had high school groups and young people training in the trades," says John. "They were mostly affiliated with the Church of the Brethren, but not always. Among the first volunteers were a couple who just graduated from law school in D.C. and they looked online to see how they could help. We ask for those with the heart and desire to help – it doesn't matter if they don't know which end of the hammer to use to bang in a nail!"
Many friendships developed between volunteers and residents, John adds, noting that in fact a lot of the people who came to help never left.
"We weren't just rebuilding houses, we were rebuilding lives," he says.
As the couple at last prepares to retire, they're gearing up to devote still more time to the ministry's relief efforts. So, while they'd like to attend some of the events planned to observe the 10th anniversary of Hurricane Katrina, that's the weekend when they're also scheduled to participate in a brainstorming session about Brethren Disaster Ministries' future.
Wherever they land, John and Mary know that it's unlikely that their Katrina experience will be matched.
"To go to a place where nothing is under control and we were all flying by the seat of our pants was like nothing I'd ever experienced," says John. "I thought I would get there, whip everything into shape and leave. Instead I stayed for four years. It was a life-changing situation."
See more Hurricane Katrina stories and memories at www.pointsoflight.org/katrina.
Share this post