To commemorate the 10th anniversary of Hurricane Katrina, we are honoring volunteers who served along the Gulf Coast after the storm. Meet David Campbell, today's Daily Point of Light Award winner, and nominate an outstanding volunteer or organization you know as a Point of Light.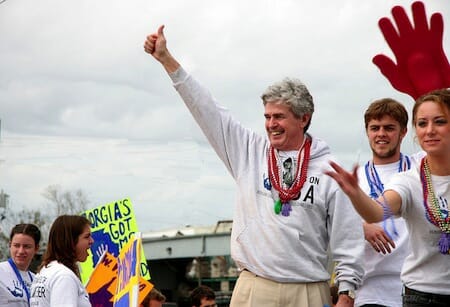 With volunteers from Hands On USA, David Campbell participates in a 2006 Martin Luther King, Jr. Day parade in Mississippi, where he led volunteers after Hurricane Katrina.
During his 40-year technology career in Buffalo and Boston, David Campbell led the charge as a good corporate citizen. He served on boards, was chairman of the chamber of commerce, raised money for the local cancer hospital.
But when the 2004 tsunami struck in the Indian Ocean, killing 230,000 people in 14 countries, something shifted for him.
"This was the largest disaster in my lifetime," recalls Campbell. "I had to take action."
For Campbell that action meant harnessing the power of "spontaneous, unaffiliated volunteers," creatively using the Internet in a way that would have the greatest impact on the people left in the tsunami's wake.
The model he created addresses the problem that happens so often after a tectonic disaster: governments, nonprofits and local community groups are so overwhelmed with immediate relief efforts that they are not able to utilize willing, outside help.
What Campbell observed first hand after traveling to Thailand was that this sort of work is often physical, hard to bear for survivors and requires many willing hands. Volunteers who want to help can provide the labor, but in order to be effective, safe and not be a burden on the community, they need to be organized and carefully directed.
Campbell saw that volunteers were being turned away. Considering the magnitude of the need, this seemed a wasted resource. He and some friends quickly set up a website to connect, organize and supervise volunteers where their help would make a difference.
They were able to raise money through the website to support their work, and ended up rebuilding five fishing villages. That clarity of vision led to Campbell founding All Hands Volunteers a decade ago, when he was 63.
When Hurricane Katrina hit the Gulf Coast on Aug. 29, 2005, Campbell saw a need All Hands Volunteers could fill. Just days after the hurricane – on Sept. 6 – All Hands Volunteers set up base with 1,500 volunteers on the ground in Biloxi, Mississippi.
"We tend to find a significant second community that is not getting served and base ourselves there. We embed in that community and usually live there for some months," he explains.
With Campbell at the helm providing organization and overseeing funding, volunteers with a wide array of talents hit the ground running. Beyond cleaning out destroyed buildings and mucking out disaster sites, volunteers applied for grants, met with community leaders, attacked logistical problems and generally did whatever had to be done.
"Part of the magic of throwing enough volunteers together is that we can take advantage of on-the-spot creativity and flexibility," says Campbell.
When a volunteer suggested using bikes to help local folks get around, the funds were raised and the bikes obtained. Significant milestones included the rebuilding of an emergency health clinic, a much-needed resource.
During that winter, All Hands Volunteers (under the name Hands On USA) transferred its Biloxi operation to Points of Light's HandsOn Network, which named the outfit HandsOn Gulf Coast (now Hands On Mississippi). What All Hands Volunteers established in Biloxi also served as the model for the affiliate HandsOn Network established in New Orleans after Hurricane Katrina, HandsOn New Orleans. (For more about the creation of those affiliates, go here.)
In the last 10 years, All Hands Volunteers has contributed more than 750,000 hours at some 50 disaster response and rebuilding projects in the U.S. and around the world in such places as Nepal, Haiti and Malawi – work that has helped more than 45,000 families by providing shelter and other basic necessities, and by rebuilding homes, schools and boats.
When disaster strikes, a small, seasoned All Hands Volunteers team goes on site after the search-and-rescue mission. Once the immediate needs are assessed, the hands.org website issues a call for volunteers. Volunteers pay their own travel expenses and are housed and fed by the organization.
"The dedication and teamwork is astounding," Campbell says. "We've carried on learning and changing and growing the model. And there's always work to be done."
Share this post