To commemorate the 10th anniversary of Hurricane Katrina, we are honoring volunteers who served along the Gulf Coast after the storm. Meet David Campbell, today's Daily Point of Light Award winner, and nominate an outstanding volunteer or organization you know as a Point of Light.
PJ Marshall, left, and her husband, Marv, right, work to restore wetlands at Pass-a-Loutre Wildlife Management Area in Louisiana, at the mouth of the Mississippi River.
Ripping across the Gulf Coast, Hurricane Katrina led to the destruction of 320 million trees and more than 5 million acres of forest, damaging critical ecosystems and threatening North America's climate.
Marv and PJ Marshall – who were in Washington, D.C., attending the White House Conference on Conservation when the hurricane struck on Aug. 29, 2005 – set out to help.
Traveling to the Gulf Coast to volunteer alongside public and private organizations, the pair led a collaborative approach to secure funding to initiate and sustain effective, large-scale forest restoration.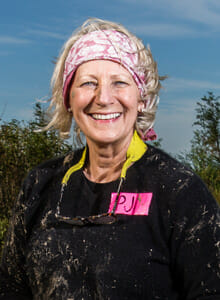 PJ Marshall
Marv and PJ had been stewards of the earth long before Hurricane Katrina, practicing positive environmental habits, and helping shape a world that is environmentally friendly and naturally sustainable.
In 2010 they created Restore the Earth Foundation, which restores ecosystems around the globe. The Ithaca, New York-based foundation has engaged more than 6,000 volunteers and helped reforest more than 40,000 acres.
"Restore the Earth's mission is to restore the earth's essential forest and wetland ecosystem," PJ says. "It is the forest and wetland ecosystem that provides us with the essential services we need to survive."
To commemorate the 10-year anniversary of Hurricane Katrina, PJ has spent time along the Gulf Coast helping restore the wetlands, which are still damaged.
It is estimated that every hour the Gulf Coast loses the equivalent of a football field of wetlands. Wetlands are essential because they act as sponges, absorbing the wind and the water to help alleviate strong weather conditions.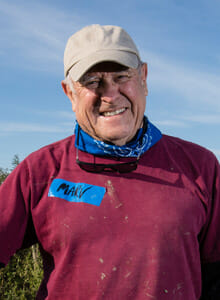 Marv Marshall
They also help purify the water, take carbon out the air, protect the soil from soil erosion and much more. The Gulf Coast has some of the largest concentrations of wetlands on Earth.
PJ says it is essential for people to take care the natural environment, so it can take care of us.
"We have had more destruction in the last 60 years than any other time in the history of man," says PJ. "The best thing we can do is become more aware. We must take action to create a sustainable environment for future generations to come."
See more Hurricane Katrina stories and memories at www.pointsoflight.org/katrina.
Share this post