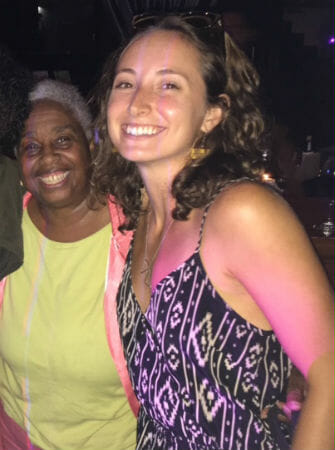 To commemorate the 10th anniversary of Hurricane Katrina, we are honoring volunteers who served along the Gulf Coast after the storm. Meet Daily Point of Light Award winner Joann Sawyer Cook and nominate an outstanding volunteer or organization you know as a Point of Light.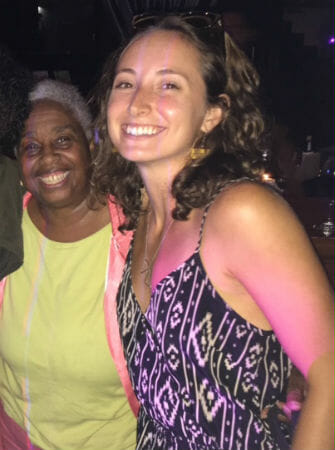 Joann Sawyer Cook, left, joins then-executive director of HandsOn New Orleans Kellie Bentz at an event.
Long before Hurricane Katrina, Joann Sawyer Cook worked to lift up New Orleans' Central City neighborhood, an area plagued by poverty.
In 1996, she created a nonprofit called the Shalom Zone, a refuge for children and young adults in Central City. The organization, part of the First Street Peck Wesley United Methodist Church, aims to improve their quality of life through education, art and housing programs.
When Hurricane Katrina hit in August 2005, floodwater submerged Central City. Working with the church, Cook set out to help.
"The church doors were open to whoever didn't have anywhere to go," Cook says. "It was one of the few places that did not flood, so we were able to keep people throughout the storm and feed people. With no lights, water and basic necessities, everyone gathered at the church. It was our salvation."
During the toughest of times, while the church served as an epicenter of the community, Cook served as a leader. Many local children, who were already lacking resources before the hurricane, had even fewer options after.
Simply looking for a comfortable place to sleep and a meal was a challenge. Being surrounded by poverty and despair, children are often forced to make some difficult decisions as a means to an end. But the Shalom Zone is geared toward that child straddling the fence; it's a place that gives those with few options a choice.
"The Shalom Zone serves as a safe haven for the children," says Cook. "We try to gather as many kids as we could from the neighborhood to let them know that the church is here for them. We wanted to provide as much normalcy as we could."
In commemorating the 10-year anniversary of Katrina, Cook and the Shalom Zone will continue in its tradition. Starting one year after the storm, Shalom Zone has hosted performers from the Julliard School for workshops and shows.
Along with the connection forged with the Julliard School, Cook's relationship with HandsOn New Orleans has also been instrumental in the development of the community. Hundreds of HandsOn volunteers have assisted Cook with building a stronger Central City.
See more Hurricane Katrina stories and memories at www.pointsoflight.org/katrina.
Share this post
---