Child of Refugees Helps Fight For Educational and Menstrual Equity in the Congo
Meet Daily Point of Light Award honoree Asukulu Songolo. Read his story and nominate an outstanding volunteer or family as a Point of Light.
As the child of refugees from the Democratic Republic of Congo, Asukulu Songolo said it's important to him to fight for the Congolese people, who face multiple barriers including systemic sexual abuse, child mining, and government corruption. The seventeen-year-old Portland-native decided to help try to break down some the barriers that they face by bringing together other youth to fight for educational and menstrual equity.
Last year, Asukulu founded the Congo Peace Project, an entirely youth-led grassroots community organization that collects and packages much-needed menstrual hygiene and educational materials to Congolese women and children in need. Over 750 menstrual hygiene packages with items such as pads and tampons have been sent to the organization's partner, Panzi Hospital, which serves victims of sexual abuse and violence in eastern Congo. The Congo Peace Project has recently partnered with a school in the Congo and will send over the first educational advancement materials in January.
Describe your volunteer role with the Congo Peace Project.
The Congo Peace Project is a grassroots community organization that I founded in August of last year to fight for educational and menstrual equity. We do a plethora of things, but the most important thing to our mission is working to fight for menstrual equity and educational equity, and we do so through hosting work parties. At our work parties for menstrual hygiene, we package anything from tampons and pads, and then for our work parties for educational advancement, we package anything from notebooks to backpacks for youth in the Congo. Primarily our goal is to chip away and attack the barriers that the Congolese people face in bettering their lives.
What inspired you to start this?
I was born in Zambia to refugees who were from the Democratic Republic of Congo, so I feel like as a result I always knew and started to intricately learn the history of the Congo. It's actually very important to me to fight for the people in the Congo because they are my people. I hope to continue this work. That's my inspiration. I was at a summer program and learned a lot about nonprofits and the different ways they function and work, and I wanted to do things a little bit differently and directly impact people.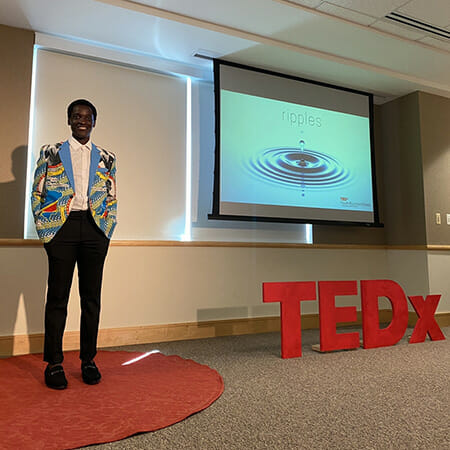 Can you describe what the issue of menstrual and educational equity is like for the people of the Congo?
Menstrual equity is particularly an issue because armed militias and armed rebels use rape as a weapon to further mass destruction of whole entire communities. When victims of this trauma are reeling from sexual abuse and sexual violence, it's very important they have those resources to take care of themselves and satisfy their menstrual hygiene. That's why it's very important for us to be able to do this. We partnered with Panzi Hospital in Bukavu, which is in eastern Congo. This hospital particularly serves victims of sexual abuse and violence. That's very integral to our mission. Then because rape is used as a weapon of war, it's often one of the leading causes for young ladies to drop out of school. It's very important for us to try to mitigate this risk by on top of providing the products for menstrual hygiene to this hospital, to also do the same for the schools that we are partnering with and looking to partner with in the future, and on top of that, to provide supplies for educational advancement in general especially when these supplies are scarce. These are human rights — a right to an education and a right to menstrual hygiene — so they should be available for all people. Trying to find a way to open up networks for that access to happen is very important.
Are there any future partnerships, programs, or events that you are excited about?
On Sunday, December 13, we're hosting our first large-scale virtual event which we are calling our Free Congo Teaching. [It is] bringing awareness to the use of rape as a weapon of war, child mining present in the Congo, and then governmental corruption in the Congo, and calling for a truly free Congo. We're hosting a virtual teaching so it will be in a Zoom webinar format. We're very excited and hoping to get a good amount of people to tune into that. … We'll have a suggested donation of $5, but there's not necessarily any barriers to attending aside from having an internet connection.
Do you have any longer-term goals for this project?
Our longterm goal primarily would be to continue the project's work, but to continue it in a way that's sustainable and also increases the impact. Currently I'm a senior in high school, so I'm looking forward to going to college. I'm primarily looking at schools out of my state and a good number of our youth team — because our project is completely youth-led — are also looking at colleges outside of Oregon. Our hope is to create chapter networks across America in different major cities. We're hoping to expand to Boston, New York, and Los Angeles in the next five years.
What have you learned through your experiences as a volunteer?
I think above all I learned the power of community — how important community is and how vital it is to a grassroots organization like our own, and then how important community is to the movement to fight for the Congo, and for justice and equity across the world. You must be in solidarity with people. You must be willing to unite to look past differences and seek similarities, and to come together across those differences and similarities, and recognize that those differences make us all unique. We all can contribute to these movements and to this fight.
What do you want people to learn from your story?
I think primarily, to be engaged and seek out more knowledge about what's happening in the Congo. We're practically all connected because a lot of our technological devices come from the child mining that's present across the Congo. Congo is one of the most mineral-rich countries in the world, so educate yourself on where the minerals that produce the backbones for our technological devices are coming from, and then find ways to support the people who are suffering at our expense.
Why do you think it's important for others to give back?
I think that it's important because I imagine that we all have been in need before and being able to fulfill that need for someone else really makes that process come full circle. I think that across the board, we're responsible to each other as people. Striving to be global citizens is very important in our ever-changing world. Fighting in unison with other people, trying to mitigate their struggles, and trying to not just fight for them, but right alongside them, is very important. Doing that can look multiple ways. I think one of the easiest ways can be finding something local, something easy for volunteering, or speaking out or just educating yourself and those around you.
Do you want to make a difference in your community like Asukulu? Find local volunteer opportunities. 
Share this post