Teen's Concert Volunteerism is Music to the Ears of Seniors and Greater Community
Meet Daily Point of Light Award honoree Justin Pai. Read his story and nominate an outstanding volunteer or family as a Daily Point of Light.
Motivated by his musical connection with his faraway grandparents, 17-year-old Justin Pai volunteers to share his musical talents with his greater community, in addition to providing a platform for youth to strengthen their skills.
As the CEO and co-founder of Concerts 4 Charities, the Irvine, California high school senior first started performing with musically inclined classmates at local retirement homes, and the volunteers have since gone on to connect with hundreds of community members through their concerts. Since the start of the Coronavirus pandemic, Justin has added virtual concerts to his volunteerism. Featuring students from middle school to college performing music across genres from jazz to popular music, Justin is powering his service with music to empower youth volunteers and connect with senior citizens.
What inspires you to volunteer?
My grandparents live in Taiwan and I'd miss them a lot. I'm a pianist, and they'd always ask me to send music recordings to them. Their requests made me think that this musical connection I had with my grandparents could extend to other seniors as well.
Describe your volunteerism with Concerts 4 Charities.
As CEO and co-founder, I find new events for us to perform at, including concerts at retirement homes, schools and city of Irvine community events. I organize our performances and the volunteer musicians that participate. Additionally, I fundraise and hold meetings with our fellow musicians.
Share one personal story with me from your volunteerism.
At one of our very first retirement home concerts, we were just getting started and a little unconfident about whether the seniors would like it. We performed Rachmaninoff Piano Concerto No. 2, and after the performance, two Vietnam war veterans came up and asked to shake my hand. One of the vets was a former youth pianist and told me that Rachmaninoff was his favorite composer. I was 14 or 15 at the time, and our service was just getting started, so this was very, very positive encouragement to receive, which has kept us going.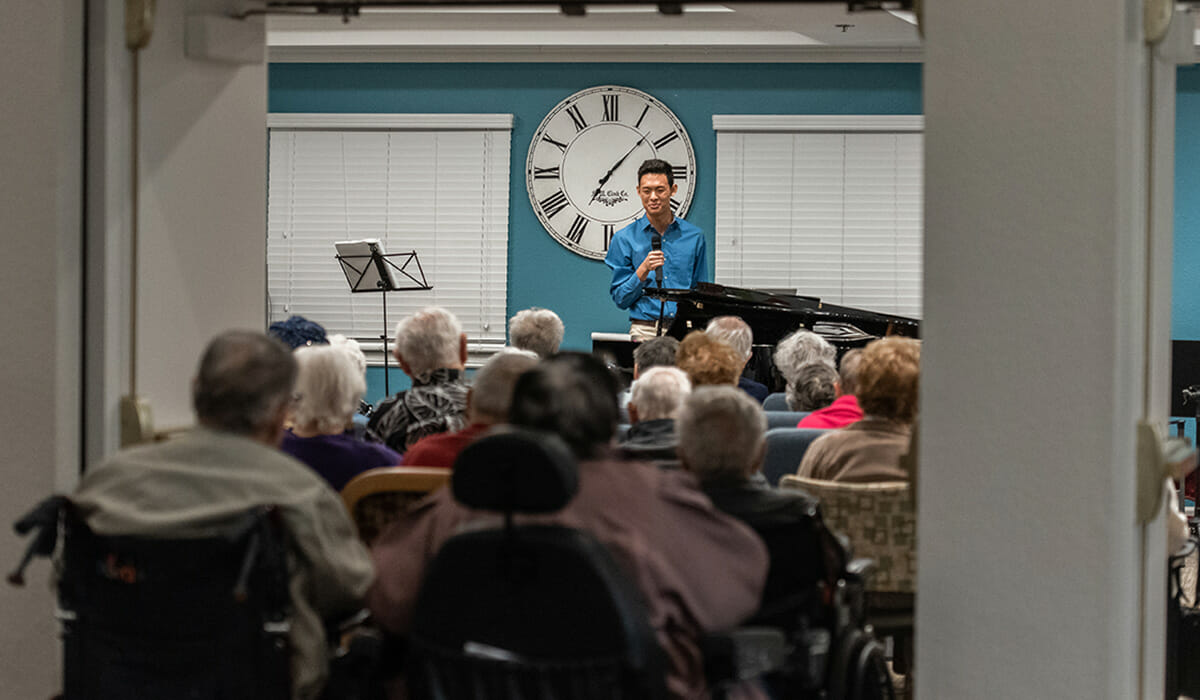 What is your favorite song to perform?
Can I give you two, would that be ok? Rachmaninoff's 2nd Concerto, and also, Enrique Granados, Spanish Dance No. 5. This song holds a special place in my heart as I was fortunate enough to perform it at Carnegie Hall in 2017.
Why do you think it's important for others to give back?
Personally, it's important to give back because I've received so many good lessons and memories from music. I credit my music teacher for giving me so many opportunities to perform, and I only hope I can do half of what my teacher has given to me.
Explain how music has influenced your volunteerism.
Music and performing is one of the greater honors I could be given at such a young age. One of my proudest accomplishments with this organization has been being able to connect musician students with the elderly. This service is very beneficial both for the seniors and also, the students who receive exposure and opportunities to perform in unique venues where they would otherwise not. I identify very strongly with music, and I feel very fortunate to connect with the community by sharing something so powerful with so many other young musicians.
How have you continued to volunteer throughout the COVID-19 pandemic?
We've been able to continue concerts for seniors by holding them virtually. Each musician volunteer records themselves performing at home, and then uploads the video online to be edited with other performances. We've even recruited volunteer video editors to help us edit these performances.
In one word, what does volunteering mean to you?
Dedication.
When you're not busy with school or volunteering, what do you do for fun?
I'm the captain of my varsity swim team. A few volunteer musicians are also swimmers with me.
How can readers help?
Please visit our website for more information about how you can give back.
Do you want to make a difference in your community like Justin Pai? Find local volunteer opportunities.
Share this post