Sister, Sister Service Promotes Global Education Equity
Meet Daily Point of Light Award honorees Vanesha Hari and Varshini Hari. Read their story and nominate an outstanding volunteer or family as a Daily Point of Light.
Vanesha Hari and Varshini Hari were visiting family in India when they made a simple observation that would evolve into a commitment to service. "We noticed a lot of girls who were at their houses," 14-year-old Vanesha says, "they were cleaning houses when most of us would be going to school." Discovering the problem – a lack of educational opportunities, the Redmond, Washington sisters are now volunteering to spread education equity to underprivileged women and more broadly, underserved populations around the world.
Launching Joys of Giving in 2016, Vanesha and 12-year-old Varshini are serving up hope, opportunity and resources to children and adults in need, offering educational opportunities to effect global change. Recognizing the need for more educational support as the COVID-19 pandemic has disrupted in-person learning, the sisters have started hosting virtual skill building workshops for students. Raising $17,000 to support community organizations and connecting with hundreds in the U.S. and internationally, Vanesha and Varshini are making positive change through joyful volunteerism.
What inspires you to volunteer?
Vanesha: The joy we see in youth and underserved communities inspires us to volunteer. Through our virtual workshops, we have been reaching kids by teaching them skills like coding, baking, intro to computers, and arts and crafts. We experience joy through giving, and that makes our volunteerism fulfilling, and inspires us to do more.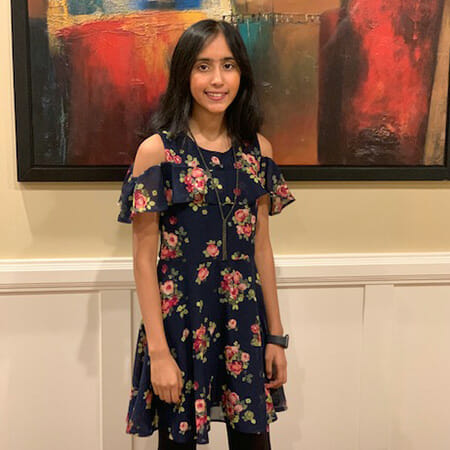 What does "Joy of Giving" mean to you?
Varshini: We created that name for our organization because we find so much joy when we give to other people and share our skills.
Describe your volunteerism with Joys of Giving.
Vanesha: As co-founders, we fundraise to donate money to shelters in the area and internationally. When the pandemic began, we started hosting virtual workshops.
Share one personal story with me from your volunteerism.
Varshini: One of the most memorable parts of my volunteerism has been observing and learning unique and special qualities that every kid has. During a recent virtual workshop, a young child explained that his parents worked odd jobs and he didn't have a laptop at home for remote learning. In the span of a few weeks in our workshop while using a friend's laptop, he learned how to create and develop his own little game and he was ecstatic. His smile and joy made my day, knowing the confidence he will continue to build by keeping his skills alive.
Why do you think it's important for others to give back?
Vanesha: We strongly believe that when we're blessed with more than the basics, we have the responsibility to help others and give back. We can only do so little by ourselves, but together, we can collectively change the world. Everyone should utilize their own strengths and make an effort to use that to make a difference around them.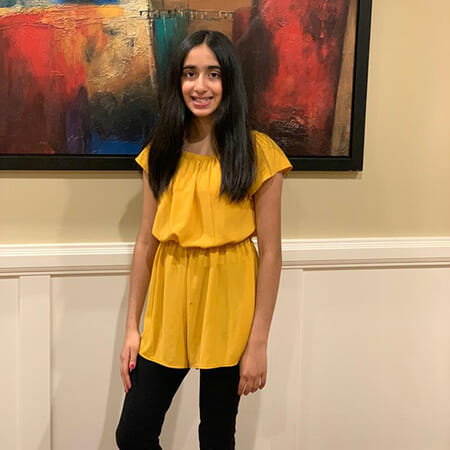 What's it like to volunteer with your sister?
Varshini: For me, volunteering with my sister is awesome because we know each other's strengths and weaknesses. It makes it so much easier to know you have a partner. It's a much more fun experience to share the joy with someone else.
What's been the most rewarding part of your service?
Varshini: It's been rewarding to see the joy on kids' faces when they've learned something new that they enjoy, or whenever they're proud and happy they can do something because of our workshops.
How have you continued to volunteer throughout the pandemic?
Vanesha: We host virtual workshops for young kids across the U.S. including in Washington, Tennessee and Maryland and even as far away as India. When the pandemic began, we saw that a lot of people were utilizing their skills to better their communities, and that inspired us to teach our own skills. Additionally, as the pandemic has continued, we've connected with local organizations to provide funding to support underserved kids dealing with food insecurity and a gap in mental health programs. When kids don't know whether they will get their next meal, how can they possibly focus on math or science?
In one word, what does volunteering mean to you?
Vanesha: Rewarding. It's really rewarding to not only help others but volunteering is rewarding to us. Every single time I'm teaching a workshop and see children smiling and joyful, it's rewarding.
Varshini: Happiness. If a child or one of us is having a bad day, 100% giving back will make it better.
When you're not busy going to school or volunteering, what do you do for fun?
Varshini: I have many hobbies. I am on the swim team and I really enjoy baking. Recently, I'm enjoying making creme brulee.
Vanesha: I play the violin. I also swim and I like to bike a lot. One of my favorite activities is to code.
How can readers help?
Please visit our website for resources and information on how to give back and donate.
Do you want to make a difference in your community like Vanesha Hari and Varshini Hari? Find local volunteer opportunities.
Share this post