College Student Brings 'Joy' to Charlotte's Homeless Community Through Her Nonprofit
Meet Daily Point of Light Award honoree Gabriela Pena. Read her story and nominate an outstanding volunteer or family as a Point of Light.
When Gabriela Pena was 15 years old, she attended a mission trip to the church and nonprofit organization Dream Center NYC, where she spent time volunteering and working with the homeless population there. The experience stuck with her so much that two years later, the Mooresville, N.C. native would start a nonprofit organization to help the homeless community in the Charlotte metro area.
Gabriela serves as the Founder and Executive Director of Joyful Sleepers, which provides sleeping bags to the homeless. Now 20 and a junior at Liberty University, Gabriela has provided over 1,000 sleeping bags to those in need. About twice a year, she brings the sleeping bags she has collected via donations to Dream Center Charlotte to personally hand out to the homeless population attending their services. She and her mother will also drive around the city to hand the bags out to anyone they see. Gabriela hopes to one day expand Joyful Sleepers to other states as well.
"Nobody wants to not have a place to rest their head at night," Gabriela said. "Being able to give that to people is so important … and showing them that they're loved and they're thought about is so important."
Describe your volunteer role with Joyful Sleepers.
Joyful Sleepers is a nonprofit organization that I started when I was 17 years old. I went to my mom one night and I was like, "You know what, Mom, I really want to get involved with helping the homeless community." I told her what I wanted to do is collect sleeping bags and give those out to the homeless. That's what I've been doing since, collecting and distributing sleeping bags, new or gently-used. The first target I wanted to reach out to was local churches, which have been so incredible. We've received so many from them. I wanted to take it a little bit of a step further, so I began asking friends and family, reaching out online, making videos on Facebook. It's been absolutely been incredible how helpful people have been and how willing to help.
What made you want to do something to help the homeless community in the first place?
When I was about 15 years old, I went on a mission trip to New York where I worked with the Dream Center up there. [I was] able to work hands-on with the homeless by making sandwiches for them, [and] we had a clothing drive for them where we would help them pick out interview clothing that they could have. Being able to see how something we find so simple has such a huge impact on their lives — having clothing to wear to an interview — I was like, you know what, I absolutely love working with the homeless community, and this is incredible with how much of an impact you can make in someone's life without even really realizing it.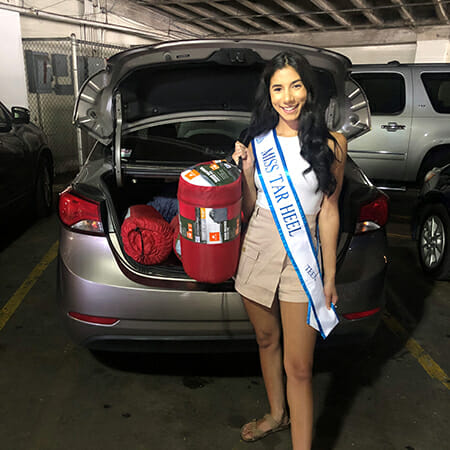 How do you distribute them, and what kind of feedback do you get when you do?
I get in contact with the Dream Center in Charlotte, North Carolina, and I meet up with them. They typically have services for people who are homeless and after their services, I stand at the exit and I hand out the sleeping bags. … They have just been so excited. When I told them that the sleeping bags were free, they were like, "Oh my goodness, are you serious? Really?" It's amazing, living in a world where you have to convince people like, "Yeah, I'm being real, this is free." They were so excited and so shocked. They would ask if they could have just a couple more, and with having so many donated, I was like, "Absolutely."
What's been the most rewarding part of your work?
I would honestly say seeing how before I started working with the homeless community, I viewed a sleeping bag as something so simple. The biggest reward from it all is seeing the smile on their faces and knowing that now they have something to rest their heads on at night. I'm making their nights a little more joyful and a little more comfortable for them. It's so easy to take for granted that we have something to sleep on. Knowing that I could give someone the rest they need to possibly go into an interview that morning or try to get a job, or to people who are incapable of getting jobs because of suffering from mental illnesses and abuse and things like that — it's incredible knowing that such a small thing can make a huge difference in someone's life.
What have you learned through your experiences as a volunteer?
I really didn't know, honestly, how willing people would be to donate. I remember the first church that we reached out to was my own church in Mooresville. I put out these flyers and I was excited about it, but the amount I got from the church the first round of collecting was absolutely incredible. … I thought that this was something like, oh, I don't know, I'll try it and see how it goes, and hopefully it works but if it doesn't work, I'll find something else to do to help. People's willingness to serve and give is absolutely amazing.
Why do you think it's important for others to give back?
I think it's so important to give back because in giving back, you find your passion. You find a way to make other people's days so much better, and be a light and pour into people and give them new perspectives they never thought of before. In giving back to your community, you're making it better for the future to come. We're not guaranteed a tomorrow, so doing as much as you can today is so important, and knowing that I will leave this earth making an impact in peoples' lives for the better.
What do you want people to learn from your story?
I want to ignite them in the idea of getting involved in their own communities and starting something they're passionate about. I would see all of these young people also starting their own nonprofit organizations, and just know that it's not impossible. It's doable. When you set your mind to something, especially to giving back, it's possible.
Do you want to make a difference in your community like Gabriela? Find local volunteer opportunities.
Share this post