College Student volunteers and brings smiles to elders in hospice care
Meet Daily Point of Light Award honoree Zach LeMense. Read his story and nominate an outstanding volunteer or family as a Daily Point of Light.
A typical college student's life revolves around juggling studies and social life. However, for college student Zach LeMense, much of his free time is spent providing support to people more than twice his age. The University of Notre Dame student volunteers with AseraCare Hospice providing companionship and support to people in hospice care. Zach's role can range from reading to the patients to playing board games and strolling outside with them.
As someone who is aiming to go to medical school after college, Zach understands the value of socialization and emotional support for the most vulnerable members of our society. Patients in hospice care often report how lonely they get. Oftentimes, patients do not have a lot of family visitors and they are overcome with joy whenever a volunteer like Zach pays a visit.
Zach has also gone with the University of Notre Dame's Global Medical Brigades to Panama, where he was involved with providing medical resources and education to those in need. The Kansas native shadowed physicians, dentists, and pharmacists to educate the local community on the importance of hygiene and health.
Outside of volunteer work, Zach is involved in many physical activities, such as cycling, running, and weightlifting. As an aspiring physician, the 22-year old old hopes to incorporate nutrition and exercise into his future practice for the overall health benefits that they can provide for patients.
What inspires you to volunteer?
I am inspired to volunteer because I desire to bring hope and fulfillment to the lives of those I interact with. With the help of AseraCare Hospice, I volunteer so that I can provide emotional support and companionship to some of the most vulnerable members of our society. Many patients under hospice care become lonely, and my goal is to be their friend so that they may find as much fulfillment out of life as possible. After working with several patients, I have come to find that their smiles and genuine enjoyment of my company really motivate me to serve them to the best of my ability. Additionally, as an aspiring physician, I have always had a calling to help others in any capacity. After attending a Jesuit high school in Kansas City, Missouri, I learned what it means to be a "Man for Others," and I have striven to incorporate service work into my goals of helping other people.
Describe your volunteer role.
My role as a volunteer includes providing emotional support and companionship to patients in hospice care. These roles can take many forms and include activities such as reading, playing board games, and strolling around outside. However, perhaps the most fulfilling aspect of my volunteering role is speaking and reflecting with the patients about life. Allowing them to open up about their life experiences enables them to be fulfilled in what they have accomplished, and I always learn something from what they say.
What has been the most rewarding part of your work?
The most rewarding part of my work is what I have been able to learn from the patients that I interact with. I have discovered that not only am I giving my time and talents to these patients, but they are also giving so much of themselves to me. They have shown me what true courage, bravery, and strength look like. They have helped me realize how to have hope when faced with disease. I strive to incorporate these traits into my future profession as a physician so that I can be of true service to all my patients.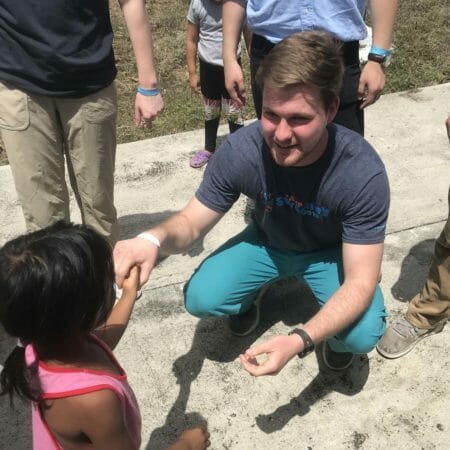 Are there any future partnerships, programs, or events that you are excited about?
I am excited to continue my volunteer work as I begin medical school this upcoming school year. The volunteering opportunities offered by schools take many forms, so I am excited to learn about the various programs. I hope to continue growing as a "Man for Others" as I pursue a medical education, and volunteer work will be foundational in that goal.
Why do you think it's important for others to give back?  
I think it's incredibly important for people to give back to their communities because it is a source of continual growth and learning as well as showing a commitment to the greater good. I believe that we can learn something from everyone we meet, and serving others enables us to strive for the improvement of the community while learning from those we serve. My volunteering experiences have shown me that those I have served have taught me more about myself and my beliefs than I would have originally thought. By giving back, other people may find how much they can learn about themselves while providing for the betterment of the community.
What do you want people to learn from your story?
From my story, I want people to learn how to become inspired in their everyday lives and how volunteer work can serve as the catalyst for inspiration. I want people to learn about being a "Man or Woman for Others," and how that ideal can play into their personal and professional lives. As has been the case for me, I hope that people find that service work not only shows a commitment to the community, but it also can be a great source of fulfillment.
Do you want to make a difference in your community like Zach? Find local volunteer opportunities.
Share this post