Combining Her Passions, Volunteer Helps Connect Vets with Companion Pets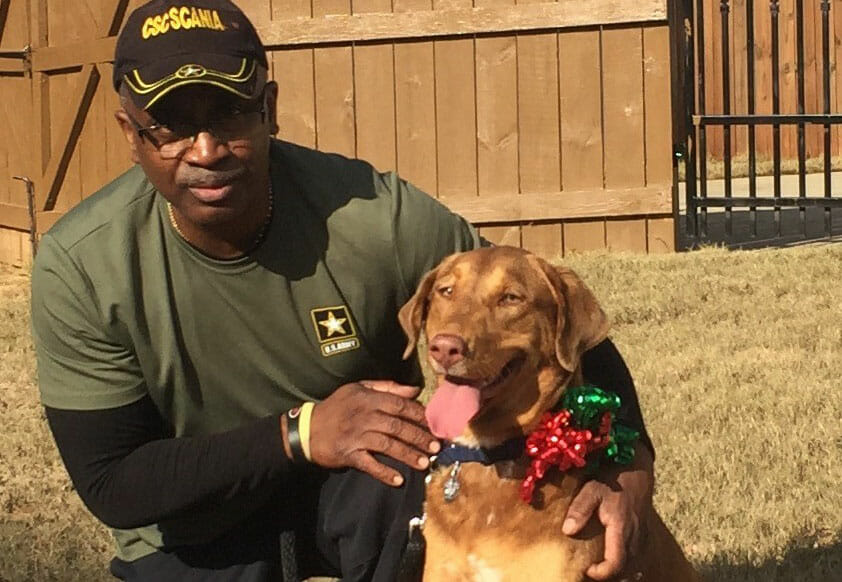 For military veterans who have proudly served, there can be physical and emotional injuries that make it difficult to transition back to civilian life – some estimates say as many as 20 percent of returning vets suffer from post-traumatic stress disorder. Barbara Blair has touched the lives of many struggling vets in need of companionship through her efforts as the Georgia chapter director of Pets for Vets, where she leads state-wide programs for the national organization dedicated to veterans and rescued shelter pets. After reaching out to Pets for Vets in 2012 offering to serve as a volunteer in Atlanta, and realizing a local chapter didn't exist, Barbara took on the challenge of volunteering her time to start a chapter for the Peach State – on top of her full-time job as a strategic account manager for AT&T Mobility & Business Solutions. Barbara is making a difference in by providing opportunities for veterans to reconnect with their community, and finding good homes and companions for animals in need.
We spoke with Barbara to learn more about her work with Pets for Vets, and what inspires her to serve.
What inspires you to volunteer?
I've always been in pet rescue, I've worked with animals, and just enjoyed doing it. I was looking for an organization to become involved with, and wanted to focus on veterans because I had been reading about how returning vets sometimes struggled with suicide, and it was very upsetting. I found Pets for Vets, and I thought, "what a great organization." It combined the two things I was most passionate about: veterans and animals. I enjoy just helping people – particularly right here in the community where I live. You get to know people, you work on the same goals, towards the same cause. Volunteering is a really good way to connect with people and do something to really make a difference.
How do you pick the perfect dog for a veteran?
We focus first and foremost on the veteran. We're not an animal rescue group – we have a very in-depth interview that we do with the veterans who contact us about a companion dog. They fill out an application, we have a conversation with the vet that takes place over time. We find out what they're looking for, what their lifestyle is, we do an evaluation in the home to make sure it's safe for the dog. Then our trainers go to the shelters and start assessing dogs for that specific veteran. Every dog we place is chosen for that veteran – that's a process that takes between 3-4 months. Typically, the veterans will be very specific about the breed or temperament of dog they are looking for. We once had a veteran tell us he wanted a "big, mean dog." Of course that doesn't mean we're doing that. We want to find the right companion dog that will get them out of the house and is approachable so that people will come up and talk to them, and make a connection. We're looking for the same dog every time – just a different mix or size – we're still looking for the same temperament. We want that dog that really wants to be around people, is good with kids and is good with other pets. It has to have a mild temperament. One that's being willing to sit and be patient.
What kind of impact do these rescue dogs have on veterans?
We've heard back from vets – they tell us, "I am getting out more, we're exercising the dog." Because of the dog, they're getting out around people. They're getting more social, which is great, and they're sleeping better at night. The sleeping thing is huge. If you've ever had sleep deprivation, you know how terrible is it – you can imagine what that's like for veterans, night after night, to not be able to get a good night's sleep. It's really a challenge for a lot of veterans. But, they're able to fall asleep with their companion by their side.
Why do you think it's important for others to give back to veterans?
We need to give back to our veterans because they do so much for us. When you look at some of the challenges they have, I don't think the veterans get the attention, the respect or the assistance that they need. If you look around at what's going on, it is the nonprofits and people who start these organizations to serve veterans who have this impact and can help.
What have you learned through your experiences as a volunteer?
I didn't come from a military family, so I've learned about veterans in general. There's a real divide between civilians and military. And I think a lot of times people who aren't involved or don't have familiarity with military life, they don't understand their challenges or what their priorities are.
Are there any future partnerships, programs, or events that you are excited about?
We've based here in Atlanta, but we also have a branch in Columbus, Georgia, that's been very successful. We would love to expand to Macon, Savannah and particularly because of our proximity to Fort Benning – we have veterans to help. We need dog trainers more than anything. They are the heart of the organization, and they work very closely with the veterans. We pay $1,000 to trainers for every match they make. For us, we have the funding, we have the veterans, we have the dogs – we need more traininers.
What do you want people to learn from your story?
First and foremost, I want them to understand the positive impact that animals have on veterans struggling with PTSD and other issues. People should understand how important that bond can be and that veterans really do need our help. Anything you can do to get involved and help veterans is a good thing.
Share this post